"I shit my pants in the streets," says Atsushi Nakanishi, with his somewhat breathy Japanese accent. Of course, that was fairly embarrassing, but A.T., as he calls himself, looked on the bright side. Why not make gold out of shit? Make a business out of that other, unfortunate business? "So I had this idea..."
A.T. is practicing his big pitch on me. We're sitting at a small table on a kind of meeting stage at the Slush Conference in Tokyo. It is not just a place where futuristic and powerful-looking electric motorbikes are presented. People are also guiding little Styrofoam balls through the air in electrostatic fields. And it is also the place where a select group of startups get to present their business ideas to potential investors.
The Market
A.T. wants to conquer the market. "Incontinence patients: 13 million," is written on the slide for his presentation, which he shows me on the screen. It is packed here: a bistro table, a big flat-screen on top, A.T. and me in front of it with our laptops. Oh, and a three-person Japanese TV team around us, filming me and A.T.
So these 13 million Japanese people -- given that this would make 10 percent of the population, it's clear that A.T. has defined 'incontinence' fairly broadly -- how can we help them? "I thought at the time: if I just had known beforehand that I need to poo," A.T. reminisces on his "soiling." That's how he came up with the idea of developing a urine and stool urgency warning system. The technology behind it: ultrasound.
In Around 10 Minutes, Your Food Will Reach The Exit
Because the measurement devices have now become affordable, small and can be mass-produced, A.T. wants to put his 'D Free' on the market early next year. 'D' as in 'diaper'. For more people to get through life without diapers, they simply need to strap the matchbox-sized device around their stomach like a belt, or clip it onto their underpants, and their bladder level is measured.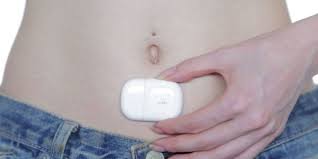 The corresponding App then gives notifications -- sent via Bluetooth -- which can be calibrated by the user: You have approx. 10 minutes before your food reaches the end." And a growing line snakes its way through a symbolic intestine. The user of D Free then knows that they basically need to start looking for a toilet -- particularly handy when you're out and about.
The Japanese Really Have Toilet Technology Down
At home, D Free can also inform relatives (or in hospital, nurses), when a bedridden person will soon need to go. The potential savings on diapers is enormous, which certainly won't please that industry, but the environment will be grateful.
For this reason, A.T. is starting his D Free first of all in Japan: the country with the oldest population in the world, and it's aging rapidly. Besides, as people here say, the Japanese really have toilet technology down. The electric toilets with heated toilet seats and all those confusing buttons are the perfect example.
When 'Output' Becomes Input
But D Free hopes to become much more than just a measuring device. The users' 'output' is taken by the device as input for algorithms aimed at fishing out correlations from the 'big urine data'. And because bowel movements and other bodily functions can also be measured with ultrasound, A.T. dreams of an ultrasound platform where people can check their health status as individual users; which researchers and doctors can use to make discoveries about the progression and prediction of illnesses within society.
But it will take a little while before that many people are using D Free. But through a collaboration with hospitals, he is hoping to bring his D Free onto the market for around 40 Euros as soon as 2018, making it affordable for everybody. By then, the trend towards quantified health will be more advanced. Who knows, maybe by that time the ultrasound technology will be so small that it fits inside a smartwatch -- for a little health check on the go.
This article is part of the series "lab around the world." You can find more information here.
This post originally appeared on HuffPost Germany and was translated into English.