Wind power did not just have outstanding growth in the US last year. This renewable energy success story was a worldwide phenomenon. Global wind capacity grew a record 27 GW, growing at the awesome speed of 28.8%.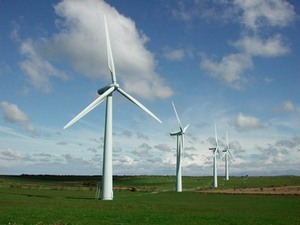 The US became the global wind leader at 25.2 GW with Germany moving to #2 at 23.9 GW. The North American and European markets were roughly equal in 2008 growth, with Asia following closely behind.
China Rising
China doubled its wind capacity again this year, adding a big 6.3 GW to hit 12.2 GW installed (4th globally after Spain). And China is poised to grow faster than any other country in 2009, potentially doubling again to ~24 GW. At such a quick rate, China will probably pass Spain and Germany by 2010 (and accomplish its 30 GW by 2020 national goal 10 years in advance). Whether China will pass the US in 2010-12 depends on US energy policy. If the US puts significant resources behind its stated goal to foster a green economic recovery, we may grow quickly enough to outpace China for many years.
With similar wind potential of ~1 TW each, it will be interesting to see how these currently coal-dependent top world energy consumers take advantage of this cost-competitive renewable power source. I'll be covering the deployment race closely in the months to come...