I'm betting you didn't know there is a semi-autonomous African kingdom with a royal family and acres of shrines to the ancestors and saints of its intricate animistic spirituality in the woods of South Carolina. I wouldn't either had I not happened upon Oyotunji African Village a few days ago on a meandering drive from Beaufort, South Carolina, to Charlotte. Stopping to meet the king and take a tour (several dozen people live in the 20-or-so acre kingdom) was one of my favorite tiny adventures lately, and I would easily have missed it if I hadn't been in the mood to randomly follow an odd-looking sign by the highway.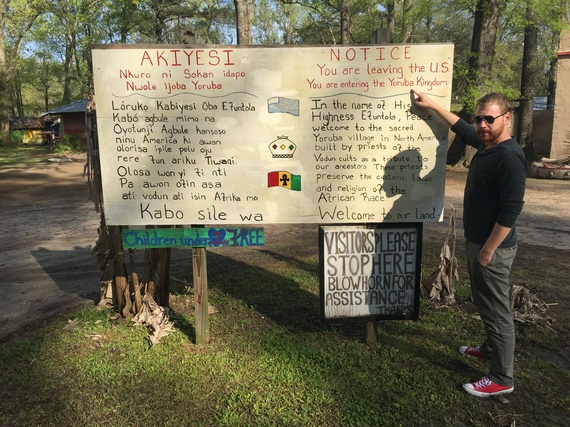 For the last several weeks I've been on the road with a photographer, Aric S. Queen, doing research for my upcoming book Hot Sauce Nation. Along the way when he's not photographing our hot sauce-related shenanigans, Aric has been blogging for and using a new app called iPi; basically whenever we stumble upon a neat place he grabs his phone and adds it to a kind of "cool places in X town" list." So, for example, anyone who follows him on iPi will now have access to Aric's insider recommendation to check out Oyotunji African Village should they be traveling in that rural corner of South Carolina.
Aric S. Queen is a former Nat Geo Traveler and host of the BBC program Treasure Hunters with with a serious and cultivated commitment to the art of living. He seems constitutionally incapable of leaving leftover snacks on a table. I can't think of anyone I've been on the road with more devoted to eating well, drinking good wine and finding off-beat gems tucked around the world. The point is that he's a joy to travel with and an encyclopedia of great recommendations for two of my favorite things: good eats and weird adventures.
I'd never heard of iPi before but after watching him use the app on our way across the South, I'm seeing a picture emerge of what a powerful social network this could be. If more people in my social network used it I'd have a living, breathing and carefully curated reservoir of travel recommendations from people I know and trust (and even some I know not to trust...ha). It would be a kind of personalized Lonely Planet, but one that retains the mystique that comes with a personal recommendation from a friend.
What better way to sort and organize travel recommendations than by the people they come from? I know Jack and I share an interest in weird history, so any recommendation along those lines from him is going to be right up my ally. I know Jane likes crowds and and doesn't care much about good food, so, though friends we are, I know to take any recommendation on her list with a grain of the proverbial salt.
Like all adventures this hot sauce road trip must end, but with iPi I'll be able to keep traveling with Aric's recommendations for good places to grab a snack or a cocktail, or catch a spectacular view, or visit a particularly interesting historical marker. And After this trip anyone can follow our trail to explore cool things we found. Aric's iPi profile, just by virtue of the fact that he's been curating it with a few taps on his phone here and there, now includes an extensive list of recommendations for good places to go in towns and cities from New Orleans to St. Augustine to Savannah to Washington, D.C., with more and more added every day. I'm typically a solo traveler and often find myself trying to get in touch with friends and acquaintances for travel tips on their neck of the woods--how great would it be if more of my friends had iPi profiles, with ready-made advice on what to do in their own corners of the world, or from places they've visited on their own travels?
The app is still pretty clunky. It's developers have some homework to do before iPi is bug free and the interface user-friendly enough for prime time. But if it does catch on, what a gift it will be. I love hitting the road solo but I also love traveling with a buddy who has tips I can trust about what to see and do. With iPi, I'll have the best of both worlds.