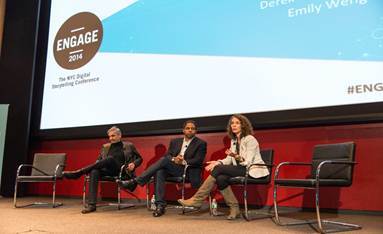 Ask any of today's mavens fueling digital content in 2014 and they'll tell you that digital storytelling continues to drive tech advancement with more expedience and fervency than ever. For brands, advertisers and publishers, the rulebook is now being written on a moment-by-moment basis.
These new rules of engagement are opening new doors for those willing to use them to their advantage. New platforms are evolving so many exponentially blossoming outlets that have little use if any for press kits and other traditional media.
Last week, Talk NYC hosted ENGAGE 2014: The NYC Digital Storytelling Conference at Hearst Tower in New York City. Industry leaders from companies like Refinery29, Twitter, and Jivox gave their perspectives on discovering the new world of digital advertising all over again.
Most notably, speakers weighed in on predicting what's in store for the future of engagement in the new era of faster gadgetry, and both collaborative creation and curation of content. Anyone can be a content creator; we are gradually bridging the gap between creators and distributors say Ross Hoffman Director of Brand Strategy at Twitter. Diaz Nesamoney Founder of Jivox says saying that "Data is a powerful tool to customize user experience." He envisions that the future of driving engagement is in collective data; the more you collect the more you can personalize or co-create among the masses.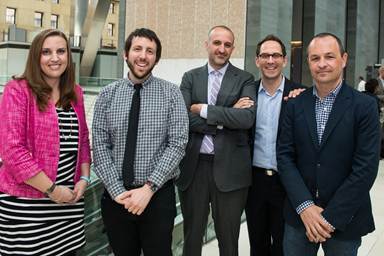 This year's experts had plenty to offer in terms of the do's and don'ts within digital advertising. Here's what the these post-modern practitioners had to say on the new rules of engagement:
1) Listen to Your Audience
"Measure twice, cut once. Listen twice as hard before you publish. Don't publish crap. Stop assuming (you) know what (your) audience needs." -- JENNIFER STALZER, VP Global Digital Corporate Communications, MasterCard
2) Keep It Real-Time
"Don't be intimidated by a real-time platform. Plan for mobile, think about how content can be shorter." -- ROSS HOFFMAN, Director of Brand Strategy, Twitter
3) Don't Lose Sight of the Story
"We're too focused on platforms, technology and channels at the expense of crafting brilliant human stories that will travel anywhere. -- NELSON FREITAS, EVP Director of Planning, Wunderman
4) Be Bold
"Brands need to be daring. Do something different, something unique... something that hasn't been done before. Being original has always been the way to get attention -- and it still is." -- WALTER LEVITT, CMO, Comedy Central
5) Join and Engage Your Community
"The job of a journalist has changed. It's no longer solely about reporting and writing or doing a video stand-up. The entrepreneurial journalist seeks out an audience, then understands it and engages it. I call it "transactional" journalism. Today's journalist needs to be a part of the conversation in such a way that builds loyalty to their individual brand and knowledge. Journalists must work to encourage others to participate in the dialogue and share their content with others."
6) Include Your Audience
"Our brand started with print, but like any media company, we are faced with how to tell stories, visual ones especially, in an era where people want to interact in all different ways with content. Now we work to tell stories using our community's visuals and input. And I'm consistently delighted with how well projects do when we include our audience's voices." -- CAROLYN FOX, Digital Director, National Geographic Travel
7) Find a Passion Point
Passion points are a way in and an amplifier. Create a large passion point and correlate stories from within to build engagement. -- BEN DIETZ, SVP Head of Sales, VICE Media
8) Make the Story Relatable
Activating the "you" in storytelling is the best way to engage your audience getting them to "do" and not just "view" your content -- LAUREN CONNOLLY, EVP Executive Director, BBDO