A groom's take on the things that matter most ... and the things that don't.
by David Soldinger
While planning our destination wedding, we quickly learned that everything costs money -- a lot of money. Regardless of your budget, it's important to pick where to scrimp and where to splurge. Here are a few ideas.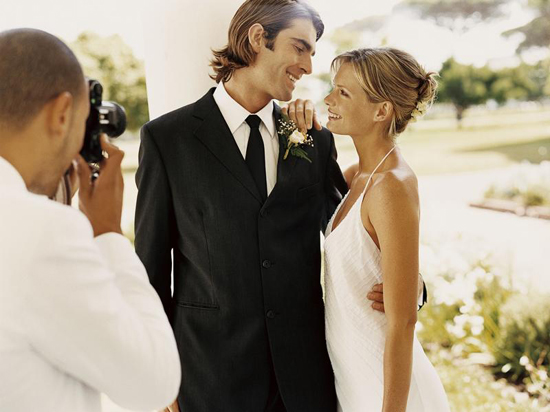 Photo by: Shutterstock
Splurge: Find a great destination. Most importantly, if you're going to require your guests to travel to distant lands, splurge on a place worthy of your wedding. On our first visit to Cayucos, California, we fell in love with the town. We knew it would work for our wedding because we were excited to share it with our guests.
Related: Best Wedding Destinations in the U.S.
Scrimp: Get center-peace of mind. Don't get talked into blowing your budget on centerpieces. Nobody leaves a wedding saying, "It was a beautiful day, but the ugly centerpieces ruined everything." Conversely, after your wedding, if your guests talk only about how incredible your expensive centerpieces were, you probably dropped the ball somewhere else. My advice: Spend just enough money to make your centerpieces absolutely nice ... and forgettable.
Related: Decoration Ideas for Reception Tables
Splurge: Eat, drink and be merry. I'll bet everything I own that the primary cuisine of your wedding locale isn't overdone chicken, mashed potatoes and a garlicky squash/zucchini/green-bean medley. Find out what the local specialty is, and then spend the scratch to serve it to your guests. Also, search out delicious local beers that those big brands haven't yet put out of business!
Related: Wedding Venues with Farm-to-Table Menus
Scrimp: De-favor your wedding. There's no denying it: Favors are a wedding staple. They're also an unnecessary expense and hold your guests' attention for less time than the latest viral video. Just say no to favors; no one will miss them.
Splurge: Capture it well. It's impossible to overemphasize the importance of a good photographer. Your special day will be a complete blur, and sadly, it's over in the blink of an eye. Your mission is to find a photographer who's able to transport you back to every special moment each time you flip through your album. When I look at our photos, taken by DWH A-List Photographer Callaway Gable (shameless plug, ahem), I travel back in time. Pay to fly your photographer to your location, rather than hiring any cheap option that might come with your venue.

Related: 35 Photography Tips for Destination Weddings
More from Destination Weddings & Honeymoons: