By Matt Duckor for DETAILS.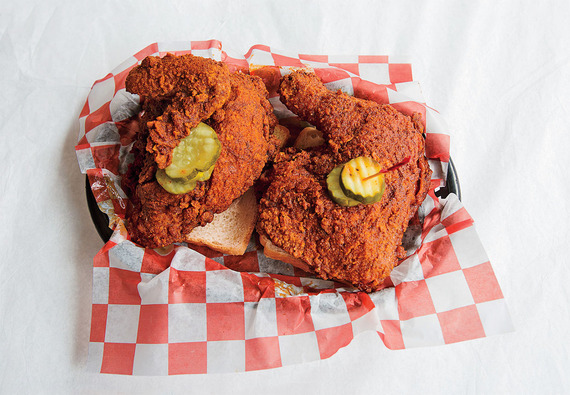 (photo: Liz Ligon)
"I started dating Brittany Bishop about a year before Hattie B's opened. Her dad, [co-owner] Nick Bishop Sr., made me cook for him on his birthday, and he loved everything I made. We'd all grown up eating hot chicken -- it wasn't the thing it is today. Not a lot of people had the balls to go into East Nashville to get Prince's hot chicken, but we did. Nick was like, 'Man, how about you help us create a spice blend for Hattie B's?'
"I was classically trained up in New York, but I have a lot of experience making barbecue rubs, spice rubs, blends. I worked on the dry rub -- the basics we use are cayenne, brown sugar, paprika, chili powder, garlic powder, salt, and pepper -- for six months. We have five heat levels, from none to incredibly spicy: Southern, Mild or Medium, Hot!, Damn Hot, and Shut the Cluck Up!!! Consistency was important: Sometimes you go to these places and the chicken is hot -- sometimes it's so freaking hot it's painful.
"We can have heat that'll just blow your head off, but I want the flavor to be there as well. I love spicy stuff--don't get me wrong. I can go all the way up to Damn Hot, but I don't touch Shut the Cluck Up!!! But some people, they just want their head blown off.
"The chicken marinates in buttermilk, hot sauce, smashed garlic, thyme, and hot peppers for the spicier levels for up to 48 hours. The peppers in the marinade start to get a lot hotter as the heat level goes up -- we use a combination of habanero, ghost peppers, and scorpion peppers. Then we do a double dredge in seasoned flour and a buttermilk-hot-sauce mix before frying it in soybean oil. A neutral oil lets all those spices in your rub shine through.
"After the fry, you have the wet application. I take some soybean oil from the fryer, get it really hot, and add the dry rub into that fat. The heat activates all the spices. You want it hot enough that when you baste it over the fried chicken, the skin stays nice and crispy.
"You see every walk of life in line at Hattie B's, from somebody selling newspapers on the side of the road to a neurosurgeon from Vanderbilt. It's about as southern as it gets, just a really fun atmosphere. And we got beer."
From DETAILS August 2015 issue.
More from DETAILS:
The 14 Healthiest Snack Foods to Buy
The Ultimate Guide to Buying Cheese
Eat Your Way to a Better Sex Life
The 7 Best Food & Drinks to Cure a Hangover
5 Foods That Make You Look Younger
5 Foods That Are Making You Fat
Also on HuffPost:
PHOTO GALLERY
Chicken Recipes