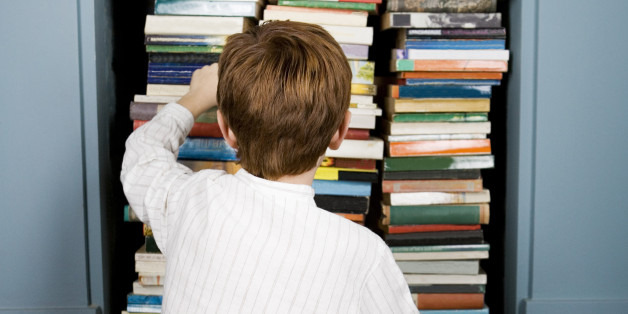 Until this week, I thought I was an average mom. I cook dinners, make lunches and oversee homework. I live in the suburbs. I drive a sensible car. Today, however, I discovered that I am a hard-core dissident bent on undermining the fabric of our society. I am a radical in yoga pants. Why? Because I have filled my house with subversive books.
We own Green Eggs and Ham, Strega Nona, the entire Harry Potter series, Anne Frank: The Diary of a Young Girl, A Wrinkle in Time, Of Mice and Men, Where the Wild Things Are, In The Night Kitchen, The Wonderful Wizard of Oz, The Lorax, Little Women, James and the Giant Peach, Charlie and the Chocolate Factory, The Lion, The Witch and the Wardrobe, The Giving Tree, The Giver, Harriet the Spy, Alice in Wonderland, Charlotte's Web, The Hunger Games, Twilight, To Kill a Mockingbird, His Dark Materials, The Adventures of Huckleberry Finn, I Know Why the Caged Bird Sings, Beloved, It's so Amazing! A Book about Eggs, Sperm, Birth, Babies and Families, and every single Captain Underpants ever written.
I unintentionally filled my children's shelves with books that have been challenged in schools or libraries on the basis "of content or appropriateness." In other words, I am the mom who buys banned books. In my defense, I had no idea colored food and giant insects were so controversial. What could possibly be wrong with a kid in a candy factory? Who quibbles with a girl in ruby red slippers or a generous tree?
Apparently, quite a few people.
I've done more than just buy these nefarious titles. I've read most of them to my kids and encouraged them to read them on their own. Both Green Eggs and Ham and The Lorax were frequent bedtime reads when my son was a toddler. We've dipped our toes into Harry Potter and started James and the Giant Peach last night. I bought my oldest the Hunger Games trilogy when he was 13.
If I had known I was bringing these divisive tales into my home, would I have stopped?
Not on your life.
When I was younger, I read my generation's provocative stories -- Bridge to Terabithia, Roll of Thunder, Hear My Cry, 1984, A Separate Peace, Julie of the Wolves, Go Ask Alice, and Forever. I guess I'm lucky I didn't end up a promiscuous Eskimo drug addict atheist prep school student who longs for a totalitarian state. Instead, I became an insatiable reader, propelled from one story to another, until the books became more than stories. They became windows into worlds and lives I would never experience. They forced me to think deeply about relationships, justice, culture, friendship, politics, family, freedom, addiction, choices, love, and loss. I cried a lot. I got angry. I was occasionally confused. The more I read, the more my world expanded.
My parents never censored what I read, and the shelves at our local library contained titles that other communities sought to hide. I want my children to have that same experience. Stories can be discomfiting, shocking, horrible, scary, disturbing, vulgar, explicit, pornographic, sad, ugly, racist, confrontational, dark, depressing. So can life. Banning books that deal with reality doesn't stop people from cursing and having sex and doing drugs and going to war. Which is why I'd like my children to explore those ideas in books before they meet them in person. I want to prepare them, not shelter them. I also want them to see that those same stories can be illuminating, cathartic, optimistic, brave, illustrative, clarifying, informative, hopeful, and revelatory. I want to broaden their thinking, not narrow it. I hope they'll learn to navigate the complex and contradictory in life rather than shy away from it.
This isn't to say I think every book belongs in the children's section. Libraries have to balance providing books that are appropriate for a wide range of children with protecting younger readers from material for which they aren't emotionally or cognitively prepared. I think we can all agree that Fifty Shades of Grey doesn't belong in an elementary school. Generally, however, I believe that libraries should be sanctuaries. They should be neutral repositories for all the stories people want to tell, whether we agree with them or not. It's up to us as parents and readers to help our children choose books and process what they read. I support parents whose personal beliefs lead them to make choices that are different from mine. I don't support banning books from public institutions because someone is troubled by a given volume's language or themes. I won't allow my children's world to be limited by someone else's values, no matter how well-intentioned.
So, I'm going to make sure that I read banned books to my son this week. Lots of them. I hope you will too. I'll also be wearing yoga pants, but your wardrobe, like your reading choices, is entirely up to you.
If you're interested in more information about banned and challenged books, please visit the American Library Association's website at http://www.ala.org/banned.
Like Us On Facebook |

Follow Us On Twitter |

Contact HuffPost Parents
Also on HuffPost:
PHOTO GALLERY
Books Frequently Challenged In 2013