Trust in the Lord with all your heart, And lean not on your own understanding; In all your ways acknowledge Him, And He shall direct your paths. -- Proverbs 3:5-6 NKJV
I was deep in the heart of Beijing, People's Republic of China, in the summer of 2009. For the first time in my career, I was the lead studio executive on a feature film: the remake of The Karate Kid, starring Jackie Chan and Jaden Smith, son of actor Will Smith.
It's important to understand that Beijing -- the ancient capital of China -- is huge. The urban area alone contains about 13 million residents; that's four cities of Los Angeles. Beijing is also complex on a Byzantine scale, and with the producers, entire crew, and cast there, we had ventured far into some of the oldest parts of the city, into ancient neighborhoods called hutongs, where the living style was more communal and we could find the character and feel we were looking for.
Getting cast, crew, and equipment there was a major undertaking, the shots were taking a long, long time to set up and complete, and as I stood there, we were running out of daylight.
Sunset is usually panic time for a film crew. Unless you're shooting night scenes, you try to work in every last shot you can, using reflectors to capture every last bit of natural light. The crew was working as quickly as they could to maximize what was a very expensive day of production. But I had other concerns. I glanced at my watch, shot a look at the disappearing sun, and knew that even though I was the sole representative for Columbia Pictures on set, I had to leave.
I had no choice. That is, I didn't give myself a choice.
Fortunately, the producers knew that I would be making my way back to the hotel. It wasn't a surprise to anybody. I pulled one of the production assistants aside, told him I would be catching a taxi, left the production in the capable hands of the producers and director, and disappeared into the streets of Beijing. It was an act that might have been ridiculed if I hadn't set a precedent years before and remained committed to it. Leaving set on the first movie you're running -- shooting halfway around the world -- isn't advisable if you want a long prosperous career in Hollywood.
But I didn't lose my job.
In fact, my departure didn't make a ripple in the day's shoot. I was able to attend to something infinitely more important: keeping a promise to God that I made many years before.
I was born 32 years ago and raised as a Seventh-day Adventist. Among other things, that means I celebrate the Sabbath. So from sunset on Friday to sunset on Saturday, I unplug from my hectic life as a Columbia film executive. No work. I don't check email or roll calls. I break the fourth commandment of the movie business -- Thou shalt never turn off thy BlackBerry -- and turn off my BlackBerry.
The Sabbath is my time with the Lord, my time to unwind from the pressures of work, heal, and reflect on the many blessings in my life and the career path that has led me here. On Friday nights I study my Bible, pray, spend quiet hours in communion with God, and make plans with family for church and fellowship on Saturday.
Unless I happen to be in Beijing. In that case, I'll read Scripture, watch the incredible metropolis slowly come to life, and pray that the dailies look good. Normally I would go to church, but in China most of the Christian churches are underground and I had no idea how to go about finding them. So I settled for reading the Bible and spending time in private communion with God -- my own personal church in the midst of one of the world's busiest cities.
The next morning, I decided that I didn't want to spend the entire Sabbath in my hotel room. I ended up going to a park right outside the Olympic Village where I could sit under God's sky, watch the birds, listen to gospel music, and read the Word. As I was going through Romans, the idea came to me for this book. Just like that, clear as day.
Excerpt from "Produced by Faith."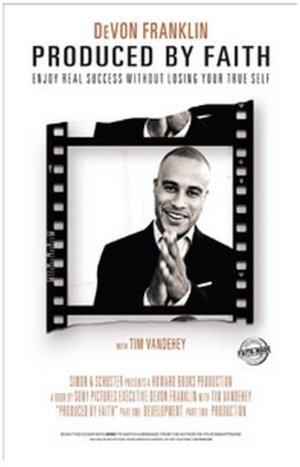 "Oprah and Devon Franklin: Keeping The Faith in Hollywood" encores on the Emmy® Award-Winning Series Super Soul Sunday Sunday, Sept. 23 at 11 a.m. ET/PT on OWN: Oprah Winfrey Network.
For more on Super Soul Sunday, click here.