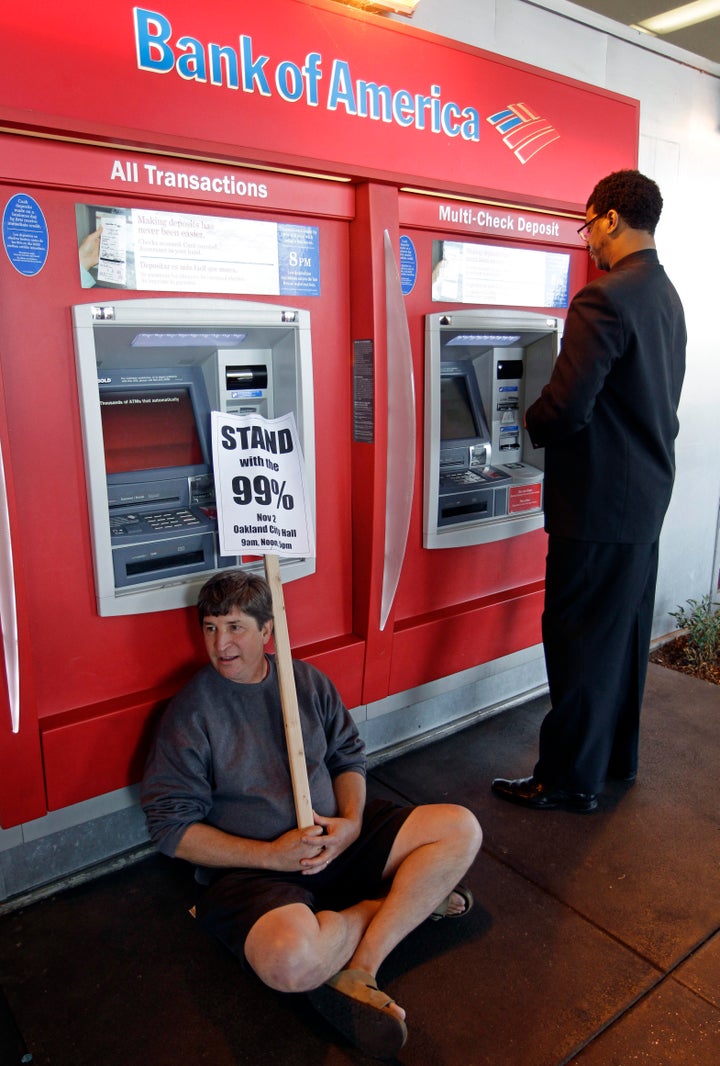 You want to do it. You've been meaning to do it. Here are 5 reasons to finally ditch your too-big-to-fail bank and move your money to a local credit union.
#1. You'll be voicing your opposition to a broken, destructive financial system. The big banks gambled with our money, created a catastrophic housing bubble that brought down the global economy, and got bailed out after being deemed "too big to fail." We now have a banking system in which the five largest banks control 40 percent of deposits, and the top six hold $9.5 trillion in assets -- equal to 63 percent of the United States GDP.
Far from being humbled or held accountable, bankers have continued to destabilize communities through discriminatory lending and foreclosure practices, while paying themselves million-dollar bonuses and shamelessly lobbying against even the most basic financial reforms.
By joining the groundswell of people moving their money, you will send the big banks a clear message that their reckless practices must change. The banks are listening -- as Bank of America and others made clear this week when they backed down on plans to institute new debit card fees.
#2. Credit unions are not-for-profit financial cooperatives, owned and controlled by their members. Credit unions are more than "nice banks" -- they are democratic institutions that represent a fundamentally different way of doing business. When you open an account at a credit union, you become a member and shareholder of the institution. Members elect the credit union's board of directors, made up of other members who serve as unpaid volunteers and make decisions about how the credit union is run. Like any democratic system, a credit union's success depends on its members' participation; if you decide to join a credit union, consider getting involved as a volunteer or active voting member.
The structure of credit unions helps ensure that they remain accountable to their members. Credit unions, in fact, can lend money only to their members. This means they can't gamble on Wall Street investments, or siphon money out of local communities to invest in environmentally destructive projects abroad. And because they are not-for-profit and governed by unpaid directors, credit unions are able to charge less for services and prioritize members' needs over maximum profits.
#3. Your money will support your local community and economy. Community development credit unions, in particular, are dedicated to strengthening low income neighborhoods and communities of color historically redlined by banks. They reinvest their members' deposits back into their communities in the form of loans for affordable housing, small business and community development. You can find a list of community development credit unions here.
#4. Your money is safe in a credit union. One of the most commonly asked questions about credit unions is whether or not they are safe. The money you deposit in a credit union account is federally insured, up to $250,000. Credit unions are regulated and examined for safety and soundness by the National Credit Union Administration. Credit unions, in fact, are required to meet strict capital requirements, and are prohibited from charging more than 18% interest on credit cards and most loans (compared to no interest cap for national banks).
#5. Even if you're not ready to break up with your bank completely, you can move some of your business to a credit union. Consider opening a savings account, or replacing your bank credit card with one issued by a credit union. You'll get a better deal and will get to know the credit union over time. Moving your checking account down the line won't seem so daunting, and you'll have time to do it safely and without triggering any surprise bank fees.
Taking Action:
Find a list of credit unions in your area here. Call ahead to find out if you're eligible to join and what information you need to bring. Consider supporting a community development credit union, where your money will likely make the biggest difference.
While you're at it, send your former bank a letter explaining why you're closing your account. Occupy the Boardroom has set up a website where you can leave a message that they promise to deliver to Jamie Dimon, Brian Moynihan, or other banker "pen pal" of your choice.
There are many ways to protest right now, from joining teach-ins at Zuccotti Park and demonstrating with Occupy Wall Street, to joining state and national coalitions that have been working for economic justice for years. Moving your money is one clear, concrete way to align your actions with your values and begin to hold banks accountable to the public.