This is a special story from Mozambique in Africa.
While the whole world and the biggest universities are talking about "think outside the box," there are innovations happening by people inside the box -- pun intended.
One such story is of Miguel Rungo, living in the city of Maxixe, province Inhambane, Mozambique. Miguel is in his thirties, speaks Portuguese, English and Italian. He has a full time job in Chicuque Rural Hospital, as the chief on-site electrical maintenance engineer and technician. He has a passion for computers and technology. In his part time, Miguel runs a door-to-door computer servicing/repairing business, which helps him earn his side income. Miguel has always been an entrepreneur, though he didn't know about this word until I told him about it, when I had the pleasure of working with him in Mozambique for 5 months. Miguel is the heart and soul responsible for organizing the first ever TEDx conference in the country of Mozambique. Read the complete interview in official TEDx blog here. Based on the amazing life changing experience in Mozambique and with Miguel's help, I am now working on my education with social impact startup Ycenter -- that is a complete immersive study abroad program blended with social impact projects for American university/college students in Mozambique.
While I am striving to raise capital for my startup in USA, Miguel has plunged with his part time business into a startup business altogether to a new level, by bootstrapping and raising some friends and family capital. He has officially started a computer service/photocopying/printing business in the city of Maxixe. And the best part? He is running this business out of a shipping/freight container installed in the heart of city. Lets find out the dynamics of this story through a web interview that I had with Miguel.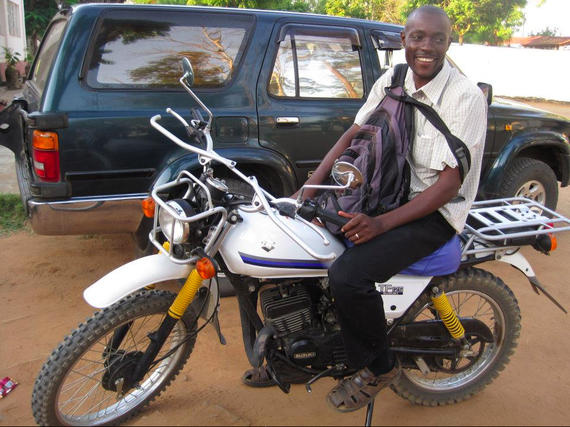 How much did invest in your business and how did you raise this money?
I invested 250,000 Meticals (MT), which is approximately 8300 USD at the conversion rate of 30 USD. I bootstrapped this with my savings that I had earned over the past few years and got additional help from friends and family.
Why are you doing this?
I work full time at Chicuque Rural Hospital. My salary at the hospital is not enough. This helps me with the extra income that I need for my three kids, wife and my parents. The college students in the city don't always buy books; instead they use photocopying services and then return the book to library. These helps them save a lot of money and share it with their friends. With my small shop setup, students now have access to cheaper and quality photocopying services very close to college and university campuses.
This is the picture of the first photocopying/scanning/printing device that Miguel has setup in his shop.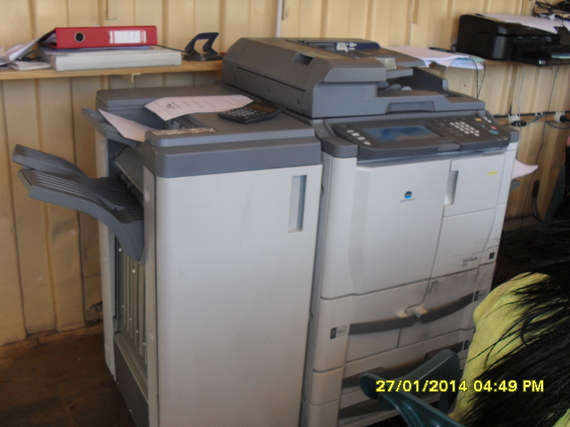 Why are you doing it in a shipping container and not a regular brick and mortar shop?
Well, I would like to do it in a regular shop, but financially it is not sustainable for me. The rent is very expensive for an actual shop. Hence I created a shop using shipping container and just rent out the space on which it rests. To rent a regular shop in this neighborhood would cost me 12000 MT (~ 400 USD) per month but now I am paying only 2000 MT (~ 167 USD) for the space where I installed it.
Below is the picture of Miguel's shop out of shipping container.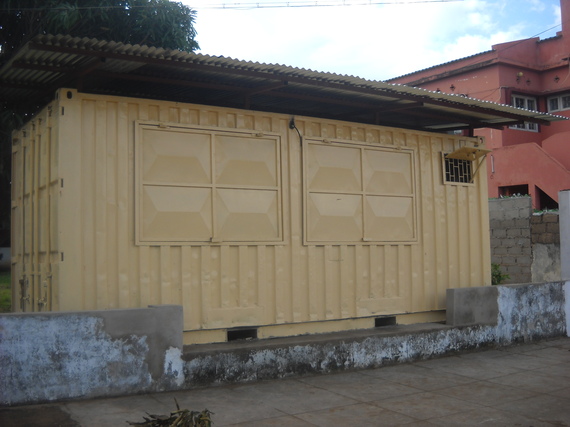 How much did the container cost you? What were some of the logistics involved?
The container cost around 110000 MT including all upgrades and modifications that include carving out windows for ventilation, paint job to avoid rust and for aesthetic appeal, adding extra roof for protection from excessive heat and rain, adding electrical wiring and connections to run the computers, photocopy machines and other devices. In Mozambique, a city is more like a community. When I expressed an interest to buy a shipping container, my brother had a friend who helped us out with buying one. And I had the luxury of paying for it in 5 installments, which gave me good time to raise the needed capital. Also, I had to get legal permission from the local municipal body in the city to install it in the desired space and get the power and Internet connection.
How do you manage your time between working a full time job in hospital and this business?
I have hired 3 friends -- two men and one woman. They handle the daily operations in the shop, and I visit the shop daily.
What is the name of your business?
For now, my business is officially run under my name "Miguel R Mautse computadore e Acessorios". I have been using this name since 2003 when I started working part time providing door-to-door services repairing computers. However, my daughter has suggested a new name -- "Rungo Business". I love the idea, its much cooler, short and I am considering it.
What is next for you in-line and what does the big picture look like?
Well, my big dream is to be working in the education space. I just finished my Masters in Education. I plan on starting a primary school someday, because there is a huge gap between current capacity of schools and number of students wanting admission. This small business and the full time job at the hospital -- one day will lead to my ultimate dream of starting a school.
Thank you Miguel for sharing your story with us and we wish you good luck with your business and your ultimate dream of starting a school.
Not only Miguel, but also there are more stories of using shipping containers for small businesses like this to delivering healthcare in Uganda to education in Kenya. Shipping containers might just be the next big thing in startup spaces. Imagine one of these to be your next office. Pick your favorite color.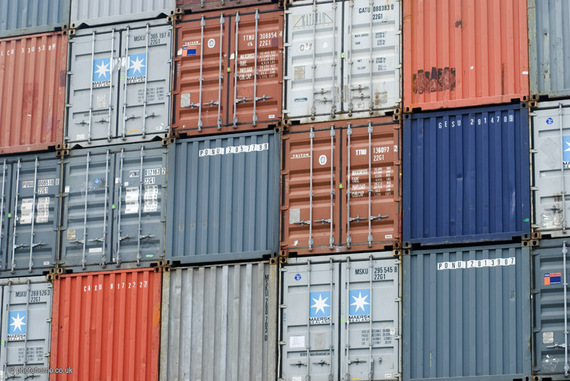 Ref for the image: Steve Gibson