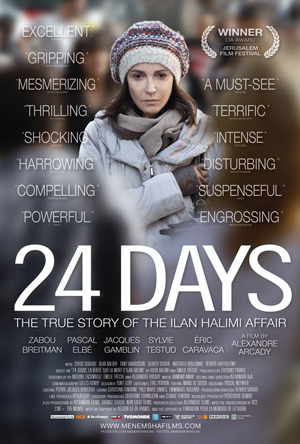 The movie, "24 Days," about to be released on April 24, re-opens fresh wounds triggered by French anti-Semitism, because the harrowing tale zeroes in on the twenty-four days in the winter of 2006 when a 23-year-old Jewish Parisian, Ilan Halimi, was kidnapped and tortured and eventually killed.
The gripping film--which speeds along like a fast-paced thriller--is based on the true events surrounding Halimi's murder. Directed by Alexandre Arcady, the movie has has already garnered top awards at several film festivals and opens in theaters around the United States (and via i-tunes) on April 24, inspired by the book co-written by Halimi's mother, Ruth Halimi. With brilliant all-too-real suspense, the movie depicts the grueling experience of Halimi's family as they tried to plead with the French police to save their son. Despite Ruth Halimi's insistence, Parisian police considered the case as an ordinary kidnapping for ransom, failing to recognize the anti-Semitic hatred of Halimi's abductors. It is this blindness in the face of racism against Jews, that continues to resonate in France today. This deliberate nonchalance--or a squashing of the bitter truth--reveals how French society still ignores the reality of French anti-Semitism, illuminating what writer Marc Weitzmann calls the Jews' "civic loneliness" within France.
Halimi's kidnapping was not random. The idea of finding a Jew was the deliberate plan, and fell under the supervision of a Frenchman whose parents migrated from the Ivory Coast, Youssouf Fofana. Fofana was head of a gang called "the gang of the Barbarians" whose stated intention was to abduct Jews for ransom. The gang members focused on Jews because they assumed that as Fofana claimed, "all Jews are rich" and would pay for the release of their victims.
The set-up was simple, almost cliché. Sometime in early 2006, the gang began to search for a victim along Paris' Boulevard Voltaire, looking for (in Fofana's words) Jewish stores to find the appropriate person. They zeroed in on Halimi, a telephone salesman, and then the gang used an attractive female member as bait. . In this case, 17-year-old Sorour Arbabzadeh. who flirted with him, gave him her telephone number, and managed to get him to agree to meet her at a café on January 20. She lured him to an empty apartment; after that, for the next 24 days, Halimi was tortured and held in a boiler room in a building in Bagneux, a southern suburb of Paris, until he died.
The film raises the question: why was the gang able to act with such impunity? Had French police already given up on certain Parisian suburbs, similar to the way the police in other cities such as Marmo, Sweden, have surrendered to mostly Muslim street rule? Even the 36-year-old French-Christian concierge of the building where Halimi was held knew that there was a kidnapping victim there, but he claimed that he was frightened of the gang. No one, not one anonymous person, was willing to call the police to rescue Halimi.
That nobody appealed for help makes the anguish of Ilan Halimi's mother, Ruth, played with fervor and conviction by Zabou Breitman, all the more tangible. She argues with the police, pleads with them, to no avail. She also tried to prove that this was an act of blatant anti-Semitism--in fact, one of the gang members, Jérôme Ribeiro, had Nazi posters in his room. But nobody wanted to focus on that fact, in the same way that President Obama--after the terrorist attack in the Parisian kosher supermarket in January 2015 which left four dead--remarked that it was "a bunch of violent, vicious zealots who behead people or randomly shoot a bunch of folks in a deli."
The Gang of barbarians, aptly named, were not mere thugs, but anti-Semitic terrorists who singled out the Jews. The kidnapping was not random, just as the supermarket attack was not random.
I wrote about not being surprised by the steep rise in anti-Semitism in France in The Huffington Post in February 2014. Once again, I am still not surprised. Watching "24 Days" (well, a lot of my watching took place biting my fist in apprehension and fear, because I knew all too well what the end would be) has confirmed my suspicious that there has always been a strong pulse of latent anti-Semitism in France. Part of it is fueled by the intolerance of the French Catholic church, part by the its tight-knit society that rejects foreigners and outsiders, and these two factors have ignited with Islamic extremists, thus making the hatred of the Jews almost unstoppable.
"24 Days" is one movie I sat through although it devastated me. I kept thinking about Jeffery Goldberg's piece, "Is it Time for the Jews to Leave Europe," in The Atlantic about whether it's time for Jews to leave Europe. Goldberg says it is not 1933. But it could be 1929, just before the cusp of the Jews' extinction from Europe. Once again, Europe is becoming a place where it is too dangerous for Jews to live.
Anti-Semitism is alive and well and living in France. Ilan Halimi, featured here, was the first victim.