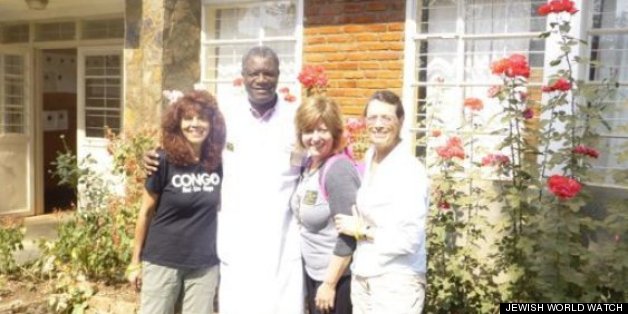 Diana Buckhantz is a Board Member of Jewish World Watch (JWW), a leading organization in the fight against genocide and mass atrocities worldwide. JWW's work is currently focused on the ongoing crises in Sudan and Congo. Diana recently traveled, along with fellow JWW Board Members Diane Kabat and Janice Kamenir-Reznik, to Congo's eastern provinces to meet with JWW's on-the-ground project partners, to participate in the dedication of JWW's Chambucha Rape and Crisis Center, and to work with survivors of Congo's decades-long conflict to build innovative new partnerships and projects.
June 26, 2013
I have fallen in love with two men on this trip to Congo. They are two men from very different backgrounds and with different skills but who share the same unshakeable passion and vision for Congo's women. They are each extraordinary in their own right, and I am in awe of their humility, strength, and perseverance.
Dr. Denis Mukwege is a Congolese gynecologist who founded Panzi Hospital in 1999 in Bukavu, DRC. Dr. Mukwege has become the world's leading expert in repairing fistula -- damage done to the internal organs of women during gang rape. At Panzi, at least 1200 women a year are treated for rape, many needing multiple surgeries. His patients arrive brutalized, bleeding, often leaking urine and fecal matter.
No one is turned away and many women live at Panzi for years waiting to complete their surgeries. I met a very young woman today who had been there for two years. Women can also keep their children with them, and the hospital provides child care and schooling for the older children. Dr. Mukwege's dream (which is on the road to completion) is to open Maison Dorcas, a Women's Empowerment Center where approximately 200 women will live while learning skills and business entrepreneurial techniques. The classes will start even now as the building reaches completion. And while the Center is mainly for these survivors, Dr. Mukwege's goal is to include women from the community around Panzi so that the women will become integrated into the community and not be stigmatized as a result of living there.
Dr. Mukwege has dedicated his life not only to saving women's lives but to becoming their strongest advocate as well. In fact, after he made an impassioned speech at the U.N. which blamed "impunity" for mass rape in Congo and criticizing the international community and the Congolese government for their shameful inaction, an assassination attempt was made on his life last October. He and his family barely escaped and were forced to live in exile for several months. It was a devastating time for everyone and especially the women in Congo, but he is back now albeit at great risk to himself, continuing to operate and advocate.
Dr. Mukwege is a striking man -- tall and handsome. His physical appearance is powerful, but his eyes are deep and easily fill with tears when he describes some of the women he treats. If eyes are the window to the soul, you immediately know that this man has a deep and abiding affection for his patients and women in general. He is soft spoken, but he becomes impassioned when he speaks about the inequities and the brutalities that women here face. Today, he recounted the latest horrors -- that recently 8 babies were raped with bayonets and a short time ago, a beloved staff member was abducted and held for 2 days before she was found. He is circumspect, but we guess what the result of the kidnapping had been. It was a devastating moment for Dr. Mukwege and the rest of the Panzi Hospital staff.
The stories and the numbers of rapes have not abated, and his face reflects the stress of the last many years. But throughout it all, Dr. Mukwege finds hope. When we ask how he finds the strength to continue on, he replies that the women give him hope. He finds his strength in their strength. The young woman who was raped refuses to walk away even though she knows how difficult and perhaps hopeless the conviction process will be. She is determined to fight for her day in court. She tells him "I want justice. I want a lawyer. I want to fight." So for now, Dr. Mukwege will fight for her and with her and all the other women. His hope comes from the fact that today there are beginning to be women who want to stand up and declare their right to punish the "impunity." Dr. Mukwege will be there has along as there are women who need these surgeries.
Amani Matabaro is physically the opposite of Dr. Mukwege. While also handsome, he is a diminutive man who can be easily overlooked in a crowd, but like Dr. Mukwege, his voice is heard loud and clear on gender equity issues and women's empowerment.
We have known Amani Matabaro for several years now but with each visit, I become more and more in awe of him. On this trip, Amani is helping us as our translator and "fixer" so I have had the opportunity to spend a great deal of time with him, discussing Congo and the problems here.
While Amani works and consults with various NGOs and individuals to support his wife and six children, his real passion is AFBEK (a French acronym that translates to Action for the Welfare of Women and Children), an organization he started to empower women and children by providing women with entrepreneurial trainings and children with the fees to be able to go to school.
Amani is from a village called Mumosho where he lost both his parents to the war in the late 1990s. Two years ago, he decided that he wanted to honor his parents' memory by building a woman' center in their village and starting a program that would allow the children to continue their schooling by paying their school and uniform fees. Yesterday, we visited the Center and were amazed. With very few donations and lots of personal loans, he built one of the nicest buildings we have seen in Congo where 15 women who have been raped can live comfortably with their babies, and they and other women in the village (approximately 65 women) can learn skills like sewing (yoga bags anyone?), basket making, and hair weaving. Since Jewish World Watch is paying the school fees for many of the children, we asked to meet with a group of students (average age 16) to discuss their vision of their futures.
While the children were truly impressive -- both their language skills (some speak Swahili, French and English) and their goals were far reaching (becoming President of Congo or the Minister of the Environment), it was Amani who blew me away. Here is another man whose eyes fill with tears when he discusses the brutalization of women and whenever possible he speaks with conviction about the importance of changing gender roles in this country. He has made the betterment of Congo and women in particular his personal mission. We tell the children that there is no better role model for them than Amani.
Maison Dorcas is named after the story from the Bible of a woman named Dorcas, who was very generous to her community. When she died, the community went to the prophet and asked if she could be brought back to life because of her goodness and she was. For the women of Panzi and the rest of South Kivu, there is no prophet -- just two extraordinary men who work tirelessly to bring their lives back to them.
Jewish World Watch is proud of its partnership with both Panzi Hospital and ABFEK, the organizations described above, to support the women of eastern Democratic Republic of Congo. If you are interested in supporting this crucial work, please contact Naama Haviv from JWW at Naama@jww.org.

PHOTO GALLERY
Jewish World Watch in The Democratic Republic of Congo