Last November a rock opera based on the life of Alexander the Great opened in the northern Greek city of Thessaloniki. It caused such a sensation that its seven-day run was extended to ten and booked for another three days at the Megaro Mousikis, its "Lincoln Center," at the end of March.
Almost everything about this opera is surprising. Here in the homeland of the hero, it dares to portray Alexander as a deeply flawed human being rather than the brilliant world conqueror of myth. The libretto is in English, not Greek, written by Penny Turner, a British former riding-school owner and fellow of the Royal Geographic Society. But even more astonishing is the fact that it was produced during this devastating economic slump by a troupe of 70-plus unemployed performers, musicians, and stage hands. From the director to the choreographer, the set/costume designer to the orchestra conductor, all but a couple of singers worked without pay, yet the opera is a completely professional spectacle, unstintingly extravagant and exciting to the eye and ear.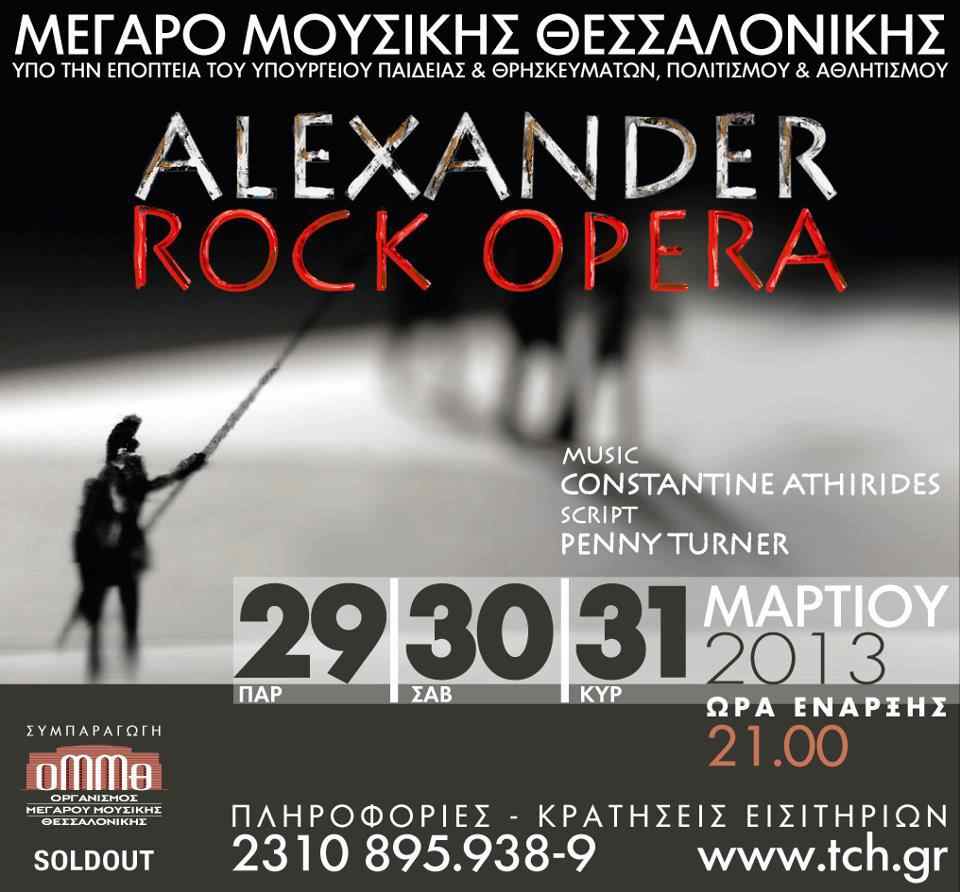 It did not happen overnight. The composer, Costas Athirides, first conceived of the idea in 1996, thinking that although Alexander has been the focus of many a book, play, or movie, he was missing from the musical theater repertory. And having worked for 15 years as a performer, musician, and director in productions of Tommy, Cats, Jesus Christ Superstar, and others, Athirides decided to remedy this absence. He approached Penny Turner, a friend, who had been putting on shows -- circuses and musicals like the Daltons and Lucky Luke -- at her riding school in Thessaloniki, and she agreed to write the libretto.
As Athirides states in his introduction to the CD album, "To get the opera on stage took almost as long as Alexander's campaign." Then he goes on to describe the bursts of creativity, composing and erasing, interspersed with longer pauses where the project was shelved as he worked on other compositions (cds like Sexual Instinct, Synnefa (Clouds), Gaia Action Street, etc.), before he finally managed to pull together the key people who would "give the opera flesh and bones."
Meanwhile, Turner also kept writing and rewriting as her research took her beyond the "official" sources like Arrian, Curtius, and Plutarch and modern biographies by A.B. Bosworth, Robin Lane Fox and Peter Green, to Greek folk histories like the
Alexander Romance
, which is a medieval collection of anecdotes, fairy tales, and myths from the time of Alexander that formed an oral tradition. Not to mention Homer, Aristotle (Alexander's tutor) and the
Bacchae
, a good source for the religion and rituals of the time. As she told me,
I also went to as many places as I could and heard what people had to say about Alexander -- in Egypt and Turkmenistan and even India. I asked people who have been to the Makran desert [along the south coast of Iran] what it was like there... to get an idea for Gedrosia [west of the Indus, whose harsh conditions cost the lives of at least 10,000 soldiers and is considered Alexander's greatest military blunder]. Of course, Alexander exists in Persian legends too as 'Alexander the Accursed.'
I caught up with Turner, when she was in Athens in early December to oversee a completely different project, the biodiversity garden at the Center of the Earth, which she helped to design for Organization Earth. She is also known in English-speaking circles for her Athens News stories about exploring the Greek mountains on the back of her horse, George. The 8,000 kilometers she covered qualified her for a fellowship in the Royal Geographical Society and a John Muir Trust Conserver Award, but I wasn't aware of her identity as a poet-teacher-historian.
Raised in Devon, educated in Scotland, she became a teacher, choosing for her second job the "roughest school I could find, the kind of place where people are trained not to win. I wanted to tell them it doesn't have to be like that."
And because poetry and Shakespeare formed my life, I taught them Shakespeare and theater, too. Some of the kids were Cypriot refugees and they taught me Greek in return. Then looking for more adventure, I moved to Thessaloniki and taught in a language school before I opened my riding school. There, as I said, we put on musicals and even invented a new genre, ballet on horseback.

With Costas, we collaborated really well. He understands that music can create an emotion that illuminates what life is. The only point on which we differed is that he wanted to record the opera in a studio or perform it as an oratorio, but I insisted the cd could not come out without a show.

Scene from the opera

Last spring, things finally came together. After they finished the CD, several of the performers wanted to keep going, so Costas mobilized more friends and colleagues in the music world. Apostolos Vettas, a well known set designer who has two successful plays running in Athens, offered to donate costumes and sets from stock; our friend Aspa Foutsi said she'd be the choreography and use students from her ballet school -- she even got Heavy Metal boys out of their smoking, drinking, not much thinking routine. The conductor, a famous local guitarist named Costas Tzounis, worked for free. You have to understand, nobody had any money and all the performers were unemployed, which is so demoralizing. We even rehearsed in a space with no electricity. And we only gave those singers a tiny amount because they had to give up part-time jobs to join us.

In the end, a whole community emerged from this effort. Everyone gave their all, even the less good surpassed themselves and all behaved with absolute integrity. I think without the crisis Alexander would never have made it to the stage. The singers, who have such wonderful voices, and the musicians would all have been doing their own thing. Costas should get a gold star for bringing something to everyone's life that wasn't there before -- experience, connections, friendship.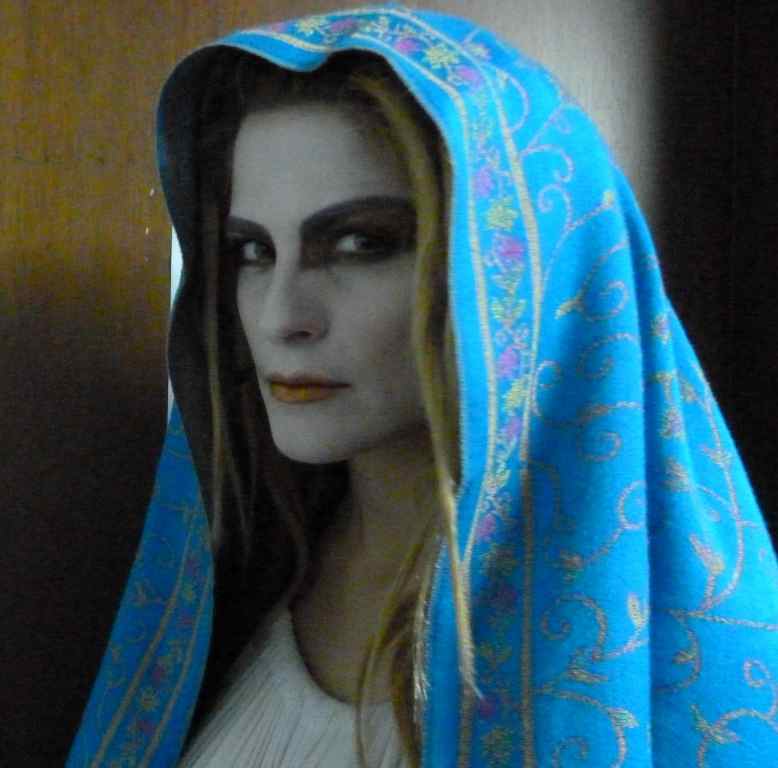 Olympias, Alexander's mother, Harikleia Hatzisavvidou
As for the production, Turner wanted to highlight aspects of the Alexander tragedy that are relevant today. What happens when killing becomes a habit, when drink blurs reason, someone has a bad idea -- such as burning Persepolis -- and everyone jumps on the bandwagon, only to regret it the next day. Or what happens when a leader blames someone else instead of taking responsibility and how when things spiral out of control, a person can become self-destructive, do things that are not in his interest, like kill a trusted advisor who dares to tell the truth or march his men through a waterless desert. And how poverty and despair can provoke even more suffering. It is a tragedy, eliciting Aristotle's emotions of pity and fear, producing catharsis, but it also has moments of real humor as well as lust and love.
These ideas set to Athirides' vibrant rhythms and motifs kept me riveted to my CD player and searching for YouTube links on my laptop. I and others who were unable to travel to Thessaloniki for the live performances this weekend can only hope that Alexander Rock Opera will be brought down to Athens and then move on to conquer audiences outside of Greece, just as its hero did.
One abiding legend in Greek folklore is that of a mermaid who appears out of the waves and confronts sailors with a question: "Does Alexander live?" (Zei o megalexandros?)
There is only one right answer: "He is alive and rules the world!" (Zei kai vasilevei.)
For the moment at least, he lives and reigns in Thessaloniki, thanks to the 70-plus players who refused to give up.