Shout out to my teammates: Tian Feng, Forrest Funnell, Leo Markel, and Ed Preuss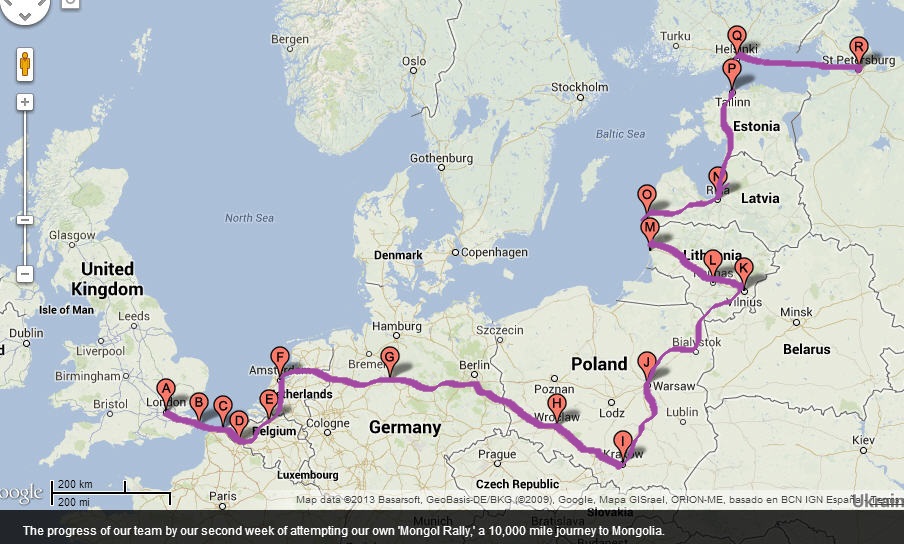 Prior to departing on a 6 week long road trip across 10,000 miles of terrain, I loaded Jack Kerouac's largely autobiographical work On the Road to my Kindle - apt reading for our own road trip across the Eurasian continent from the UK to Mongolia.
By the end of our second week of driving, we had covered the distance from Lithuania to St. Petersburg, Russia. We were moving steadily, but not nearly as fast as some of the official Mongol Ralliers that had started a week later and that had already caught up to Ukraine. In truth, this kind of slapdash adventure is at odds with my general personality. As a typical Type A that favors organization, cleanliness, and order, this trip has been excellent in reforming my tastes and broadening my affinities.
This is not to say that I am new to life on the road. As a former consultant that had the good fortune to be staffed internationally, including stints in Bogotᅢᄀ, Mexico City, and London, I have had my fair share of weekend blitzes through new cities. A major bonus within the consulting industry is the ability to book alternative travel, or reserving a flight to a different city if the value of the ticket is equal to or less than the cost of traveling back to your home base. This was a perk that I took full advantage of, and articles titled "36 Hours in _[insert exotic destination name]__" became my go-to resource.
However, no matter how much my occupation may have equipped me for living out of a suitcase, I remained unprepared for the mental shift necessitated by this particular journey. I am usually restless when presented with what I perceive to be largely homogeneous landscapes, but I have learned how to pick out the poplars from the birches. In vehicles, I concentrated on the road, not on the smattering of wildflowers on the shoulder. In cities, I headed straight to the centers in a frenzy to check off the major attractions, but I have acquired the patience to sit easily at sidewalk cafes, content to people watch.
Similarly, Kerouac's On the Road reinforces this method of travel. Kerouac with his iconoclastic views served as the banner-bearer for the Beat movement of the 1950s, and his road trips became the fodder for his most well-known work. The Beatnik cultural phenomenon, with its emphasis on flow and nonconformity, was always mysterious and incomprehensible to my sensibilities. At first glance, On the Road is nothing more than a play-by-play of how the protagonist travels aimlessly from one coast to another. On a deeper level, Kerouac referred to this piece as a tale of companionship while searching for God.
While I don't believe any of my teammates are exactly on this journey for spiritual reasons, there is a sense of the beatific in our quest to travel to these countries that none of us have ever experienced before. Our journey is experimental, in the very Beatnik definition of the word. Our trip has required some improvisation in terms of itinerary, but after some time on the road, we've finally hit our rhythm and we're on the beat.
We have strolled along the hill-fortresses of Kernave, Lithuania, and bantered with the costumed vendors in Tallinn's Old Town. In these easy, carefree moments, there is a commune with nature and other individuals. You can catch a glimpse of what the Beat writers were seeking and what they were trying to persuade us to experience - that sense of endless freedom and spontaneity. Letting go of rigid expectations and desires is the extent of my abandon along Kerouac's manifesto, and I hope to be a better person for it.
Diana graduated from Rice University in 2010 with a BA in Economics and is an incoming MBA student at Harvard Business School. Check out photos of the journey @superuberonda.