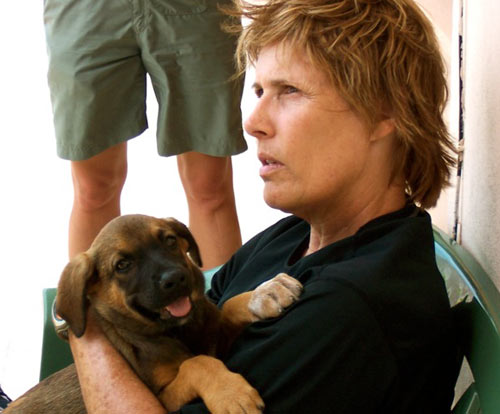 She was born August, 2005, on the streets of Turks and Caicos. There were six puppies. The mother was poisoned and died that first night. Three of her pups didn't make it through the night. The other three did survive on the streets for a week, when a dog rescuer on the island swept them up and put them into foster care, hoping for travelers to fall in love with them and take them home.
The street dogs of this island are known as the Pot Cakes. The locals put their empty pots of rice and peas out on their stoops and the roaming dogs come dig the dregs up. A woman, some 15 years ago, an animal lover who was bored on the island, went to the one local vet to ask why he was not neutering all these street dogs. He was tending to not only dogs and cats but the horses, cows, birds, reptiles, and all other animals, the only vet there. So the woman came up with the plan that she would rescue puppies as soon as she heard litters were new on the streets. She found all kinds of island folks who agreed to foster care these puppies until she could find travelers who wanted an adorable puppy or two to take home. She made arrangements with American Airlines to carry them back to the States gratis, with the local government to skip quarantine with the proper papers, with the vet to give them shots and flea baths.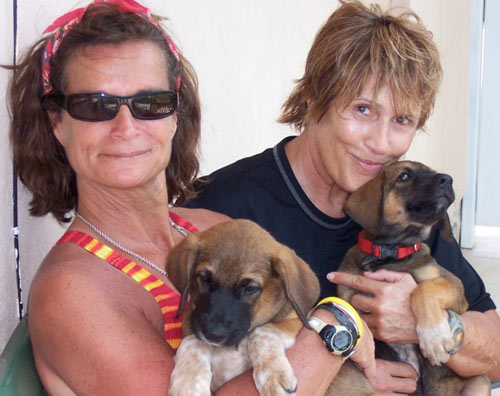 And so it went that in November of 2005 I was in Turks and Caicos with my best friend Bonnie. Just days before the trip, I had identified two beagles that needed rescuing in Los Angeles. It had been 5 years since I lost Badger, my old-soul love-of-my-life dog, a magnificent Chocolate Labrador. I swore I'd never go through that pain of loss again. But as the time of this trip to the Caribbean, I had come around. To live with animals is one of life's grand privileges. And I was ready again for the joy, the companionship, the unspeakably precious bond.
Bonnie and I had read about the Pot Cake dogs on the plane to the island from Miami. We called this rescue woman and she told us three hound mix Pot Cakes were in foster care at that moment. When we met them, it seemed that one male stayed to himself. The other male and the female were a pair. We held them both, fell instantly in love, and the plan was made. They were mine. I remember that first day, 7 years ago, as if it were yesterday. The male, whom I eventually called Teddy, was feisty. An adorable little devil, with gorgeous giraffe markings the length of his front legs. The female was tender. I held her gingerly and she was absolutely still. Innocence personified. Sensitive and somehow vulnerable. My Scout.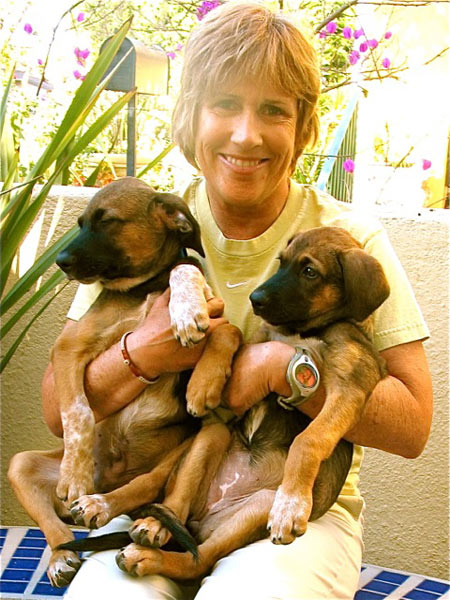 Back home in Los Angeles, Scout was diagnosed at only 3 months with a congenital kidney disorder. My vet said she wasn't going to make it. The ultrasound showed her kidneys to be extremely small and also perforated, like swiss cheese. I held her and cried for a week, pulsing with the injustice of her fate. We started her on special kidney food, tasteless but easier on the kidneys than regular dog food. She turned one, then two... and this August she reached her 7th birthday. I was fastidious about her kidney diet. She didn't like it much. Would go two or three days without eating from time to time. But I never gave in to the more tasty dog food. Never gave her snacks. Never allowed her human food. And that rigid routine no doubt got her to 7. My vet told me it was simply a matter of time. Her kidneys would age before the rest of her body. But she wasn't supposed to make it past puppyhood so, once we were sailing happily through the years, I suppose I assumed she was going to beat all the odds and live to an old age, right alongside Teddy.
End of November, 2012, the crisis came. Renal failure. It wouldn't be long.
Bonnie and I injected her daily with a full bag of fluids, which made her feel better and increased her appetite.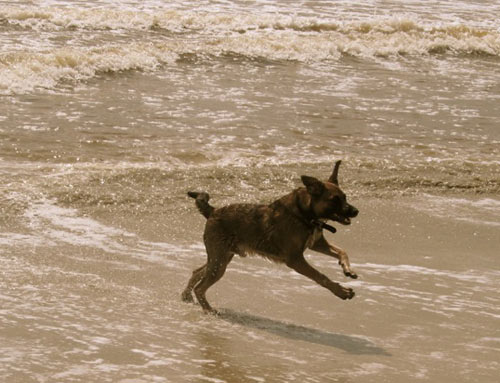 I dedicated every day to Scout's well-being... and absorbed the intense life lessons that come with knowing you are saying good-bye. None of us live forever. One day at a time. One quality day at a time. December was living in an exalted state. I was uber-focused on all her sweet ways. Whereas Teddy feels heavy, bones dense, Scout is lighter than air. Her too-thin 40 pounds felt such a tender being as I cuddled her, her body breathing gently against my chest, her ears unutterably soft under my chin. I love picking her up, arms cradled under her belly.
Teddy is a lover. A cuddler. He is never, ever unavailable for wrestling and hugging. But Scout has always been aloof. She's nervous, cautious, afraid. She has found it hard to accept cuddling except when falling asleep or just waking up. Yet since the crisis of late November, she has readily accepted the shower of affection from me and Bonnie and all my friends. She stands and sits and lies still, none of the old wriggling, to nudge for more kissing and hugging.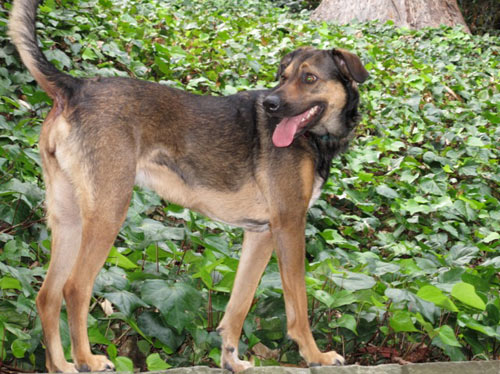 We have this ritual. I press my forehead softly but firmly to her forehead. And we stay that way, motionless, for long minutes. She is fey. So damn still. So delicate.
I have many friends who have both children and animals. It's absurd to compare. But they will say that, just as there is nothing in this world like holding your child in your arms, there is also nothing like holding your animal in your arms. That magical, non-verbal bond.
It was easy for me to wax philosophic in December. Easy to be strong when she was happy and feeling well. But last Saturday night, January 5, a new crisis arrived. We stayed up all night and I thought we had come to the end. She was weak. I held her gingerly all night long, until the sun rose. Then she found some remnant of chi, of life force again. And on Monday she ate for the first time in ten days. Today, I took her and Teddy to the beach, in my mind wanting to give her one last moment of her utter delight. She is, after all, an island dog. The beach is her home. I have always been mama proud of her athleticism and it is on grand display at the beach. Lithe and agile, she would sprint down the straightaway, cutting the corners of the water's edge like a running back. She would leap to the tops of the sand dunes, Teddy clumsily scrambling his way behind her.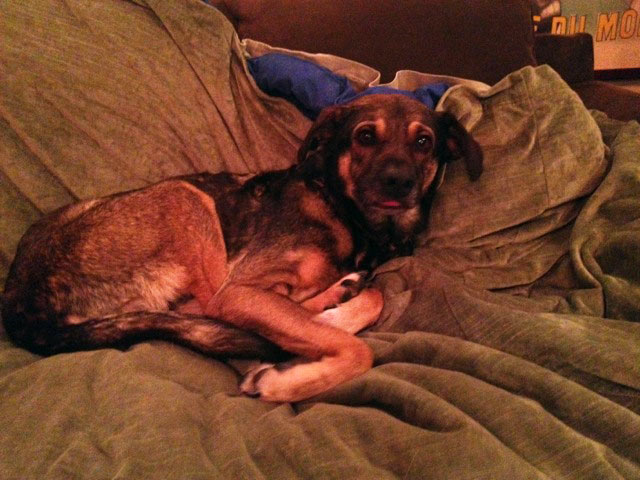 I knew we wouldn't be scampering today but we would at least, at last, have our day at our beloved beach. It was post-card glorious. The sun was glistening all the way across to the horizon. A pod of 30 dolphins frolicked. Scout was so darn happy to trot beside me, nuzzling Teddy feverishly in her contentment.
We have shared so much heightened appreciation, Scout and I both, over these past seven or so weeks. Today's beach day. Our family unit tight and loving. Gratitude flowing, along with the rivers of tears. Yet, despite the enormity of powerful, positive feelings, Scout has declined, day by day, since the joys of December. Vomiting. Falling. I have known we don't have much time left. I've been saying my good-byes. I've been reminding myself of the kind talk my vet had with me when the end began, back in November. He took a deep breath, looked me steadily in the eye, and said it is a privilege to live in a culture where we allow euthanasia for our pets. He assured me my love for Scout would lead me to make the right decision at the right time.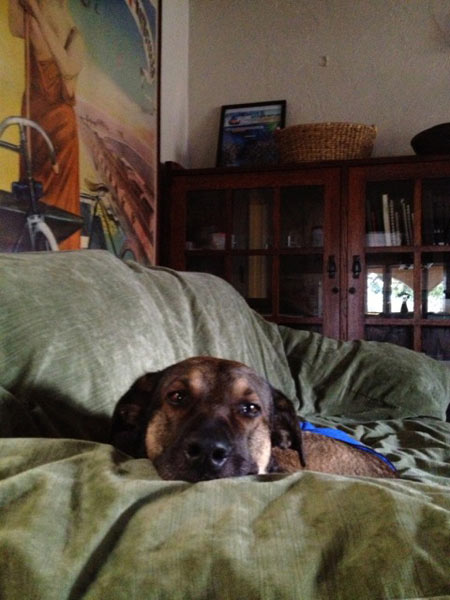 And tonight, suddenly, the time came. 10:30 pm. I was working on the computer on the couch. Teddy nuzzling on my left, Scout serene and dozing on my right. She was instantly gripped by a cataclysmic seizure. It was uncontrollable and frightening... to all three of us. I held her tight, told her she'd be all right. It was violent and seemed to go on forever. When the seizure subsided, her heart rate sky-rocketed to over 200. Then she started yelping. That was it. Not my dog. Not my Scout. She was not going to suffer. I called the vet. Called Bonnie.
Bonnie and Teddy were close by. I held my baby and tried to comfort her. The final good-bye was spoken at 11 p.m., January 8. She made it 7 ½ years. A life cut short by the raw deal of genetically inferior kidneys. The love is palpable. The sorrow is gripping.
I heard a phrase once that goes: The best defense of atheism is that, if there were a God, our animals would live our same lifespan, instead of us suffering this devastating loss every decade or so.
Those of you privileged to love and be loved by an innocent, playful, soulful animal, I know you hear me through my torrent of tears. To feel this much, this big, to have seen those tender eyes slowly close, somehow telling me what a grand life we shared together, to hold her warm body one last time and choke through the list of all her ways I treasured these seven years... to feel this much love inherently brings this much pain. I feel the tug in my chest. My heart is, literally, broken.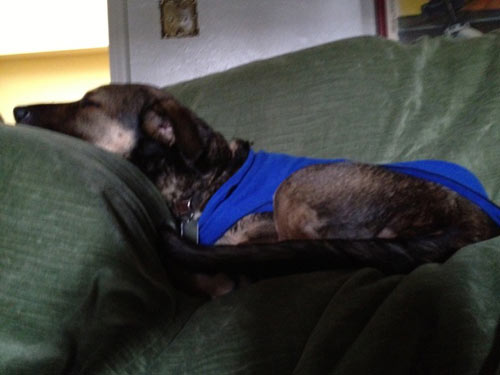 We're home now. Teddy is looking for her. And I am missing her something fierce. I trust the majesty of her spirit will wash over me and bring me a forever joy to have been so closely bonded with her. All the cherished memories will pulse through me and live as a constant reminder of our happy days. But just now, in the middle of the night, flashing on her eyes looking to me with the leviathan love of a puppy for her mama, just now, how can I grasp onto the reality that I will never see her again? My baby. My Scout.