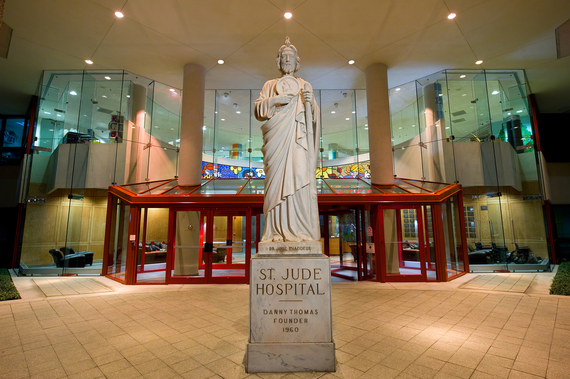 St. Jude Children's Research Hospital in Memphis is an American national treasure.
I spoke to the general population of employees there just a few days ago and went for a tour of the facility. I was in tears a number of times, with inspiration, not sadness.
You must know more about this magical and important hospital. (Follow them on Twitter @StJude and on facebook www.facebook.com/stjude)
Back in the 1950s, actor Danny Thomas wasn't making it. He was in Detroit, out of money, out of hope. He went to church and prayed to St. Jude, the Saint of Lost Causes, as his last desperate plea before giving up his dream. The very next day, Hollywood called and he went on to an illustrious career, especially the hit TV show Make Room for Daddy. And Danny Thomas vowed if he ever had the means he would do something for those considered "lost causes." Well, by 1962, he had funded the impressive St. Jude Hospital in Memphis.
The hospital has grown in good works and worldwide reputation now, the key statistic being that they receive 60,000 applications yearly from doctors and research scientists all around the world who want to do their work at St. Jude. Neuro-oncologists such as Dr. Zsila Sadighi, pictured with me here, are the very top of their fields and feel the work they do for the children who enter St. Jude is profound... we agree.
No child is ever turned away from St. Jude on financial considerations. Some are there short-term, about a month. Some medium term, a year or under. Some of these children never leave the hospital. Danny's great vision is carried on now by his daughter, actor Marlo Thomas, who helps the hospital raise on average $2 million a day. But they of course need constant funding to raise the bar of their care and research even higher. Learn more here.
I left Memphis, my heart brimming with admiration for Danny Thomas and the vision he brought to life. You simply must know about St. Jude. As I say, the place is nothing short of one of our national treasures.