Training in the Florida Keys, August 15th, 2012 (Florida Keys News Bureau)
UPDATE: At 3:42pm EST Diana jumped in the water to begin her swim from Cuba to Florida.Visit DianaNyad.com to view the swim in real time!
This Cuba Swim obsession of mine, dating back to 1978 when I first tried...and failed...to make it across that daunting stretch of ocean, is at the last horizon.
The seas are predicted to be fairly calm Sunday, Aug 19, through most of Tuesday, Aug 21. If all goes well, it's going to take me some 60 hours, non-stop swimming, to make it from Havana to one of the Florida Keys, probably Marathon....how apt a name for the end of an epic endurance event.
So, to be sure, there is pure sport here. Nobody has ever made it (except with the considerable speed aid of a shark cage). This will be an historic moment, if I can walk, or more likely crawl, up onto that Florida shore.
And in the three years, in this modern era, I've been in passionate pursuit of this elusive quest, I have been happily immersed in a thousand eccentric and interesting details of the expedition.
I've learned that we human beings can't be allergic to jellyfish because they are creatures of genetic background that is 600 million years old and our immune systems didn't develop until much more recently.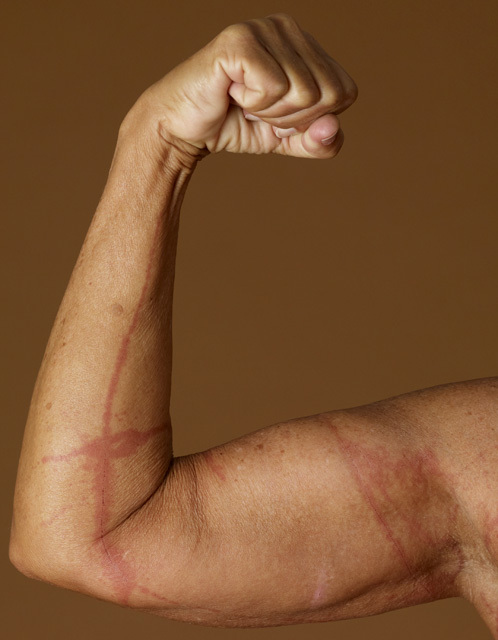 Box Jellyfish scars (Catherine Opie)
I've been surprised at the fact that the human is the worst athlete on Earth in many regards, compared to our animal brethren, yet we are superior at the endurance of continuing at a high threshold of effort for days and even weeks at a time.
I've found myself in a state of rapture to let the mind go free out in the deepest of oceans. The sensory deprivation caused by tight caps and fogged goggles, the metronomic slapping of the hands on the surface for 20, 30, 40 hours of training, no matter how one tries to persist with concrete progressions of counting and singing, takes the mind way out into the cosmos. You just can't conjure thoughts about the edge or the infinity of the universe at dinner conversation as you can when under the extreme physical and mental distress of a long, isolated swim.
There exists pure sport in this quest. Extreme adventure. Outrageous personal discovery. The thrill of unexplored territory.
But truth be told, I embarked on this Xtreme Dream to define the meaning of my life. I turned 60 the summer of 2010. I was choked with the weight of the lightning-fast passage of time. I was racked with fear that I hadn't spent my precious life making the right choices. I needed an all-consuming goal that would force me to live every waking moment at the utmost of my potential.
And there it was. Cuba. I hadn't swum, literally, for 30 years. From age 30 to age 60, hadn't taken one single stroke. But the mystique of Cuba, that beautiful island neighbor, those talented people, that magnificent culture, loomed large in my imagination since that failed attempt in 1978.
I fully expected to train one year and give it a go summer, 2010.
But heavy East winds, nasty Box jellyfish, and a myriad of challenges have found me trying and failing in 2011 (twice), training at a world-class level for three long, disciplined years.
The life lessons I was so hoping to clarify, a template for all the rest of my days, came to me, loud and clear, large and undeniable, during this pursuit.
One, stop wasting precious time fretting in a roiling state of anxiety over future "what if's" beyond your control. If only I could have back all the minutes and hours I have spent over the course of 60 years, consumed with worries about the way things might or might not go. But this Swim has brought me to my knees worrying about weather and government visas and torn rotator cuffs. And I finally, finally have achieved the ability to focus on my efforts of the present, doing everything I can to put me in the best position for the future, and truly let go of imagining what that future will not produce.
Two, there's the great debate of the journey and the destination, poets and philosophers waxing beautifully about the experiences gained along the road, regardless of whether you reach your original destination, or not. And, yes, I have not regretted one moment of these three years. The intensity, the gathering of experts and their great minds, the stirring of passion to live out the high drama of human endeavor... these have been three exceptional years of my life.
But, to play Devil's advocate, what's wrong with savoring the final step on the beach as well? After all, I never would have traveled this road these past three years, had the beach destination not been beckoning in my nightly dreams.
And there is the notion that each one of us needs to hope. We need to fulfill our creative and intellectual and personal potential. We are depressed when we live with no purpose. Just ask millions of Americans who at the moment find mindless television and overeating the numbing answer to not acting out their dreams.
This Xtreme Dream of mine, the Cuba Swim, has rendered me awake... and alive... and alert. And now my time has come. This is it. I will jump from those rocks at Marina Hemingway in Havana and begin this extraordinary journey, toward that magical destination, all the while reminding myself that this is the way I want to live the rest of my life, when I retire from swimming next week... the second time around.
Would you like to join the Xtreme Team? Any donation, no matter how small, makes you part of the Team!