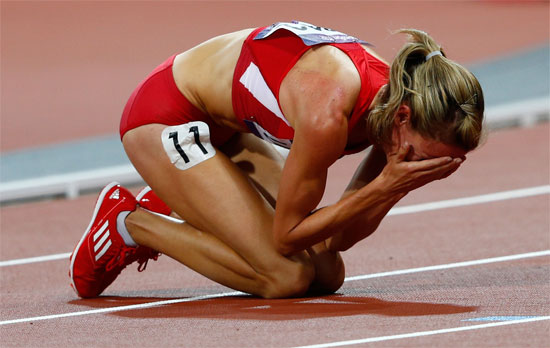 The London Games have closed. They were at once glorious and cruel, as are all Olympics.
Glorious in that they showcase the core of human endeavor, all the more special in that the athletes each have this treasured opportunity for only a day or two every four years. If they perform to their potential, they are exalted.
Cruel in that the athletes each have this treasured opportunity for only a day or two every four years. If they fail, they are inconsolably crestfallen.
The mystique of the Games does not disappoint. Even through the drastic change of once gathering en famille in front of our '50s through '80s television sets to collectively share the experience to the 2012 version of instant internet and rare live action, we still readily throw ourselves into the enchanted arena of the Olympic Games.
We see Bill Gates, mesmerized in his seat at the tennis final. We watch William and Kate in utter awe at just about every venue around London. And we are right with them, enthralled with the magnificent efforts of not only the gold medal winners but each of the 10,000-plus athletes who came from the corners of the globe to give their all.
And how moving was it that Great Britain had their best Olympics in the history of the modern Games? No doubt NBC's apex moment was Tom Brokow's 45-minute documentary on London's devastation during World War II, a tribute to the stoic, proud and resilient nature of the British people. It was clear that the British were more than thrilled to present an organized, good-looking Games.
There was a depth of emotion, an unspoken rich history, as beach volleyball players leaped and archers aimed within the backdrops of London's centuries-old settings.
But with the wide range of sports and countries represented and individual personalities inherently comes a broad spectrum of experiences, not all triumphant.
There are those going home with 4th place finishes. Easy for us to say that 4th in the world is grand achievement. But for Tyson Gay, to struggle back from injuries and wind up 1/100th of a second behind the bronze medal, left his body sobbing uncontrollably at the end of the 100 meter dash.
And there are those who experienced catastrophe. Perhaps you were among those who criticized American Morgan Uceny for not getting up and even walking around the track after she tripped and fell in the 1,500 meters. After all, others crashed and fell and yet somehow summoned the Olympic spirit to not quit.
Alise Post, a shoe-in for a medal at BMX, crashed and said she was confused with shock as to what had happened... yet she picked herself and her bike up and walked across the finish line, to the ovation of the crowd. Sure, Uceny would have received similar bravos, had she walked to her finish line, even many minutes behind the leaders.
But who are we to judge? Uceny last summer had similar misfortune at the World Championships. As happens in fast crowds on the track, feet get tangled. She was tripped in that race... and now the same at her Olympic Games. She fell hard and remained on her knees, crying as the others ran the last lap.
How cruel to work for four years, summon all the discipline, all the sacrifice needed to be your best for just a few minutes at the eminent Olympic Games... and have the dream end in a nightmare moment... with four very long years ahead to perhaps try again?
The annals of Olympic history are replete with the tragic stories of athletes who have fallen or taken ill or simply not been able to muster their peak at the fragile window of the Olympic moment.
We sympathize with Morgan Uceny and the others who are traveling home from London, deeply disappointed. And we thank the others. The medalists and the thousands more who competed with full bodies and hearts and showed the world what it is to hope and to strive.
On a personal note, I am at this very moment preparing to make my final attempt to swim from Cuba to Florida, an epic endurance feat that has never been done before. I myself have been trying to cross this daunting sea since way back in 1978. In these more recent times, I set out two years ago, in 2010, to finally achieve my own "Olympian" Dream. I have faced disappointments, weather delays, deadly jellyfish stings, etc. But I now find myself ebullient to have just witnessed the athletes of the London Olympics for 17 days, just before my own quest. How profoundly inspired I am by having watched them do their utmost.
They took to their various fields and pools to declare, each of them: "This is MY time!" And so I now travel to the Cuba shore to declare the same.