Hooded hooligans scarred the G20 gathering in London's streets today and underscored the need for leaders to crack down on the type of reckless capitalism that has brought the world to its knees.
This mayhem is a harbinger of trouble to come in every country in the world and a threat to G20 leaders to not only impose justice on misbehavior but prevent it in future. Not only are the world's citizens upset, and damaged, by what's happened but there's a threat to the social contract itself in the world's capitalist democracies.
I'm not condoning street violence but it will be helpful if political leaders understand that economic ruination by others -- whether a foreclosure in Detroit or a laid off worker in Cincinnati, Delhi or Bristol -- is also a violent act. It damages victims, not only financially but psychologically and socially. Their hardship is even less bearable given the evidence that the world's crisis was due to the exploitation by ruthless or criminal players who gamed the system for their own benefit.
This crisis has not been a failure of capitalism, as some of these protesters believe. But it is a failure of the financial system and of globalization because there was a regulatory and police vacuum in the international space that led to the collapse. That's why Sarkozy insistence on immediate global policing is not just grandstanding. It's absolutely essential in order to impose the rule of law on global capital markets, as is the case with trading, but which has been missing.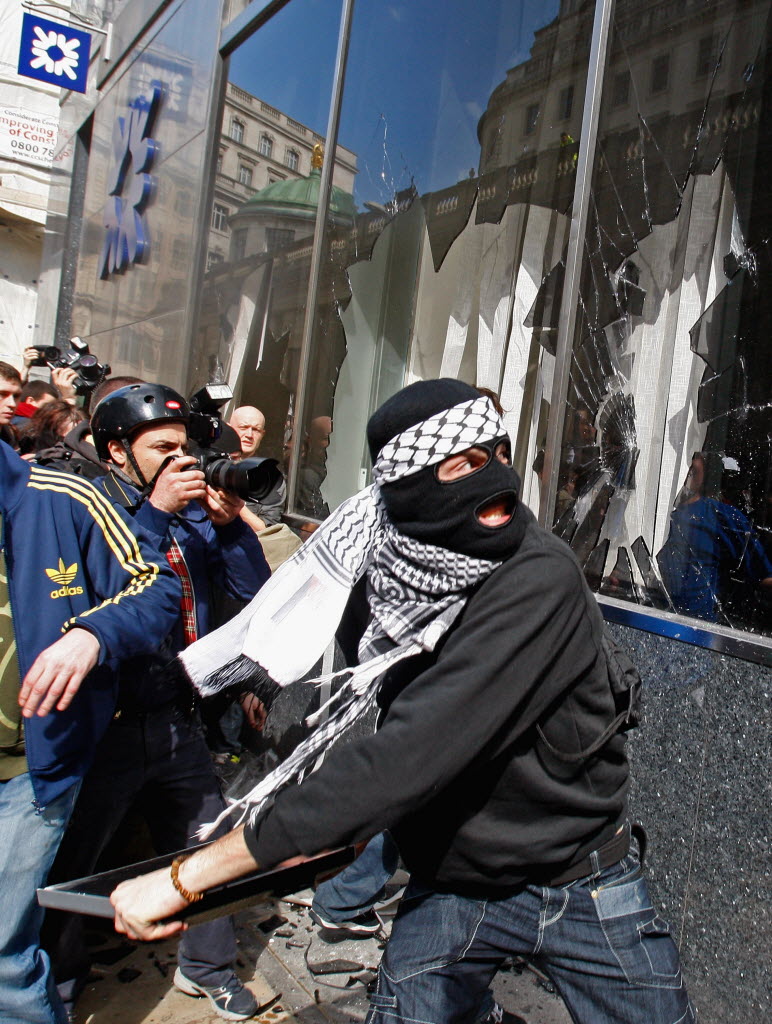 The protester is vandalizing the Royal Bank of Scotland which was nationalized in Britain after years of reckless and negligent behavior. Its Chair was recently forced out of his position but left with a pension of US$1 million a year -- another example where taxpayers of modest means are left holding the bag and the culprits escape and profit from their misdeeds. Obscene payouts to AIG, Wall Street and banking officials have resulted in violence in the United States and elsewhere too and this will grow until all of those responsible are stripped of their ill-gotten gains, go to jail or both.
On balance, these dramatic demonstrators are an unfortunate and necessary step toward global governance and their efforts will help bring about some justice in the global economy and international finance.