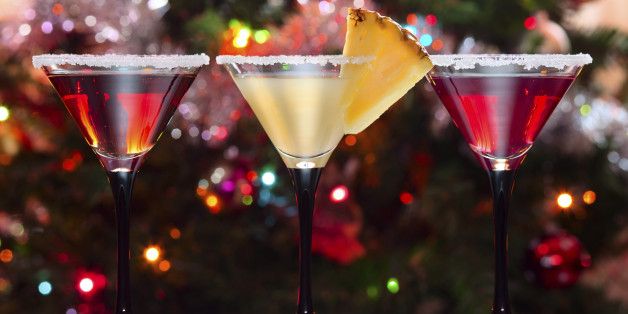 For many, December means festive parties in full swing and entertaining friends and family as you celebrate the season. Whether you're a longtime host or this will be your first time throwing a merry jamboree, here a few tips and tricks to get things rolling along.
Make a game plan. Ask yourself what kind of atmosphere you are hoping to create. Practical items such as adequate seating and plenty of serving pieces can be covered easily with the help of a few good friends. The menu, playlist, décor, activities and more will come together well when you plan ahead. I've created a holiday checklist for your reference.
Mix up the guest list. A savvy host understands the value of bringing interesting people together to keep the conversation going as they attend to party related duties. Similarly, seating at the table should be considered carefully. Place a lively associate next to a quiet coworker. Spouses or partners should be broken up and seated next to someone they will enjoy getting to know better.
Set up a beautiful self-serve bar cart. Not only is it pleasing to the eye, but a cheerful bar cart in a central location allows everyone to partake in a second eggnog martini or candy cane cocktail without pulling you away from other entertaining duties. Ask a friend to keep a watchful eye on the liquor and any supplies that may be running low. Show them where replenishments can be found.
Add a signature touch. From the decorations to the charcuterie tray, props and festive serving pieces will make the difference between the expected and a "wow." Something as small as fresh holly and berries in a pretty vase says, "I'm glad you're here" without breaking the bank. The same goes for candlelight and anything with an interesting story associated with it, such as the vintage platter your grandmother gifted you when you were first married.
Have reliable vendors on speed dial. Part of good planning is knowing who to call should the need arise. A fabulous caterer, a rental company for tables and chairs, a great bartender and a valet service are worth their weight in gold in a pinch. Depending on the size of your event, you may or may not need to hire out, but it's always best to align yourself with the pros. Don't skimp on professionalism for a better price.
Spend money wisely. Look for ways to creatively cut corners. Name tags, when used, should be preprinted and ready to put on at the door. Invest in quality paper, so they don't end up on the floor or in the trash. Place settings can easily be mixed and matched and generate a feeling of sophistication and glamour without spending any extra money.
Get inventive with small spaces. Utilize areas that you wouldn't ordinarily think would be useful. Set up your balcony for additional seating and the corners of the living room as conversation areas with bar stools and a bistro table. Move furniture out of a heavily populated area for freedom of movement and take advantage of your large foyer.
Delegate duties. When others ask if there is anything they can do to assist, do not hesitate to share a slice of the workload. They will feel great about playing a part in a successful evening and you will feel more at ease with less on your plate. Hand them a personalized apron and let them pitch in. Allow them to pass around appetizers and refill wine glasses. A family member would be happy to greet each person arriving at the door.
Don't let stress get the best of you. A wise host rolls with the punches. Remind yourself ahead of time that regardless of what may or may not go wrong, it will be a wonderful gathering. Your guests are there to enjoy themselves and are certainly not demanding perfection. A small slip-up can even lighten the mood and provide a little entertainment.
Put off the dishes until after company leaves. No matter how strong the pull to rinse off your sticky dishes after dinner, step away from the soapy water and mingle with loved ones instead. Guests will relish the few extra minutes sharing coffee and dessert. You've pulled off a fabulous event and deserve a nice break to relax and enjoy your own party!
You may also like Diane's article,
How to Be a Gracious Holiday Host
.
Visit Diane's blog, connect with her here on The Huffington Post, follow her on Pinterest and Instagram and "like" The Protocol School of Texas on Facebook.