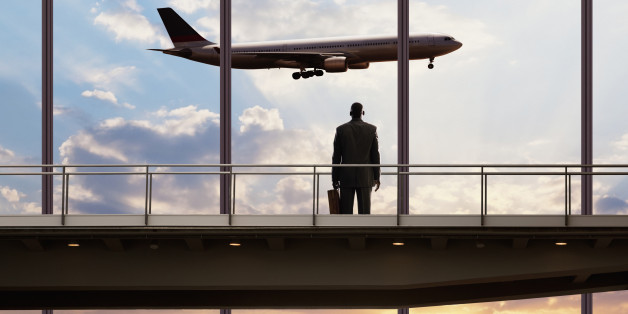 Before you lean your seat back and pop in your ear buds on your next business flight, think again, especially if your boss is sitting next to you. Rule number one for traveling with the boss: you are not on vacation. Even though you are not in the office, you are still on the job working, just in a different setting. Follow these tips to make, and maintain, a good impression throughout the trip:
Dress appropriately. Choose your wardrobe with work in mind. Don't let your professional guard down when traveling, even when flying internationally or to the tropics. Opt for business casual rather than flip-flops and a t-shirt. If you are heading to a meeting as soon as the plane lands, prepare to travel in your meeting attire and shoes. Women, select a travel shoe that will allow you to survive long walks through the airport and lug your suitcase up a broken escalator. Consider packing an alternate pair of heels to change into when on the ground en route to the meeting.
Follow the boss's lead. If your boss pulls out a novel or settles in for a nap after the plane takes off, feel free to do the same. But be ready and willing to work if your boss wants to engage in business conversation. Keep a tablet or pen and notebook in your travel bag.
Be ready to dine solo. Unless your boss suggests meeting for dinner, make your own arrangements. Your boss may have alternate plans and expect you to fend for yourself -- on the company credit card, of course.
Determine your responsibilities before the trip. What will your role be on the trip? Will your boss take the lead and expect you to keep up, or is it up to you to make arrangements for transportation, set up meetings and make dinner reservations? If you are not sure, don't hesitate to ask about his or her expectations, giving yourself plenty of time to make the necessary plans.
Be ready to pay as you go. A junior executive often is responsible for taking care of expenses along the way: the rental car, cab fare, and hotel bill. Bring your company credit card (and your own credit card as an emergency backup for individual expenses in the event your business card is flagged) to cover the expenses. It may also be your responsibility to tip the valet, skycap or shuttle driver who assists you both with your bags. Make sure to bring plenty of single bills for gratuity. This is a great opportunity to show your boss you are in control and prepared for everything.
Avoid alcohol on the flight and drink moderately on the ground. Remember, the flight is technically work time when you are sitting next your boss. If he or she orders an alcoholic drink on the plane, you may opt to order one as well, but know your limits and keep your drinking to a minimum. When you are at a business meal entertaining clients alongside your boss, stick to a one drink limit. Switch to club soda with a twist of lime or "mocktail" of your choice to stay sociable while keeping your wits about you.
For supervisors, business travel is a great time to observe how an employee represents the company outside of the office. For an employee, keeping your composure will go a long way toward showing your boss the competent, consummate professional you are.
Visit Diane's blog, connect with her here on The Huffington Post, follow her on Pinterest and "like" The Protocol School of Texas on Facebook.