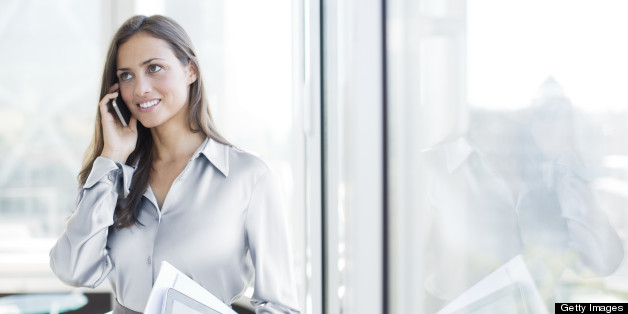 Thou shall not come to work with wet hair. Stringy tresses are a pretty good indicator of lack of motivation, or poor time management skills. Set your alarm 20 minutes early, and show up to work enthusiastically and "office ready."
Thou shall not substitute flip-flops for a business heel. A rubber shoe that could double as a shower shoe is much too casual for the office and should be reserved for weekends or the beach.
Thou shall not carry a cell phone that is covered in rhinestones. Less bling is less conspicuous.
Thou shall not wear anything that is too short, too tight, or too revealing. Period.
Thou shall not put her makeup on at her desk. It's difficult to conduct business with someone that is preoccupied with a mascara wand.
Thou shall not call in sick on Friday and post a picture on Facebook of her trip to the wine country on the same day. Social media is a blessing and a curse!
Thou shall not wear synthetic material. A crisp cotton shirt is always preferable to a hot, non-absorbent blouse.
Thou shall not wear a cami or tank without a second layer. If you sleep in it, see through it or can floss your teeth with it, skip it and choose another option.
Thou shall not go nuts with the artificial scent of summer. Burning a tropical candle in a confined workspace can potentially give your officemates a headache. Consider a subtle scent that only you can smell, perhaps a lightly fragranced room spray, or a quick spritz of cologne on your own wrist.
Thou shall not wear shorts to the office unless it's the office picnic. Just because you've seen it in the summer fashion catalog doesn't mean it's in your office dress policy.
Thou shall not wear sunglasses on top of her head as a headband. When not in the sun, put them safely in a case, in your briefcase or purse.
Thou shall not wear too many pieces of jewelry. Stick to one great fashion statement and keep the rest subtle. Multiple rings on both hands, dangling earrings and loud bracelets are distracting. Less is best in the office.
Thou shall not wear cheap T-shirts. Invest in a few good quality summer weight tees in white and assorted summer colors and wear them with everything from a pencil skirt, under a suit jacket or with a pair of trousers.
Though shall not wear wedge sneakers to work. Select a stylish heel, practical wedge or fabulous flat to finish off your polished look. Steer clear from anything that remotely resembles a sneaker, even if it includes a wedge.
Thou shall not forget that summer heat is not a good reason to let your professional guard down. Your client (and boss) expects the same quality work and image all year around. You may lighten up on your fabric, makeup and perfume, but not your focus, attention to detail and professionalism.
Be sure to read my 15 Summer Office Commandments for Him, and sign up for my Huffington Post articles via RSS or select from the other options in the "Get Updates from Diane Gottsman" box (above) to be notified of future articles.