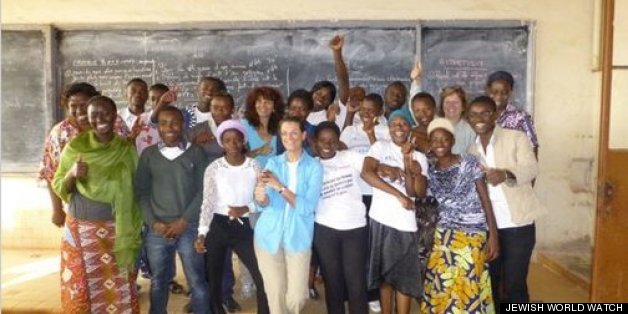 Diane Kabat is a Board Member of Jewish World Watch (JWW), a leading organization in the fight against genocide and mass atrocities worldwide. JWW's work is currently focused on the ongoing crises in Sudan and Congo. Diane recently traveled, along with fellow JWW Board Members Diana Buckhantz and Janice Kamenir-Reznik, to Congo's eastern provinces to meet with JWW's on-the-ground project partners, to participate in the dedication of JWW's Chambucha Rape and Crisis Center, and to work with survivors of Congo's decades-long conflict to build innovative new partnerships and projects.
Electricity is "iffy" in Bukavu. Unexpectedly, power goes off, and you wait patiently for the lights to go on, the fan to start, and most importantly when 9500 miles away, your internet and email connection. Also, you don't want to be left without enough battery power for your camera.
While making the long drive out to one of Jewish World Watch's projects in the village of Miti, of course, this happened to me. My camera battery died. Fortunately, others had cameras. Yet in all honesty, I found that I was able to take advantage of exhausting my camera. Instead, I could take-in every moment of the experience with the women of this impoverished area in South Kivu.
We made this long journey for JWW to evaluate the success of an animal husbandry program which we funded for our on-the-ground partner Women for Women International (WfWI). Since 2012, this agri-business has provided a sustainable livelihood for a small sampling of 200 resource-poor, rural Congolese women. It includes animals, materials and specific training.
With two cars in our caravan, we follow the main highway along the southwestern shore of Lake Kivu. It is strikingly beautiful, yet as we travel, the human condition worsens. Women are carrying heavy loads on their backs going to market, and people are selling everything from sugar cane to potatoes to basic building supplies on the side of the road. For miles and miles, men are seated by heaps of collected rocks using back-breaking manual labor and small hammers to make gravel.
We finally turn off the main road and head into the hills on an unpaved, washed-out, winding dirt road to Miti. When we reach the WfWI training facility, our car is instantly surrounded with villagers and children peering into the windows and trying to sell us beautiful eggplants, avocados and beets.
All of a sudden, the singing of Congolese women is heard in the distance, and with hands waving, gourds rattling, and tongues twilling, we are danced into a thatched meeting area. The women are dressed in their finery. At this moment, I realize it is just fine not to have a camera. I am absorbing every detail. Once seated, we make introductions, more cheering, and then, one-by-one, a number of the women tell their stories about, for them, our life-changing project.
One woman, appearing to be a group leader, explains how she cares for her 12 animals, 10 females and 2 males, and how important it is to keep her 2 cages meticulous. We are shown handmade baskets, another side venture for the women, which help to transport the animals to market.
Another woman explains how having access to protein has improved the nutrition for her small children and how she is able to provide her family with better and more plentiful vegetables because of animal by-product use.
At least ten women address us, each taking great pride in telling their individual successes. Not only are these 200 women able to alleviate problems due to increased food security, but through literacy, business and basic economic workshops, women are learning marketing and financial skills. Now with a nominal income, many of the women are able to purchase larger farm animals and afford school fees, health care, clothing and other basic needs.
In Women for Women's assessment of the project, the animal yield increased by 195%, fertilizing over 100 fields, purchasing over 65 additional livestock animals, and creating an actual monetary yield.
As we are escorted back to our cars with more jubilation, I know all three of us feel remarkably proud of the difference JWW has made in this one isolated community. Think of what could be accomplished with additional dollars to support another 200 women in another village. As I plug-in my cellphone at the end of the day, I remember the beautiful faces of the women of Miti, where there is no electricity and water is collected and carried up the hill daily. I am excited to return back to Los Angeles to recharge my personal battery for the people of Congo.
Jewish World Watch is proud of its longstanding partnership with Women for Women International, the organization described above, to support the women of eastern Democratic Republic of Congo. If you are interested in supporting JWW and Women for Women International's work in eastern Congo, please contact Naama Haviv at Naama@jww.org or 818-501-1836.
PHOTO GALLERY
Jewish World Watch in The Democratic Republic of Congo