I recently read an interesting article written by Jonathan Zalesne, Marriage Counselor and Couples Therapist in Fort Collins, Colorado, entitled, "Blending families: A Merger, Not a Hostile Take-over." The corporate metaphor rang true, and reminded me of a newly-divorced woman, who was in a new relationship with a newly-divorced man. In response to an inquiry by her best friend regarding the new union, the woman resentfully replied, "I am working full-time just to merge our two worlds together!" As Zalesne proffered, "Blending two families can be both challenging and rewarding."
The challenges of blending two families are complex, and require a significant investment of time, patience and compromise. Not unlike baking a soufflé, the process cannot be rushed, or it will fall flat and be completely undesirable. So, how can you approach the challenges in such a way that you will reap the rewards? Consider the following four strategies Zalesne suggested:
1. Tread lightly when entering into a family with children. The more naturally you allow your relationship with your new or prospective step-children to grow, the more solid the bond will be.

2. Build trust and an emotional connection with a child before exercising power. Be careful of a "My way or the highway" mentality. Making statements like, "This is my house, my rules!" can feel scary to a child. Their entire world is shifting, and they need to know they can trust you. Find activities that they enjoy and make an effort to spend time together. Let them know that you care about your relationship with them, not just your relationship with their mom or dad.
3. Don't argue with your new partner about parenting in front of the children. As step-parent, you should defer to the biological parent if you disagree.
4. Be welcoming of your children's other biological parent. Create an environment in which your children never feel they have to develop allegiances as this causes anxiety and stress for them. It's very reassuring for a kid to see all the important adults in their life working together. Allow and encourage the other biological parent to spend time in your house when they drop off the kids. Let them see and spend time in the kids' rooms.
Compare and Contrast: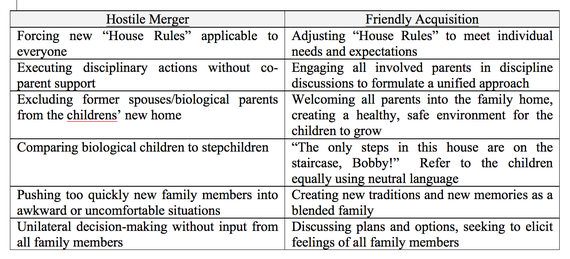 But don't despair! The rewards of a successfully blended family are plenty! Emotionally stable children are the best rewards for the efforts taken by the adults to incorporate their two families into one. Blended families benefit most when each member knows his/her role in the family unit and respects the roles of the others. These roles may vary depending upon the particular relationship dynamic, and therefore, flexibility is also a key characteristic to employ when managing blended-family conflicts.
Parenthetically, after several months of "hard work merging their worlds," the newly-divorced woman eventually married the newly-divorced man, and are now working to blend their respective families.