Ask and you shall receive...
It all started with a coat.
Walter, our tall, dark, and handsome, Get Lit Player teen poet from Watts, is leaving for college in Pennsylvania in a few weeks, and I wanted to make sure that he had a coat. "Walter, do you have everything you need for school? You have a coat, right?" "Oh yeah, well, not a coat but I've got some heavy sweaters." "Some sweaters? ... Walter, no. Did your school send you a list of things you'll need? You know, a garbage can, computer, sheets, blankets, kind of list?" "Oh yeah." "Will you send it to me?" "Sure." "And how are you going to pay for your ticket?" "I'm working that out right now..."
"Working that out" meant praying, I think. The truth is, Walter was two weeks shy of leaving to start college and he didn't have a ticket, clothes, or any of his supplies. His scholarship would kick in once he got there, but how would he get there?
Walter chose Lincoln University, because it's where Langston Hughes graduated from. He learned about Langston Hughes in his Get Lit class at Youth Opportunities High School, but that's another story. As is how he got his coat... But first, here is Walter's story. From Walter.
Be patient and tough; someday this pain will be useful to you. Ovid
"I've always wondered what life would be like if I was a bird. How would it feel to just spread my wings and fly away from all the troubles I come across in my life? Leave them grounded while I soar as an eagle over every worry, responsibility, distraction, and obstacles I may come across, but just recently I started to think otherwise. My name is Walter Ray Finnie Jr, and I was born November 16, 1994 to the parents of W. R. Finnie Senior, currently an ex-gang member trying to recover from all his past mistakes he made when he was a teenager (when I was born), and K. Griffin, currently a recovering addict who works with the little she has to give back to her children because she feels guilty from all the pain she has caused. Then you have me, the Dreamer, the one who always seen the best out of every situation.
It's like I was cut from a different cloth because I've always had big plans to make drastic change in my family, even as a kid and I didn't even know it then. My father was in and out of jail majority of my childhood, but my elementary school days were spent with my mom. We lived in west LA on 82nd and Hoover and I attended Manchester Avenue Elementary school. This was before my mother met her life changing addiction. This point in my life consisted of my daily observations of the weed smoke around me, nodding my head to the sounds of the loud gangster music, and traveling back and forth between my mother's house during the week for school, and my grandma's house in watts during the weekend and vacations. Whenever my dad wasn't in jail I would go stay with him, and whatever female he had taking care of him at the time. But every time I would go and visit my grandma she kept me busy by having me do a variety of things. Between her and my grandpa I was gardening, landscaping, painting, cutting grass, mechanics, and doing carpenter work along with my elementary school studies, and my grandparents always let me know one thing, whatever I do, do my best. So whatever I did I did it with passion, and perfection. I always made the best of grades throughout elementary setting a good example for my younger siblings.
By the fifth grade I had 8 siblings, 3 younger siblings from my mom, and 5 from my dad. But the type of woman my grandmother is, we are all family. Fifth grade was a pretty crazy year for me, I was suspended for the first time, and to me that's when things started going downhill. The day of my graduation was the last time me and my little brother T. had seen our mom, and our little sister Kam., and brother J.. For a very long time at least, we moved in with grandma. Her name was Patsy Cole, her husband, my grandpa's was Mike Cole. They shaped my life because one thing I learned from them was how to love a family, how to care for others, and how to give back and appreciate. But granny had big load on her plate. She had custody of me and T., and adopted all seven of my father's children because he went down for a domestic violence case. When the police raided the house and found all the drugs, he caught a few years and his girlfriend, my step mother went to jail for 6 months and had all her children taken away.
Granny also had children of her own, seven of them. And we all lived together in the same 4 bedroom house. It was packed, it was hard, but my granny always made it happen, and I have always noticed that. She pushed me through middle school, kept me in church, and promised me after middle school she would take me away from all the burdens of life trying to stop me before I could start being the best I could be. Because middle school was no piece of cake, I was angry because my mother was who knows where, and my father had just got out of jail. I had a very short temper, and that caused suspensions, ditching, and unnecessary fighting throughout 6th and 7th grade. Dudes used to try to bully me too, so back then I felt like I had a point to prove, just because I didn't always have all the new stuff like all the other kids. I appreciated what I had, but 8th grade I started to get older, I knew I couldn't give up on my little brothers so I picked up the pace and got on the ball, and it was second semester when my mom started to show her face again.
I remember I was just chilling in the front yard, and she rolled up in a black Pontiac, I don't know what year it was, but when I looked at her my eyes were filled with tears that never fell. Her face was really skinny and her eyes were all swelled, I had never seen my mother like this. It scarred me, but she kissed me on the cheek and got back in that black car and said I love you. I stood there and watched her leave, then continued to cut the grass. Before all this mess I would always tell my mom I was gonna build her a house. No matter what, I wanted to be an architect. And that's all I could think about after watching those brake lights disappear in the daylight. Couple weeks later mama came back pregnant, looking like she was ready to drop any minute. Then, next thing you know she has a little boy, March 3, 2008. His name was Lawrence Floyd Simpskins. I couldn't wait to graduate because this new baby had forced my mother to sober up, and I would be able to spend the summer with my mom, she was staying in a program called shields for families, a facility for recovering single mothers, and therapy for suffering children of addicts.
I graduated from 8th grade and went to stay with my mom in the program in Compton for the summer. My granny was already moved in her new house in Palmdale, CA and she decided that it would be best for us to go and visit my moms. She said it would give her some motivation. So we stayed out there for the summer, but things took a devastating turn. My little brother Lawrence died from SIDS (sudden infant death syndrome). It was June 27th, 2008. This scared me instantly because I thought my mom would relapse from this, I mean it hit her hard, but she stayed strong and didn't break. She kept her sobriety. After this happened I had to move back with moms, she needed her children. So my granny gave me and my brother the option to stay with her or go with our mother. By summer 2009 my brother and I were living back with our mother in Compton, CA. Back in the ghetto, back in the places I was supposed to get away from, the places that would clip the wings I had in my dreams. But I didn't care, I was moving back with mama. I missed her; I missed that side of my family because my mother was not just an addict. She came from a long line of them, her mother was an addict, and her grandmother was an addict as well. For that reason I don't too much blame my mom because I know that it was in her blood, so once she got a taste of it the monster would take control. She didn't try crack by choice though, she was laced by a guy she was sleeping with after her and my younger brother and sisters father broke up. I hated him. He was one of the reasons my temper was so short. Honestly I wanted to kill him and many others as well. But my granny helped me stay humble. She helped me appreciate the good in life. But living with my mother and my little brother in the beginning was tough. We had disconnected from our mother. I was at the age where my mental had grown just enough for me to have plans, goals, and dreams, and the ability to keep them separated. So I did I had plans, I had goals, and I had dreams to be the best thing to ever come out my family. Those dreams then turned into goals that turned into plans.
11th grade was when I moved back to Watts, the hometown of my father's gang, and a place that eats the good alive. I checked into a school called Youth Opportunities High School, in Watts. It was a small charter school but it got the job done. The only reason I went there is because I was missing credits from when I transferred from Palmdale to Compton. This is when life started to take some drastic turns, for the better and the worst. These were the times I realized that dreaming of being a bird couldn't help my situation; it would only make it worse. At this time my mother had got custody of all her children once again. My younger sibling's dad moved to Watts with us. My dad was in jail at the time. For the first year, we were living well. House all plushed out because we stayed scheming, I mean we had everything everybody needed. Even though I didn't agree with everything they were doing I wouldn't complain when the money came rolling in. So for me it was go to school, and smoke the best weed daily. My room has seen more smoke than a wildfire could ever bring. All the while this is taking its toll on everybody. The weed made me lazy, barely keeping up with my studies. I completely stopped doing chores; the only thing I cleaned was my room. And one of the things that got under my mother's skin was a dirty house, and that's all she came home to every day, a dirty house that reeked of ganja, pretty hard for a recovering addict.
It wasn't until the day my mother tried to kill herself that I started to see what was really going on, because I was very distracted by the people and places around me. I mean she would always mention how sick of us she was, and how much she hates us, but we just thought she was just going off and saying a bunch of crazy stuff because she was our mother. And how could she feel this way towards us. Reality set in, I found out my stepdad was cheating on my mom with one of the ladies downstairs. My mother relapsed after 6 years sober. But somebody had to keep that plushed out apartment, all we had to do was live in the place with no problems for 2 years, and my mother would get her voucher for section 8. But it didn't happen like that, once mom relapsed, step dad shook with his new chick, he didn't even look back for his kids or nothing. My pops was in jail, and mom was long gone. So I left school and held it down. I had to get on the block, I had to slang, I had to do so many things that I was uncomfortable with, but when I used to come home and see the pain in my sisters eyes, mixed with hunger I was enraged. I had to make it better for them. I started smoking twice as much weed, and getting money. That's all there was to it. I missed mama, but she had that monkey on her back, and there was no turning back until she rode that entire wave.
I kept the house intact for as long as I could, but after 3 months the people were on to me. The manager of the apartment complex noticed my mother was not coming home for weeks at a time, and the school counselor called DCFS on us. So I sent them with their grandma, and I and my brother T. went our separate ways for a minute. I bounced around here and there until I moved in with an old friend we used to live around. They gave me and my brother T. a home. I started going back to school, and then that's when I met poetry. I have always loved writing raps, but I got in this literature class called Get Lit. At this point my life changed.
Next thing you know I'm performing at this thing called the Classic Slam. My team got our asses kicked but that year was one of the best years of my life. I went from nothing, to performing for over 15,000 teens, Dodger's Stadium, and many more great accomplishments.
Now I don't wish, or wonder what it's like to be a bird, because I'm already a bird. My words are my wings, and they make me fly over everything that may get in my path."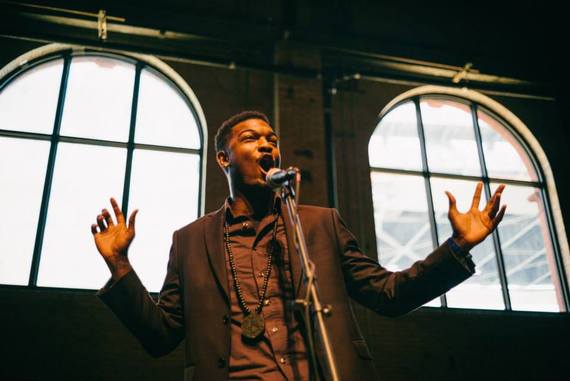 In response to an email blast Get Lit sent requesting 1 coat, Walter received an entire wardrobe (including multiple coats & a red velvet suit) from Nick Cannon, a plane ticket, and $1,500. When Walter arrives in Philadelphia, a documentary filmmaker will pick him up at the airport and drive him one and a half hours to Lincoln University, so he can officially record Walter's arrival, plus take him shopping for school supplies, a garbage can, and sheets.
Ask and you shall receive.
Walter is a member of the Get Lit Players, an award winning Classic teen poetry troupe, comprised of Los Angeles County teenagers. The Get Lit Players just ranked 3rd in the world for spoken word poetry at Brave New Voices, and will be performing at the Hollywood Bowl with John Legend on August 20th, 2014.