Photo Credit: Meredith Jacob
Meet Madeline Carl and Meredith Jacob, two college filmmakers who are traveling 50 states in 50 days by car. Although some say this trip is impossible, these two Stephens College seniors weren't listening to any naysayers as they recently embarked on their journey. Their mission: "to collect stories and inspire people to achieve those seemingly impossible goals," while capturing their journey on film.
These college roommates are determined to prove that their trip is possible and along the way inspire others to follow their dreams. They have the full support of their college. Here's what President Dianne Lynch said before their journey began:
When Madeline and Meredith came to me with their plans, I was so excited for them and definitely wanted the college to help them in any way we could. So far, we've helped them promote the trip as they try to raise funding and provided space for a fundraiser they held on campus. Of course, we'll continue to support them in any way we can.

We're so proud of Madeline and Meredith for taking on this project, and I expect a great film from their experiences. They really embody our values and mission. After all, having big, bold dreams -- like traveling to 50 states in 50 days -- doesn't make you crazy. It makes you a Stephens woman.
As traveling filmmakers, they are ecstatic to be embracing a cool project that combines two of their passions: traveling and filmmaking.
The traveling duo started off in Columbia, MO, on May 19, 2014, with the following trip itinerary, visiting in order: Leawood, KS, Des Moines, IA, Minneapolis, MN, Jamestown, ND, Dells, WI, Chicago, Il, Clermont, KY, Fort Wayne, IN, Detroit, MI, Cleveland, OH, Waterbury, VT, North Woodstock, NH, Portland, ME and Providence, RI.
They will spend time on Cape Cod, MA, then continue their trip to New Haven, CT, New York City, Jackson, NJ, Philadelphia, PA, Wilmington, DE, Baltimore, MD, Arlington, VA, Weston, WV, Raleigh, NC, Myrtle Beach, SC, Savannah, GA, Panama City, FL, New Orleans, LA, Minter City, MS, Huntsville, Al, Memphis, TN, Little Rock, AR, Dallas, TX, Oklahoma City, OK, and Roswell, NM, before visiting the Grand Canyon in Arizona.
After Arizona, they will visit, Las Vegas, NV, San Francisco, CA, Salt Lake City, UT, Denver, CO; Alliance, NE, Keystone, SD, Devils Tower, WY, Red Lodge, MT, Boise, ID, Portland, OR, Seattle, WA, Anchorage, AK, ending up somewhere in Hawaii on July 4th.
Madeline and Meredith have promised that they will keep me posted mid-trip and when they arrive in Hawaii and I will blog about their updates. If you would like to follow them directly, feel free to visit their blog: 50 States in 50 Days, or on Facebook.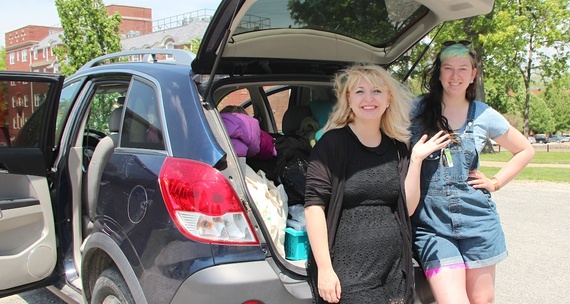 Photo Caption: Madeline Carl and Meredith Jacob
Photo Credit: Stephens College