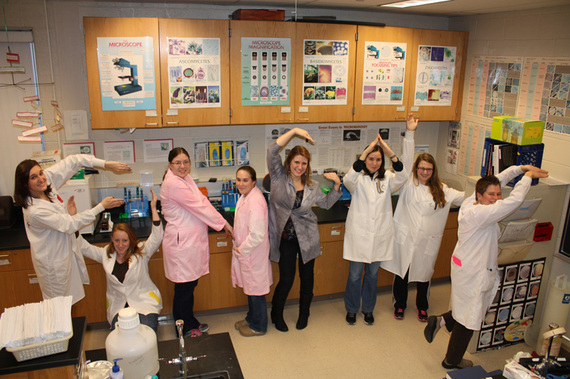 Photo Caption: Students in Dr. Reese's FUN Gals research group spelling out FUNGALS:
F = Jenette Stadnik, U = Julia Kelly, N = Amanda Scott and Natalie Akers, G = Samantha Korpics, A = Amber Green, L = Jessica Hile, S = Dr. Amy Reese
Photo Credit: Cedar Crest College
Editor's Note: This post is part of a series produced by HuffPost's Girls In STEM Mentorship Program. Join the community as we discuss issues affecting women in science, technology, engineering and math.
Only a few years ago, Jessica Hile, Jenette Stadnik, Natalie Akers and Julia Kelly were STEM girls; now in college they continue to explore their interests. Jessica is in her junior year and is majoring in biodiversity and conservation biology. She's interested in becoming a veterinarian and owning a veterinary business and wildlife rehabilitation center. Jenette is a senior and biology major; her career plans include going for an advanced degree, and she is considering dental school. Natalie, like Jenette, also is a senior and biology major. Her career goal is to become an emergency room physician. Julia, a genetic-engineering major interested in infectious disease research career, is a junior.
Meeting up at Cedar Crest College, these young women joined Dr. Amy Reese's "FUN Gals" research group: a lab where disease-causing fungi are studied. Being part the research group gives Jessica, Jenette, Natalie and Julia an opportunity to conduct valuable research as undergraduates. The good news is that even first-year Cedar Crest College students are guaranteed student-research experience.
Dr. Reese's research involves studying disease-causing, yeast-like encapsulated fungi. She takes her research very seriously, but she also is known for making science fun. Professor Reese incorporates "interpretive dance" into her lectures to reinforce specific scientific concepts -- an effective teaching technique that engages and entertains. Even her license plate, FUNG4L, while a bit zany, is spot-on: Her all-women lab studies fungi while having fun.
In addition to her roles of researcher and associate professor, Dr. Reese also serves as a Health Professions Advisor, advising students who are interested in attending medical, veterinary, dental and other health professional schools (other than nursing). She is committed to providing an atmosphere of encouragement and support to STEM women.
This nurturing environment is what makes women's colleges so successful: colleges for women offer excellent academics while encouraging personal growth. This is the main reason I consider women's colleges to be the best-kept secret in higher education today.
When considering whether Cedar Crest College might be a good fit for you, bear in mind why Natalie Akers chose Cedar Crest:

The decision to attend a women's college was simple for me. After being made aware of the struggles that women face, especially in science, I knew that going to a women's college would benefit me tremendously. Women who attend a coed college are generally overpowered by men and aren't given the opportunity to find their own voice. At a women's college, however, women are empowered and encouraged to find that voice and use it, which is a tremendously beneficial characteristic.

I decided to attend Cedar Crest College for multiple reasons. First, there is the campus culture. When you visit Cedar Crest, there is just this flow about the campus that shows you how much community means here. There are so many traditions held on this campus that are really inspiring. I also valued the fact that it was a small school. I knew that I would do much better in classes of 20 or 30 than with hundreds of students per class. I liked knowing that I would be able to come here and know the people (students and professors alike) whom I am surrounded by. I think it is a unique college experience when professors know you by name, and you can develop a relationship with them. At a large school, you're only a number. I also liked the opportunities that Cedar Crest offers through various programs. They try to get you engaged in as many ways as possible that will benefit your career choice.
Jenette, Jessica, and Julia had different reasons for attending Cedar Crest.
Jessica said:
When I visited Cedar Crest, I thought the campus was beautiful, and I was impressed by the excitement the students had for their education. I liked the focus on the education of women and the leadership roles that were encouraged among the students. I also enjoyed the laid back atmosphere; it makes learning so much easier because the stress to try to impress others isn't there.
"My dad suggested I apply to Cedar Crest," explained Jenette.
He said he had heard that it had a good reputation. I suspect he also liked the 'all girls' status of the campus! The fact that Cedar Crest was a women's college didn't factor in at all for me. It was just a quirk about the campus. For transfer students, the college offers certain scholarships for GPAs in a certain range. When I heard I'd get the scholarship, my mind was made up.
Julia said,
I'm hoping that the emphasis on research and the leadership opportunities here at Cedar Crest will put me ahead in either entering the job marketplace or applying to graduate school. Another thing Cedar Crest did was introduce me to the possibility of graduate school. I had not considered it before; but now I'm hoping to go for my master's at some point, or even a Ph.D.
Located in Allentown, PA, Cedar Crest College offers several programs in the biological sciences, including: biology, genetic engineering, neuroscience, biodiversity and conservation biology (recently renamed environmental conservation), and as a minor, global diseases. If the biological sciences are not your subject of interest, no worries, consider the other available STEM programs: chemistry, biochemistry, forensic science, nursing, nutrition, mathematics, preprofessional programs (pre-med, pre-dent, and pre-vet), and psychology.
Additional advantages of attending this women's liberal arts college include top-notch faculty involved in leading-edge research, small classes, custom-designed STEM programs, and state-of-the-art research facilities (including two genetic engineering labs, a principle-of-biology lab, a biodiversity and conservation biology lab, two microbiology labs, an anatomy and physiology lab, a bioinformatics lab, a microscopy and imaging center, a fish lab, and a greenhouse).
If you would like to be part of Dr. Reese's FUN Gals research group, check out Cedar Crest College to see whether this women's college is a good fit for you.