Photo Credit: Meredith College
Decorating commencement caps is a tradition that college students across the United States participate in. It's one way to spice up a historically drab frock, especially considering the event's celebratory nature.
This tradition is especially popular at Meredith College. I was told that at least 75 percent of the undergraduate mortarboards were decorated this year! (Approximately 450 young women received their diplomas from this liberal arts women's college located in Raleigh, North Carolina.)
From simple to ornate designs, Meredith graduates used the opportunity to express their personalities, appreciation, academic majors, career goals, sentiments, or college motto: "Going Strong." While most seniors decorated their mortarboards, I've only included eight due to limited space. If you want to see what a sea of decorated graduation caps looks like, view the short video highlighting the college's commencement ceremony at the end of this blog post. And since this blog post also is about the women who designed these marvelous mortarboards, all eight students are linked to her student story or video.
Enjoy!
The first marvelous mortarboard is designed by Lara Pantlin.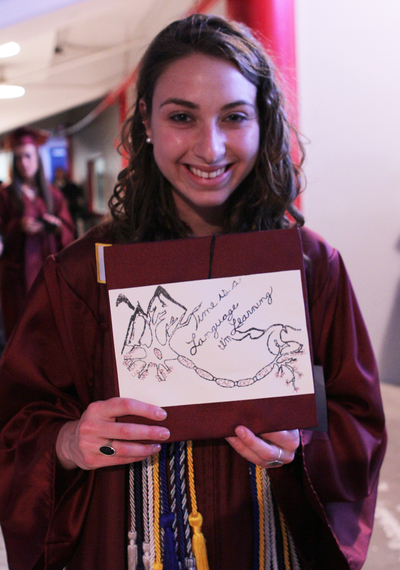 Lara Pantlin was a psychology major, receiving her B.A. and has been accepted into a Ph.D. program in cognitive neuroscience.
Below is Laura's video.
Andie Stuber's "Cherish Every Moment" commencement cap is next. Her advice is on-target, because four years go by quickly.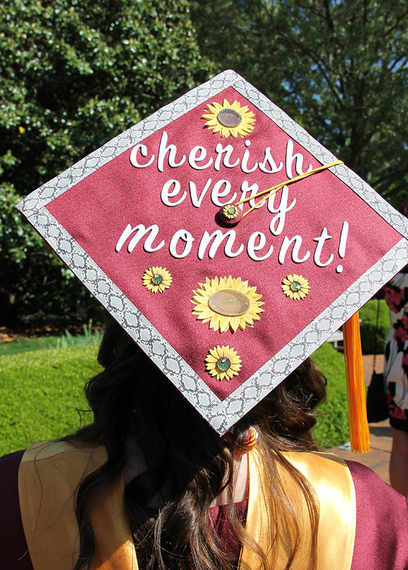 Andie Stuber earned her B.S. in Interior Design and is employed as a designer at iS design, a Raleigh, N.C. interior design firm.
This next cap, inspiring us to follow our dreams, was created by Meg Thedford. I'd say pretty darn perfect, considering Meg just landed a dynamite job with Disney.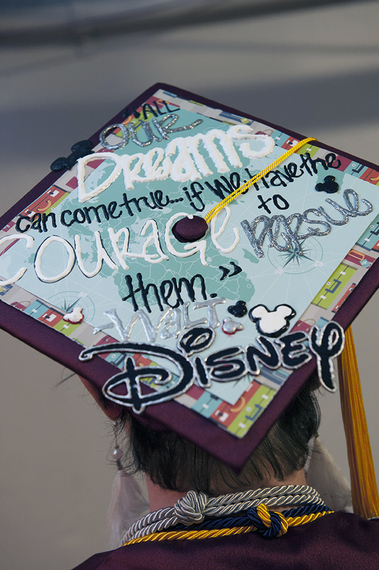 Meg earned her B.S. in Interior Design and was hired by Disney as main entrance cast member. If you're visiting Orlando this summer, do say "hello."
Angie Ramkellawan is looking forward, knowing that things are always working out for her, expecting that "the best is yet to come!"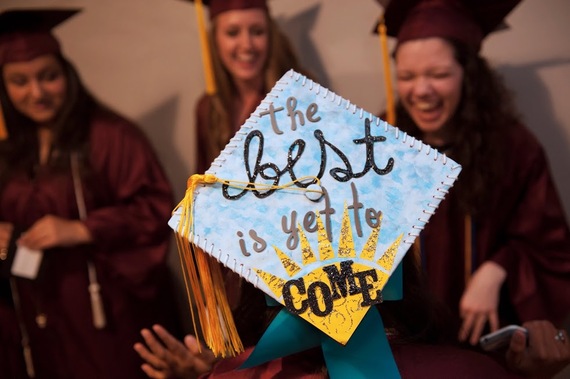 Earning her B.S. in business administration, Angie has plans for a career in human resources.
Here's Angie's video.
Puja Patel message is to "Believe in Yourself" and her commencement cap also reflects her appreciation for her Alma mater.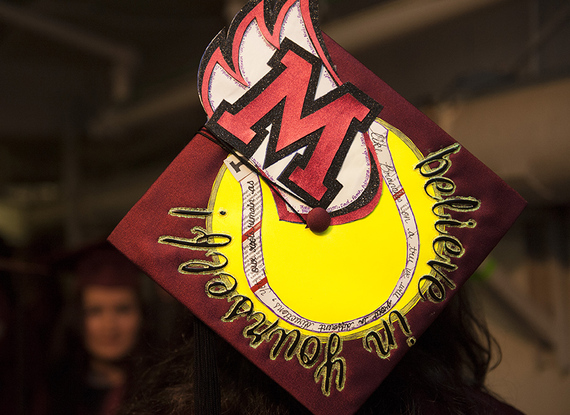 Now that Puja earned her B.A. in psychology, she has plans to attend graduate school, but first wants to gains hands-on experience as a database analyst.
Bailey Dunn is appreciative to all and gives thanks to everyone who offered support on her college journey.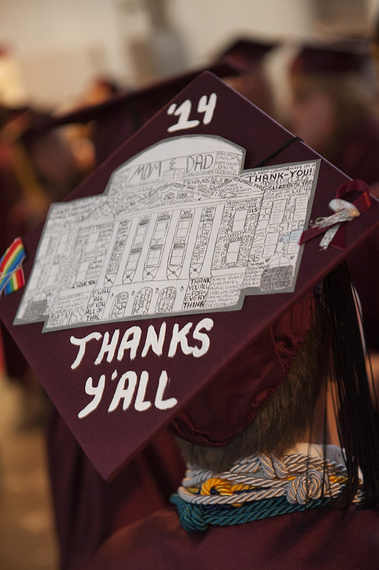 Bailey plans to earn a graduate degree in higher education administration now that she has her B.A. in sociology/criminology.
Katy Clary makes no bones about it; she was "Born to Fly!"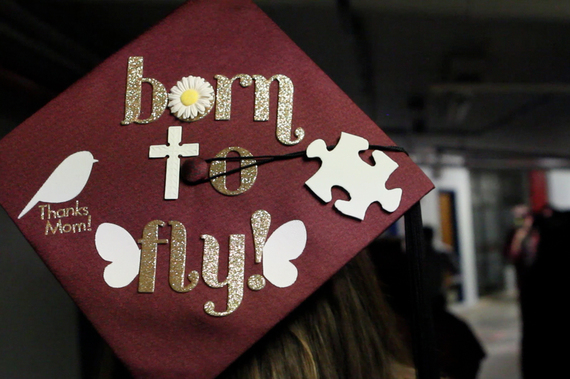 Katy Clary earned her B.A. in psychology and religious & ethical studies. Her future plans include earning a master's degree in rehabilitation counseling and psychology.
And after you watch her student video, I'm sure you'll agree that she was indeed, Born to Fly!
Melissa de Leon inspiration for decorating her graduation cap comes from Chanel.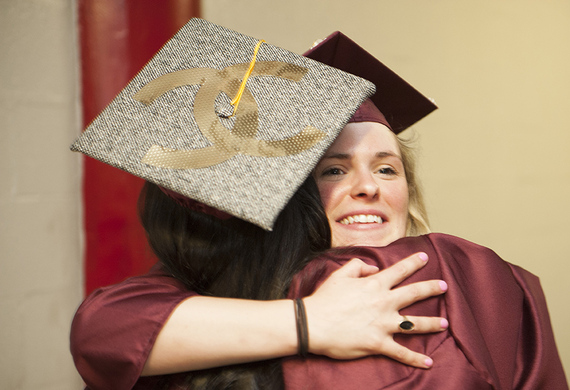 Melissa was granted her B.S. in fashion merchandising and design. Her career goal is to work as a fashion stylist in N.Y.C.
And now, here's the video with the sea of decorated graduation caps as promised.
Writing this blog post was so much fun; it was a hoot seeing so many marvelous mortarboards. I'm hoping to encourage 100 percent participation, so I'm officially challenging Meredith's class of 2015 to the task. If this is accomplished, I'll be sure to blog about it. So stay tuned!
I hope you've enjoyed viewing these crazy cool commencement caps, meeting some of the empowered, appreciative, and going strong representative graduates of Meredith College, and getting a taste of the commencement ceremony where decorated caps rule.
Congratulations to the Class of 2014!
All photographs and videos courtesy of Meredith College