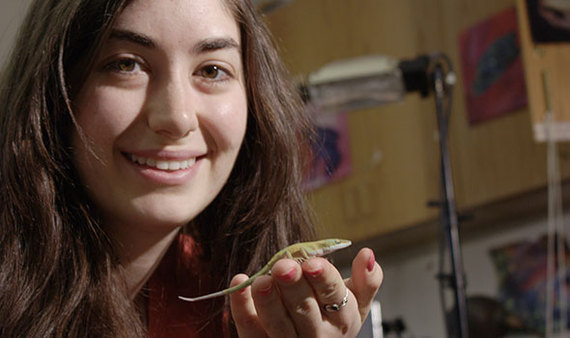 Photo Caption: Flynn Vickowski, Mount Holyoke College '14
Photo Credit: Mount Holyoke College/Ben Tobin
While growing up, Flynn Vickowski had a passion for animals; she learned to ride a horse at a very young age and helped out at the local zoo. She spent many summers at the Lowell Observatory in Flagstaff, Arizona. Now a STEM senior at Mount Holyoke College, Flynn credits this early exposure to her pursuing a career in the sciences.
Only after recently learning that her childhood experience is more atypical than typical, Flynn decided to do something to share her STEM passion with young girls. This is her story.
It all started last summer when Flynn attended PowHERful Summit. This summit is all about empowering young women; it is sponsored by the Soledad O'Brien and Brad Raymond Foundation, which gives young women the means and opportunity to achieve greatness. Traveling to New York City with the eleven other classmates, Flynn became inspired:
Not only did I receive brilliant advice from speakers and peers, but also I was most impacted by a panel on women in STEM. The panelists spoke to us about the lack of women in STEM, the desire to recruit more women in these fields, and the need for their contributions. I was confused because I hadn't realized that so many women were being discouraged from pursing STEM fields at such early ages. I grew up in a supportive family and was attending Mount Holyoke where an immensely loyal community of students and faculty backed me and tried to help me do whatever I wanted. It lit a fire under me, and I wanted to advocate for more women in STEM.
Although that desire was still high, when Flynn returned to college for her senior year, she knew that time was running out as graduation loomed. With the clock ticking, Flynn wasn't sure how she could make a contribution in such a short period of time. Fortunately Flynn attends a college that encourages students to follow their interests, and it provides the resources and connections to do so.
Flynn visited Mount Holyoke College's Community-Based Learning (CBL) Office and spoke with Alan H. Bloomgarden, Ed.D., Director of Community Engagement. One of CBL's roles is to link students with community groups and facilitate ways for students to participate. After listening to Flynn's goals, Alan put her in touch with Girls Inc. of Holyoke, a nonprofit organization that provides engaging, educational outreach programs to girls in the community.
Before too long Flynn and Girls Inc developed a STEM event, which was held several weeks ago. With the support of the college, including faculty, staff, and classmates, thirteen girls, between the ages of twelve and fifteen, arrived at the Mount Holyoke College (MHC) campus. Upon arrival, Flynn and the MHC team welcomed the Girls Inc girls with cookies and cupcakes; they then shared the details for the day's event. The girls were paired with an MHC STEM undergraduate mentor; the participants and mentors were divided into two groups that rotated through three diverse research labs on campus.
The first lab was headed up by Dr. Alan Werner, a geology professor. Dr. Werner introduced the girls to the concept of groundwater via a presentation and demonstration that showed how water flows through an aquifer. One of the girls found it so interesting that she said, "When I come to Mount Holyoke, I want to be in this class."
In the second lab, Dr. Jessica Bickel, the post-doctorate fellow of Dr. Katherine Aidala (a physics professor at MHC) presented their research on atomic force microscopy, which measures the surface structure of small nano structures. Dr. Bickel made sure her highly technical presentation was engaging and easy to understand.
Dr. Gary Gillis, a biology professor, who was assisted by four of his students, including Flynn and two event mentors, led an interactive lab where participants were able to touch cane toads and learn about Dr. Gillis' research. He is studying the biomechanics of toads' hopping and landing skills. The girls also had the opportunity to touch a green anole and learned how the lizard's locomotion is affected when it loses its tail.
At the end of the event, the students enjoyed pizza while Nichole Reynolds from the MHC Admissions Office talked about going to college; and Renae Brodie, a biology professor at MHC, shared her thoughts and experiences about having a STEM career.
The event was a big success!
Sarah T. Dunton, M. Ed., Director of Education, and Leah Uberseder, Special Projects & Volunteer Coordinator, from Girls Inc. attended the event. Here's what Leah said:
At Girls Inc. of Holyoke, we are always seeking new opportunities for girls to experience STEM fields hands-on and to meet with other women who identify with STEM. We are thrilled that Mount Holyoke College and student organizer Flynn Vickowski generously devoted the time and resources to bring girls to campus for this experience.

The girls we work with are in the process of discovering the interests, passions, and goals that will stay with them a lifetime; and any new educational experience has the power to be a pivotal one. Our best moments in STEM education at Girls Inc. are when we can actually watch visceral shifts in girls' perception from science in a textbook to science in the world around them. Mount Holyoke's STEM programs are a natural fit for these goals, and the students and faculty were fantastic facilitators!
As event coordinator, Flynn Vickowski thanks all of the people who helped make this event a success, including her classmates; Colbie Chinowsky, '16, physics major; Tatyana Gate, '13, biology major; Jacquelin Jackter, '14, neuroscience & behavior major; Nell Maynard, '14, biochemistry major; Ella Pittman, '14, biology/history major; Lydia (Lu) Pomeroy-Hale, '15, geology major; Ariela Schnyer, '16, neuroscience major; Maddi Shortt, '15, physics/computer science major; Emma Singer, '14, geology/environmental studies major; Ye Tian, '15, biology/chemistry major; Nataliya Yuzych, '13, biological science & culture health and science major; and Lesly Zapata, '16, neuroscience and behavior major. Flynn's glad she had a team behind her to help make her desire a reality. With such a positive experience for all, Flynn's excited about continuing her advocacy, appreciative of the many opportunities afforded to her at this women's college:
Mount Holyoke has given me the opportunities and resources to continue to pursue what I love without major setbacks involving inequality between genders. I can't say what it would have been like at a co-ed school, but I know that I am grateful for what Mount Holyoke has given me and for the support system I have formed in this diverse and successful community. . . . Mount Holyoke is a research liberal arts college, one of very few in the country. The research experience possibilities truly set it apart from other schools. At MHC, professors are supportive of students through academic advising, which allows us to get to know them better and creates mentors across various majors. They also give us great hands-on experience and direction. It's a nurturing environment where women who also feel empowered surround us; we don't have to worry about anyone telling us we can't do something or that we're crazy for trying.
Women's colleges are committed to encouraging and educating girls and women in STEM; and I'm happy to report that other women's colleges also are reaching out to encourage girls to think about a career in math and science. In the future I will blog about these other initiatives.