Photo Caption: St. Catherine University, St. Paul, MN
Photo Credit: Rebecca Zenefski '10/By Rebecca Studios LLC
There's something about college traditions that I find appealing. Perhaps it's because past experience has shown me that the traditions celebrated at women's colleges foster community, school spirit, empowerment and sisterhood while cementing life-long friendships. (And I'm not talking about the occasional phone call, sporadic birthday card and/or yearly holiday card kind of friendship.) They also provide a much needed break and diversion from academics. Reflecting on my alma mater's traditions inspired me to learn about the traditions celebrated at other women's colleges. Here's what I discovered.
Traditions at women's colleges, while similar in nature, vary from college to college. Ranging from silly and light-hearted to ceremonial and somber, many have been passed down throughout the college's history or modernized over the years. Still others are recent additions. I also discovered that alumnae engage in celebrating some of these traditions long after graduation.
Take, for example, Mountain Day at Mount Holyoke College. Mountain Day is hugely popular with current students, but it also is a tradition celebrated globally by alumnae.
Mountain Day is one of the oldest traditions at this women's college in South Hadley, MA. It began one year after the college was founded in 1837. Classes are cancelled and the day is spent hiking up the college's namesake, Mount Holyoke in Skinner State Park. Climbing a mountain is powerfully empowering to the human spirit, and having experienced this success it becomes a touchstone. Perhaps this is why so many alumnae get together to reconnect with and celebrate Mountain Day.
This tradition is not scheduled; students know its Mountain Day when the college bell rings early one autumn morning. Participants hike to the top of Mount Holyoke, where photographs are taken, songs are sung (the college song is a popular choice), ice cream is enjoyed and comradery (and fun) rules. See for yourself as you watch this video from Mountain Day 2014.
Apple Day at Mary Baldwin College, Staunton, VA
First celebrated in 1942, the orchard-based tradition consisted of traveling to a local orchard for a morning of picking and gleaning apples. Afterwards the young women enjoyed a picnic lunch and skits by each class. The college then cooked with the collected apples throughout the semester.
Today Apple Day has a strong community service focus and is as popular as when it was first celebrated. Apples are gleaned from local orchards and donated to food banks in the Washington, DC, area. For the past several years, students traveled to Woodbine Farm Market, located in Strasburg, VA to glean apples. This year 4,590 pounds of apples were donated. The record for donated apples was in 2011 when the college donated 10,000 pounds of gleaned apples. Afterwards students return to campus and enjoy a day of fun -- an Apple Day Carnival and Apple Eve dodge ball game and dance. Since it was the sophomore class that held the first Apple Day, the honor of planning and carrying out this tradition is bestowed on second-year students.
Here's another tradition that also is celebrated well after graduation. Alumnae gather in small groups and celebrate by attending apple-themed dinners or appletinis gatherings.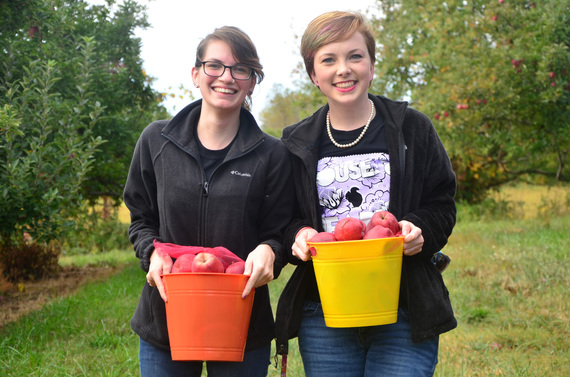 Photo Credit: Mary Baldwin College
Crossing the Bridge at Stephens College, Columbia, MO
During the Crossing the Bridge ceremony at Stephens College, new students cross the bridges that connect the community side of the campus with the heart of the campus, signifying the beginning of their journey as a Stephens Woman. In the below photograph, you see the President of the college, Dianne Lynch, as she walks with the students. Faculty, staff and upperclassmen greet the students at the other end of the bridge.
This is a two-part tradition. When students graduate, they walk the opposite way -- into the world. The return walk is held during Reunion Weekend in April to allow the Stephens College alumnae to stand at the community end of the bridge and welcome the graduates into the alumnae community.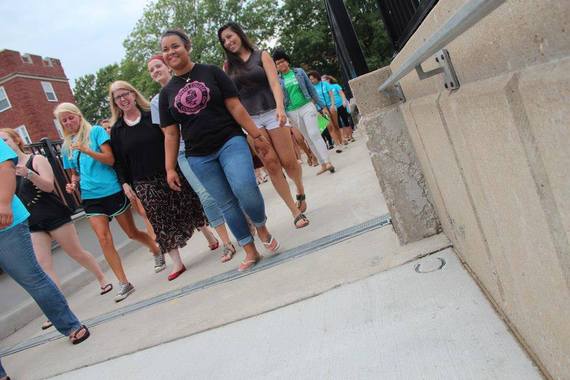 Photo Credit: Stephens College
Closing the Circle at Saint Mary's College, Notre Dame, IN
This recently added tradition started with the class of 2011 for first-year students. As part of the Belles Beginnings Welcome Weekend, first-year women form a circle on Le Mans Green to join the Saint Mary's family as a lighted candle is passed from student to student. The candle represents each student's stories/experiences that they offer to the class and the college community. The candle acknowledges that these young women are connected through this one flame. This tradition has another part to it. In four years, the graduates gather again on the green for an Opening the Circle ceremony as they prepare to go out into the world.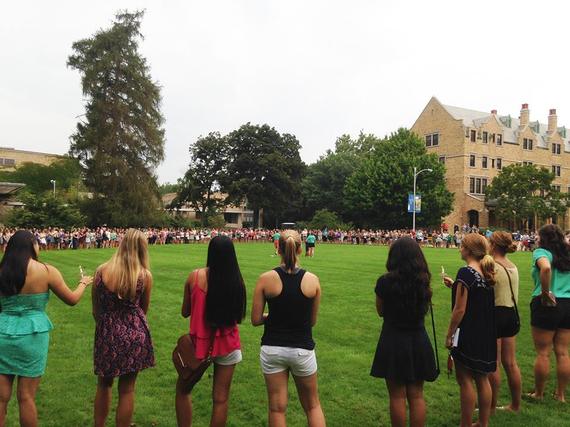 Photo Credit: Saint Mary's College
Founders' Day at Sweet Briar College, Sweet Briar, VA
Since 1909, Sweet Briar College has celebrated Founders' Day to remember Indiana Fletcher Williams, who founded the college in memory of her daughter, Daisy, in 1901. Today, this autumn tradition typically takes place in late September. Students, faculty and college staff are led by a bagpiper up to Monument Hill, where the founding family is buried. After a brief service, each student places a daisy on Daisy's grave site honoring her memory. Keeping with another tradition, seniors wear their graduation robes for the first time.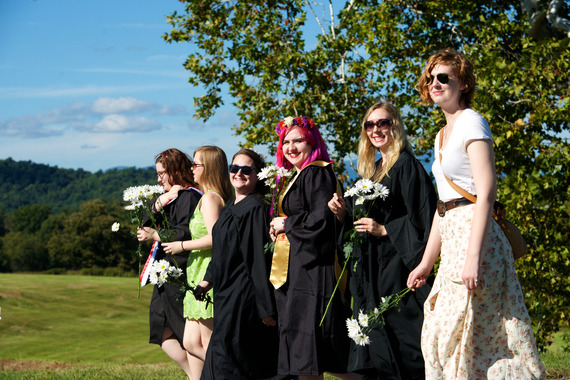 Photo Credit: Meridith De Avila Khan/Sweet Briar College
Lantern Night at Bryn Mawr College, Bryn Mawr, PA
Lantern Night symbolizes the light of knowledge being passed from present and former Mawrters to first-years, transfers and McBride Scholars (undergraduate students of nontraditional age). One of Bryn Mawr's oldest and most cherished traditions, the first Lantern Night was held in 1886. Participating students wear black academic robes as upperclass students and alumnae gather in a courtyard called the Cloisters well after the sun has set. Sophomores present each participant with a lantern (which becomes a keepsake) in their class color while juniors and seniors look on singing "Pallas Athena" (in Greek). After all students have received their lanterns, participants sing "Sophias" (also in Greek). A step sing follows in which all classes participate.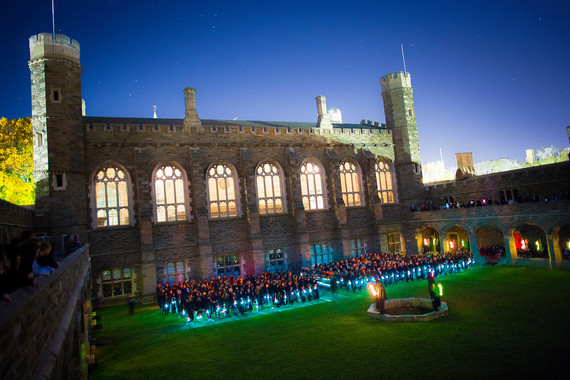 Photo Credit: Bryn Mawr College
Citizen Katie Day at St. Catherine University, St. Paul, MN
Volunteering is what this tradition is all about. A relatively new tradition for St. Catherine University (also known as St. Kate's), Citizen Katie Day began in 2004 as a way for students living in the residence halls to get to know each other while experiencing the Twin Cities area. The event was so popular that Citizen Katie Day was quickly expanded. Today students, alumnae, faculty and staff volunteer side-by-side at various nonprofit organizations in the Twin Cities. But it is no longer confined to the land of 10,000 lakes -- alumnae chapters across the country are involved and volunteer at nonprofit organizations in their area.
With more than 300 volunteers and 50 alumnae who participated via local alumnae chapters, Citizen Katie Day 2014 was a big success. Twin Cities nonprofit sites that benefited include: Bluff Street Park, Carondelet Village, Common Bond, Habitat for Humanity, HCMC Therapeutic Food Pharmacy, Highland Friendship Club, Keystone Community Services, Little Brothers - Friends of the Elderly, Salvation Army, Sarah's ... An Oasis for Women, St. Joseph's Home for Children, and Second Harvest Heartland.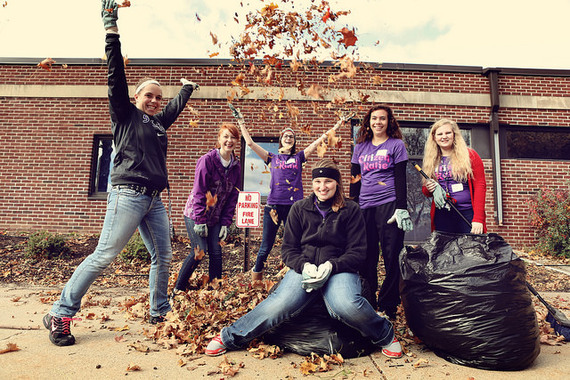 Photo Credit: Rebecca McDonald '07/bfreshproductions
Sophomore Tree Planting at Wellesley College, Wellesley, MA
This Wellesley College tradition, Sophomore Tree Planting, contributes to the college's beautiful 500-acre campus -- a campus filled with about 8,000 magnificent trees. This tradition, started in 1879, involves planting a tree in honor of the current sophomore class. Today, the tree planting ceremony is part of the college's Family and Friends Weekend. The original spade is still used (as seen in the 1921 photograph of Esther Rolfe '23). A stone marker in front of each tree records the class's graduation date. Several of the original class trees are no longer standing; for example, in 2011 a tree planted by the 1879 sophomore class was destroyed in Hurricane Irene. The good news is that any class trees destroyed are always replaced.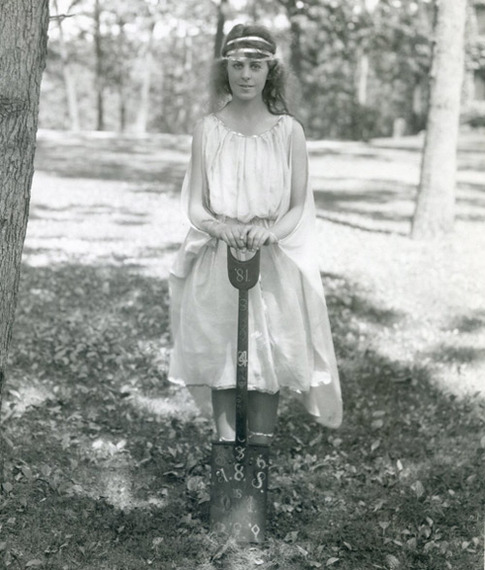 Photo Credit: Wellesley College
First Step at Hollins University, Roanoke, VA
In this tradition, seniors walk across Front Quad, signaling the official start of their senior year. Front Quad is a historical landmark, listed on the national register of historic places, where many outdoor social gatherings occur. Bordering Front Quad are three residence halls: East, Main and West. First Step takes place immediately following Opening Convocation. To understand the importance of this tradition I spoke with Georden West, SGA President from the class of 2015:
First Step is about more than just getting the privilege to walk on our Front Quad. It is about a family -- a support system -- that is present and ready to welcome you into a stage of transition. At Hollins, First Step is symbolic of stepping into uncharted territory. There also is a communal aspect to First Step that is inescapable, the countdown to stepping on that grass becomes symbolic of so much more: entering adulthood and post-graduate life with your Hollins family by your side. As a senior this year, First Step reminded me that I am not in this alone and the tradition reminds me that so many have stepped before me. It also gives me perspective on what I will do as a member of the Hollins community to guarantee that many more will step after me. First Step is not just the final step, but the first in many steps with which we move forward with Hollins in our hearts.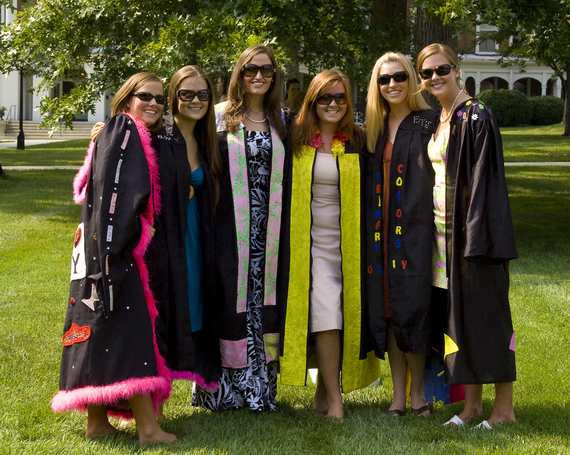 Photo Credit: Hollins University
Cornhuskin' at Meredith College, Raleigh, NC
The Cornhuskin' tradition that Meredith College celebrates today was inspired by the original Cornhusking Bee, started in 1945 and held the day before Halloween. The tradition was a way to honor the first-year students and was modeled after the corn shucking Bees from the Midwest. The Cornhusking Bee is attributed to Associate Professor Doris Peterson, a Midwestern native.
Having evolved over time, today Cornhuskin' occurs during the first week in November and has expanded into a series of spirited competitions between classes, spawning a good-natured rivalry between "even" and "odd" classes. Spanning the week, this tradition also is loaded with theme-related activities including a skit word parade, a tall tale and songs. Activities the four classes are judged on include: apple-bobbing, cornhuskin', can art, class attendance and sweatshirt design. The fun continues throughout the week with a Big Sis/Lil' Sis Bonfire, a Scavenger Hunt, the President's Raid, Hall Raids and the Cornhuskin' Parade.
Below is a video from the Can Art competition.
I hope you enjoyed exploring the various women's college traditions as much as I did; the diversity of traditions is truly amazing and hopefully this was captured in my blog post. Keep in mind that many other traditions exist; the ones included today represent a small sampling of traditions held during the first semester, as traditions occur throughout the year.