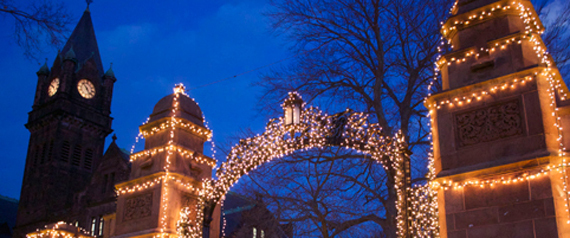 Photo Credit: Mount Holyoke College
December is a special time of year. Thinking back to when I was in college it was all about getting through finals and celebrating the holidays, for me that was Christmas. On campus, while winter fun and end-of-semester finals were in the air; taking part in holiday traditions and Christmas celebrations often are favorite alumnae memories of attending a women's college. Everyone has their favorite memories, mine include cramming for finals, caroling around campus, joining in snowball fights, drinking hot chocolate with friends, decorating the dorm Christmas tree, and playing Secret Santa.

Today, I'm sharing holiday videos from women's colleges as they celebrate the holidays, offering season's greetings, holiday wishes, and Christmas cheer! I'm hoping these videos will give you a glimpse into the many joys of women's colleges. Women's colleges, committed to educating women first and foremost, are where forever friends are made and where sisterhood and traditions flourish.
From Converse College:
From Spelman College:
From Agnes Scott College:
From Meredith College:
From Mount Mary University:
From Columbia College:
From Wesleyan College:
From Mount Holyoke College:
From Ursuline College:
From Smith College: