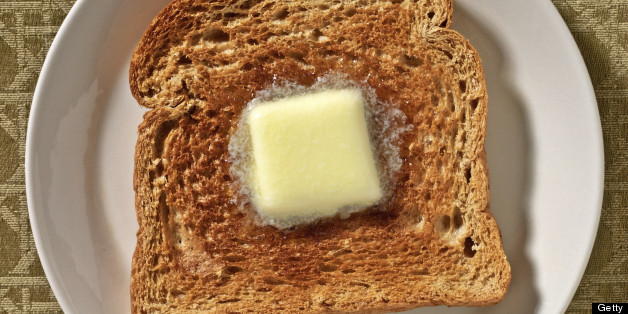 My love for bread and butter goes back to my early childhood. I was 5 years old and my younger sister, Sandra, and I were often in the care of an older next-door neighbor, Ms. Emma-- if I had to guess, she was in her late 70's or early 80's. She did not have children, but she adored all of the children in the neighborhood, as I do today.

Thanks to Ms. Emma, I have always had a fondness for the much older generation. I even spent time with her on days she was not scheduled to babysit. It was our special time together and she'd share Bible stories with me. I recall one of my favorites was Jesus feeding the multitude with five barley loaves of bread and two fish. She also taught me short little ditties, recited riddles, rhymes and limericks to make me laugh, all the while enjoying a slice or two of bread and butter.

Back in the day, my mother bought Blue Ribbon Sandwich Bread from the A&P, which was good -- not Ms. Emma. Like clockwork, every Monday, the man in the bread truck would deliver the softest and freshest bread I had ever tasted -- the kind when spread with "real" butter would simply melt in your mouth. Sometimes she would add a little homemade jam, apple Jelly, or apple butter, but I was happy with just plain bread and butter.
Goll's Bakery is still standing in my small hometown of Havre de Grace, Maryland. As a teenager, every Saturday, my best friend, Ingrid, and I would spend part of our $5.00 weekly allowance at the A&P (no longer there) to buy Land O' Lakes Butter, and stop at Reeds Drugstore (also no longer there) for a fountain drink to go, and then head to Goll's Bakery.
Fifty cents or less afforded us one warm loaf of French bread. We would sit on the corner of the bakery, break apart the bread and allow the "real" butter to melt. We would indulge ourselves as we conversed over teen-age stuff, mostly boys, on how we planned to share our love for Jermaine Jackson of the Jackson Five. We laugh about those great times to this day. Isn't it funny how sometimes the simplest of memories are the most pleasant and dearest?

Here are a few interesting and funny tidbits you may or may not know about bread and butter:
Have you ever heard of or written a "Bread-and-Butter Letter"? An article posted by Evangeline Holland on the Edwardian Promenade website states it is a note of thanks and appreciation to a host or hostess.
Superstition: If you are walking with someone and you are forced to separate due to an obstacle, such as a tree, or you split a pole, you are to say out loud and at the same time "bread and butter!" If not, an argument could possibly ensue. "Bread and butter" go together; it establishes togetherness. One cannot separate butter from the bread; once it has been spread it cannot be un-buttered.
Phrases: "Pay me my bread, brother," to "Do not butter your bread on one side," and "This job is my bread and butter, man'" were phrases I often heard during the '70s in "Super Fly" and other urban movies.
Temptation: There is nothing like the smell of fresh baked bread. When I am inside a grocery store and pass the bakery it will interrupt my train of thought. Even, when bread is not on my list, I hear an inner voice willing me closer to the counter only to see the bread master removing hot loaves from the oven. Then, there are times when I am on the opposite side of the store and an announcement blares throughout the store that "hot" bread is available. How does one master this temptation?
Popular saying: "I love you like "bread and butter!"
My love of bread and butter found me in a bit of a conundrum in Africa. I was visiting Dakar, Senegal in the '90s and got in too late for room service at Hotel Sofitel-Tenangra. I called downstairs but had no idea how to ask for bread and butter in French or in the Wolof dialect.
I had to repeat "bread and butter" in my poorly "fake" French accent over and over until the waiter finally understood what I was asking for. Well, it was probably hard to for him to hear because a young lady named Lesa, from Washington, D.C., whom I met a year prior in the Ivory Coast of Africa, had decided to meet up with me in Dakar and she laughed at me the whole time I was on the phone.
She wasn't any help but my ignorance and tomfoolery taught me a valuable lesson. Bread and butter are not universal words. I decided I must learn to speak a few basic words before traveling overseas again.
On my second trip to Dakar, I was able to call room service and speak in Wolof and asked for mbourou ak beurre (bread and butter). On a separate trip to Paris, France, I was confident when I stopped at a La boulangerie and asked for le pain francais, French bread, aka baguette. It would take my writing a separate blog on all of the different types of delectable breads and creamy butters I have tasted from around the world ; Hong Kong, Germany , Belgium, Rome and England, just to name a few.
Lastly, I wish I could have said to my dear Ms. Emma that I loved her like "bread and butter!"