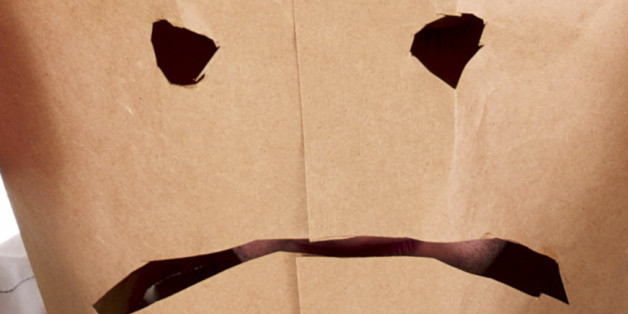 After a few years of treat-or-treating, you knew which houses to go to first -- we labeled those "the houses with the good candy!" Sugar Daddies, Atomic Fire Balls, Hershey's and Snickers (the big ones), Mary Janes, Bit-O-Honeys, Bazooka Bubble Gum, Root Beer Barrels, Candy Buttons, Wax Lips, Big Hunks, Caramel Creams, Chocolate Gold Coins, Chunkys, Chuckles, Coconut Watermelon Slices, Candy Cigarettes, Cracker Jacks, Jaw Breakers, Licorice Laces, Life Savers... just to name a few.

Looking back, in my neighborhood of Havre de Grace (Maryland) back in the '60s, I do not remember a lot of my friends and other kids who wore a complete store-bought Halloween costume. Many of their costumes were homemade: some were dressed in old clothes from their mom and dad's closet that would hang off their bodies, along with a wig, makeup, etc. However, every other kid -- me included -- along with my siblings rocked some type of Halloween mask/costume created from the big, brown bag from the grocery store (either the A&P or the Acme).
One couple used to put money in our bag every year, anywhere from a nickel up to a 50-cent piece! One woman from the church who lived in my neighborhood gave out stale candy every year, but we could not skip the house, because our mom would remind us, "Don't forget Sister [so-and-so's] house." We also tried to avoid those who weighed our brown (trick-or treat) paper bag down by giving you a piece of fruit. We wanted candy!
I was raised in a working-class family with six siblings in the house; we did not shop as a family for Halloween costumes as we did for school and Easter clothes. I am sure I had a few store-bought costumes in the early years, but, from the age of 7 and up, I never got a costume to dress as Dorothy from the Wizard of Oz, Pippi Longstocking, Little Red Riding Hood, or even Mary Poppins.
However, I do remember once or twice being able to pick out one of those hot rubber or plastic-faced masks from the five-and-dime store with that thin rubber elastic band (that sometimes popped) and fit behind your ears. Do you remember how you had to lift your mask in between houses, just so you could breathe?
The big, brown bag from the grocery store made the best Halloween masks/costumes ever! It was a time to be creative, and those brown bags played a big part in my life year after year at Halloween. Not to digress, but those bags made great book covers for your school textbooks and hair rollers too! My mom used to cut part of the brown bag in strips, twist them, and use them as hair rollers (Yep! I wore paper brown bag hair-rollers and they curled a lot better than the pink sponge ones.)
Nevertheless, along with your Magic Markers, crayons, scissors, shoe polish, felt, etc. you would cut holes out for your eyes, and for your nose to breathe. You could be almost anything! And the last cut was for your mouth, so you could say, "Trick or Treat, Smell My Feet, Give Me Something Good to Eat!" -- that was the best!
One year, I remembered cutting out a big square in the middle of the bag, adding a piece of aluminum foil on top with felt... and I was a TV announcer. I remembered seeing lots of painted, paper brown-bag monsters as well. My four older brothers took old sheets and poked holes so they could see and breathe, and carried a pillowcase for their candy loot, or sometimes they used my mom's face cream, Noxzema, to create a scare. Some years later, our town held a Halloween parade that is now an annual event; it made Halloween a lot more exciting. Oh boy, you could not put a price on this type of fun!
The next best part of Halloween, especially with so many of us in the house, was when we got together and emptied all of our candy on the bed or table, and started to trade our candies like our life depended on it. The following day, you traded with your friends. I had no problem trading my least favorite candies (candy corn, black licorice, Root Beer Barrels) and that darn piece of fruit. In addition, I had to do a bait-and-switch with my friends in order to rid myself of the stale candy from Sister [so-and-so] from the church...
How creative were you back in the day, with the big, brown paper bag from your grocer during Halloween? Have a happy and safe one...