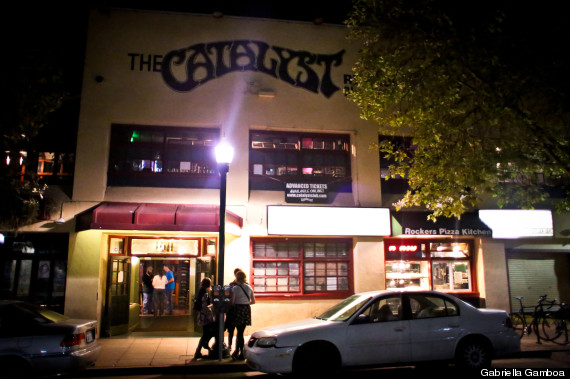 The Catalyst Club in Santa Cruz is a historic venue known for having hosted acts like Snoop Dogg. The Catalyst of course hosts many lesser-known names, and naturally many local acts.
On Aug. 26 Avey Tare's Slasher Flicks performed for Santa Cruz. Avey Tare (aka David Portner) is a founding member of the critically-acclaimed band Animal Collective. Avey Tare's Slasher Flicks is the latest musical project of the artist. The project also consists of Angel Deradoorian, his girlfriend from Dirty Projectors.
Avey Tare's Slasher Flicks debut album, Enter the Slasher House, was released April 7, 2014. The band's tour has taken them across the U.S.A., including to Los Angeles' F*ck Yeah Festival last weekend. The festival was known in its 10th anniversary to attract a crowd of up to 30,000 people each day.
Once the band came on the crowd didn't mind squashing together to get as close to the stage as possible. The Catalyst's atrium is the more confidential stage, opposed to the main stage. This smaller setting was charming for when Portner and Deradoorian solicited a birthday cheer for the final member of their trio, drummer Jeremy Hyman.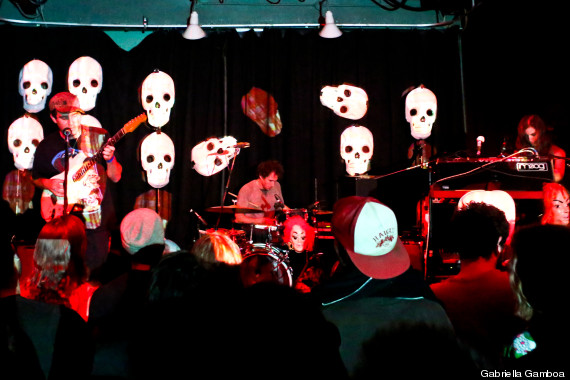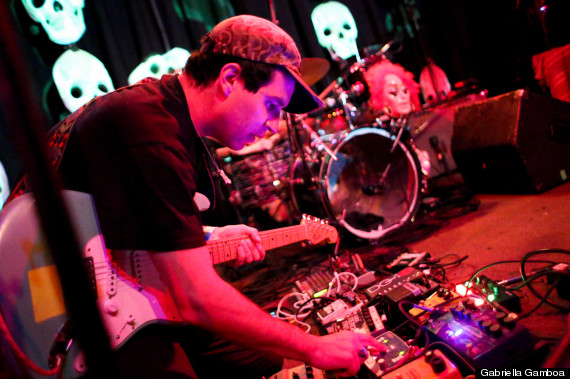 I noticed a particularly ecstatic fan admiring polaroids she had just snapped of the performance. Thankfully I was able to exchange a few words with her after the show.
Michelle, a business and art student at UCSC, described Avey Tare's music as "visceral" with "relatable lyrics." Michelle was such a fan that she had seen Avey Tare only two days ago at F*ck Yeah Festival. She believed seeing one of her favorite artists at a smaller venue was "a lot better."
Michelle wasn't the only one who felt the power of the music; nearly everyone had been dancing. The sounds uttered out of Porter's lips cannot be described as anything but otherworldly and provoking. Our photos show some of the interesting blend of psychedelia and horror that was presented.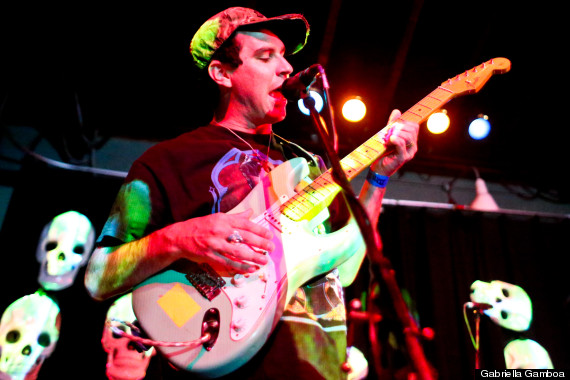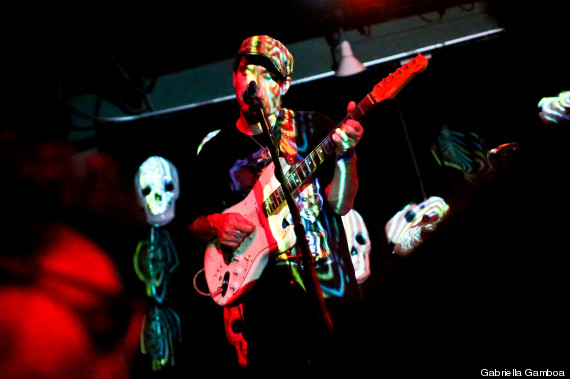 After waiting for all the other fans to get their selfies and autographs from Dave Portner, we were fortunate enough to get some time alone to talk with the performance artist.
Portner agreed with his fan Michelle, saying that he "[liked] intimate shows." "When we have our own show, we have control." The performance artist explained. "When it goes to 2000, it's hard."
He smiled when I asked him what he felt about Santa Cruz. "I like Santa Cruz. I like The Lost Boys." He explained he grew up on the east coast, but that the Santa Cruz Beach Boardwalk amusement park reminded him of home.
In closing I asked what he was trying to express with this tour and album. Portner simply responded "It's about having fun. Coming together as friends."
All in all this is a band not to be missed by those interested in experimental rock.