Looking for more satisfaction and joy in your life?
Sometimes what you need isn't a major life reinvention ... it's just a simple attitude change I first learned from man's best friend.
I hope this ten-second-tip helps you have a great day today and many more down the road....
==========
I think dogs have a big advantage on us when it comes to happy. My neighbor has a big, white, fluffy dog named Sheeba that is dialed in to happy like no creature I have ever seen. Always tail-wagging and head-bobbing as if she is saying, "oh boy, oh boy, you're coming to see me aren't you, how cool is this?"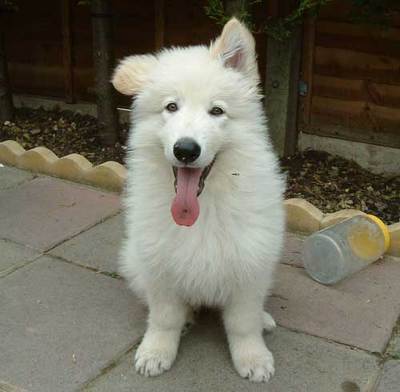 She is dialed into the "Joy Channel" for sure.
If we met a human with that attitude, we would wonder what they are smokin' ... right?
We can all tap into that same vein of "Dog Joy" with a simple mind maneuver that takes just 10 seconds in the morning when you get up.
I am pretty sure dogs do this every day without thinking about it.
The Canine Mind Flip ...
It is all about having an intention for your day. Rather than get up and let the first thing that happens to you determine your attitude -- so if you stub your toe getting out of bed, you say to yourself, "Oh, this is gonna be a shitty day -- instead ...
DECIDE BEFORE YOU GET OUT OF BED
WHAT KIND OF DAY YOU ARE GOING TO HAVE.
Before you let your feet hit the floor in the morning ...
DECIDE TO HAVE A GREAT DAY.
(just like dogs do without trying)
==========
My "Shitty Day >>>> Great Day" story ...
Years ago when I was first taught this magic awareness trick, I practiced it the very next morning. Opened my eyes -- said "I'm gonna have a great day today" -- and then, like the doubting Thomas I am ... I waited to see just what would happen. (There was a little voice in my head saying,"yeah ... right ....")
I was going to my coach certification training at the time. I live about an hour away from the training site down in Seattle and had to drive there every morning in rush hour traffic.
In the fast lane of a 6-lane freeway, 6 AM, coffee in one hand -- my car up and died.
All the dashboard lights went on and she quit.
We were rolling at about 4 miles an hour ... I was searching frantically for a way to get off the road with no power, when a gap in the median opened up on my left. (The little hidden spot where the police hide when they run a speed trap!)
With my last couple feet of momentum I was able to pull totally off the road. I thought to myself, "How the heck am I going to get a tow truck here?" When I stepped out of the car and looked up, there was an empty tow truck 100 yards back in the center lane coming my way. I was able to simply flag him down and I was under tow in less than 15 minutes.
He took me to a shop where they kept my car and gave me a loaner ... a little sports car that was a kick to drive. I took off and got to my training just 15 minutes late.
During the day, the shop called and said the the problem was a simple fix and asked if I wanted a tune-up, too (I was WAAAY overdue). I said, go right ahead.
The end result ...
I completed my class day ... no sweat. Got to drive a sporty little car there and back. My car got tuned up and fixed. Insurance covered the tow charges ... all I owed for the loaner was gas. And I tell you one thing ... I became a believer.
As I was driving home with a big smile on my face, I thought to myself ... I am so glad this happened when I WAS HAVING A GREAT DAY!
Just think how many ways the whole day could have gone south if I had stubbed my toe and decided I was having a shitty day instead.
I invite you to try this canine mind flip and get your inner dog attitude on for yourself.

Tomorrow...
Get up and decide to have a GREAT DAY.
Watch the difference it makes.
==========
Dike Drummond MD is a former physician now known as the "Do-Over Doctor"
- When it's High Time to Dust off a Dream and Start Livin' It ,,,
Let Dike show you how to use a "Functional Midlife Crisis" as a Major Shortcut to Living Your Dreams
Visit his website at www.ThreeHourMidlifeCrisis.com
Or get your copy of the Midlife Crisis Handbook at Amazon's Kindle Store