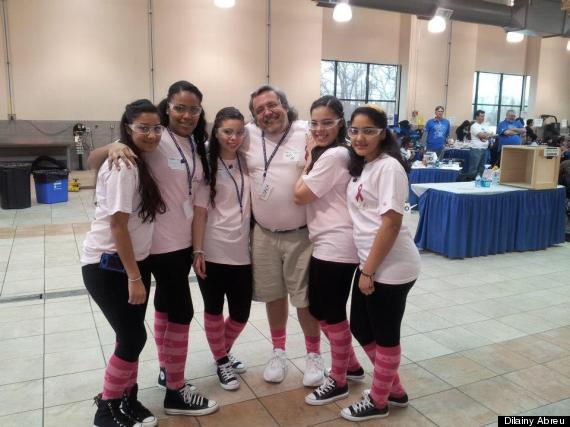 I recently graduated from high school but my adventure as a girl in STEM will continue into college. I have been accepted to the University of Rhode Island mechanical engineering program, where I hope to continue my education in robotics. This summer I begin on my journey to become the first member of my family to earn a college degree.
How did I become a girl in STEM? I joined the after-school robotics club at my school. It all started three years ago when I was introduced to FIRST - For Inspiration and Recognition of Science and Technology. Soon after joining the team, it was apparent that I was the only girl. This did not discourage me, because I was quick to observe that I could do everything the boys were doing. At first I was timid and a little reluctant to offer my ideas and conclusions, since most of the boys had been doing this a lot longer, but when I voiced my opinion, I realized that I had a unique way of looking at the problem. That year I became a solid member of the team. It wasn't that their ideas were wrong ,they were just different, and that difference created discussions, and more ideas. Building and programming robots with FIRST fueled my desire to explore my career options in STEM.
For background, FIRST is a not-for-profit founded more than 20 years ago by inventor Dean Kamen. FIRST inspires youth interest in STEM careers by offering exciting robotics competitions through four programs: Jr. FIRST LEGO League. FIRST LEGO League, FIRST Tech Challenge and FIRST Robotics Competition. Each year, FIRST issues a specific game challenge for each of these programs.
After my first year on the boy's robotics competition and tech challenge teams, I recruited four of my friends to join me, and form our own FIRST Tech Challenge Team 5801. We called ourselves "The Rhody Girls". We chose this name to show our pride in our state - Rhode Island, and our status as an all-girl team. We learned a lot that year in how to build a robot and compete in the game challenge. While we accomplished our goal that season of being the best ball collecting robot, we lost in the playoffs to the more mature teams that concentrated only on bonus points. That year we received many compliments on our robot's design and durability, but finished third in our state championship. As I graciously accepted these compliments, I secretly thought that they have not seen the last of the Rhody Girls.
This year my friends and I started prepping for our robotic competition early, by encouraging our mentor to get the program underway in our third week of school. And, unlike last year, the Rhody Girls did not show up and just start building a robot. The first thing we did was choose a captain, and the team selected me for this honor. In the past I never considered myself a leader, or actively pursued that role, but due to the experience I received over the past two seasons, I was eager to lead. Our next step was to disassembled our old robots, including the boys' robot, because you can learn just as much from taking a robot apart as you can by putting it back together. Next we analyzed the FIRST game video, and broke it down into categories. We agreed on how many points it would take to win a match, and examined our options to obtain that score. We studied and discussed the pros and cons of each section, and broke up into teams to work on proto-typing different parts of our robot. At the close of each meeting, we would report on the progress or difficulties we encountered.
By starting this learning process early, it awarded us the opportunity to change our minds, refine our strategy and enhance the performance of our robot. We changed our ring manipulator multiple times, and we made four different lifts. We allowed ourselves the flexibility to change, while staying with the original plan. Due to other commitments, we witnessed our school's boys' team unwillingness to change their design and take the easy route to finish, and it showed in their performance at the competition. This showed us that if you want to be successful, you have to make sacrifices. Our strategy worked well for us. as we became part of the winning alliance that won the Rhode Island FIRST Tech Challenge Rhode Island State Championship. We are the first all-girl team to win this honor in our state.
The mechanical aspect of robotics interests interests me the most. Coming up with a design of how you want the mechanism works. You can spend hours and hours thinking of a design but it's not until you actually go out there and start building it that you begin to feel proud of what you accomplished.