This post is part of the Global Mom Relay. Every time you share this blog, $5 will go to women and girls around the world. Scroll to the bottom to find out more.
This week, families all over the world are getting together to share a meal in celebration of Passover and Easter. For many, including the Deen family, it's a bonding experience -- the stuff that memories are made of. But in some places, this simple act of cooking a meal for your family can be deadly.
Did you know that more than four million people die each year because they don't have access to proper cooking equipment? That's one person every 16 seconds. Here's why: Almost half the world's population cooks food, boils water, and warms their home by burning wood, animal and agricultural waste, and coal in an open fire or a rudimentary cookstove. This resulting smoke can cause lung cancer and disease, child lower respiratory infections, cardiovascular disease, and cataracts.
The Global Alliance for Clean Cookstoves, led by the United Nations Foundation, is working with its partners in developing nations to overcome barriers to the production and use of clean cookstoves. The organization has pledged to help 100 million households adopt clean and efficient cookstoves by 2020.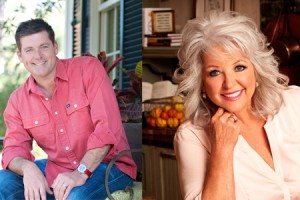 Just think how many lives could be saved! And how many memories made.
This past week, we spent some time with Paula Deen and her son Jamie, talking about the joys of cooking together as a family. Here's what they had to say:
What are your thoughts on food and family meals as a force that keeps families together?
Jamie: Family dinners are huge for us -- the way we were raised and now as we are raising our boys. The kitchen is the center of the home and the grounding force for the family. We love working together in the kitchen and sharing and making memories.
Paula: I love my boys and am so proud of them. We are all so blessed. I adore watching Jamie and my grandbabies cook together, seeing all those smiles. Those are the happiest moments.
How has cooking changed your life?
Jamie: Cooking has changed my life in every possible way, from work to the experiences I've had meeting people, getting to travel, and of course, becoming closer as a family the more we cook together.
Does your love of cooking affect your parenting style?
Jamie: We try to stay in and cook almost every meal rather than eating out, Matthew is only 22 months and loves to cook already. I hold him while cooking. My oldest son Jack loves to cook so much that he's a big part of my new cookbook. He calls his play "restaurant" The Rooster Cafe.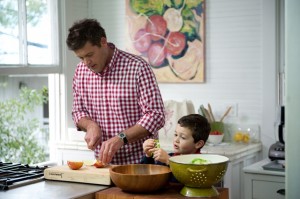 Do you ever get in dangerous territory telling each other how to cook?
Paula: No, everybody in our family has their own style that we all appreciate.
Jamie: Bobby does lighter foods, I cook for families and young kids, Momma cooks for her health.
What's the one recipe that reminds you of the years when you were growing up?
Jamie: I can remember my dad always had cane syrup and butter on white bread every night for dessert after Momma cooked a big Sunday-style meal.
Paula: I miss getting to cook for everyone. On Sunday, everyone will be at my house for Easter. I love having everyone over and cooking my family favorites like coconut cake.
On that note, what meal could you not live without?
Jamie: I can't imagine living without Momma's New Year's Day meal. Fried pork chops, collards, cornbread, dumplings, black eyed peas over rice.
Finally, this one's for Jamie, what's the best advice your mother ever gave you?
Jamie: Never give up. Anything worth having is worth working for. Also, appreciate what you've got. To think that the act of cooking a meal together as a family can be dangerous really puts our lives and traditions into perspective. I'm incredibly thankful that organizations like Clean Cookstoves are out there helping to protect families all over the world and giving them the chance to make memories together as a family.
Each time you share this Global Mom Relay piece on Facebook, Twitter, or Email, or donate $5 or more through clicking on the above graphic, a $5 donation (up to $62,500 per week or $125,000 every two weeks) will be donated by Johnson & Johnson and the Bill & Melinda Gates Foundation to the Global Alliance for Clean Cookstoves. Join us by sharing it forward and unlock the potential for women and children around the globe. For more information, visit www.unfoundation.org/globalmomrelay. The United Nations Foundation, Johnson & Johnson, BabyCenter, The Huffington Post, and the Bill & Melinda Gates Foundation created the Global Mom Relay, a first-of-its-kind virtual relay with a goal of improving the lives of women and children around the globe.
This post originally appeared on BabyCenter.com