As a Trans-person who is constantly creating, it really excites me to see other trans people creating. Her Story is no exception. Not only are there trans writers and actors but the project also includes music from a band called Spectacular Spectacular with a trans member, Isley Reust.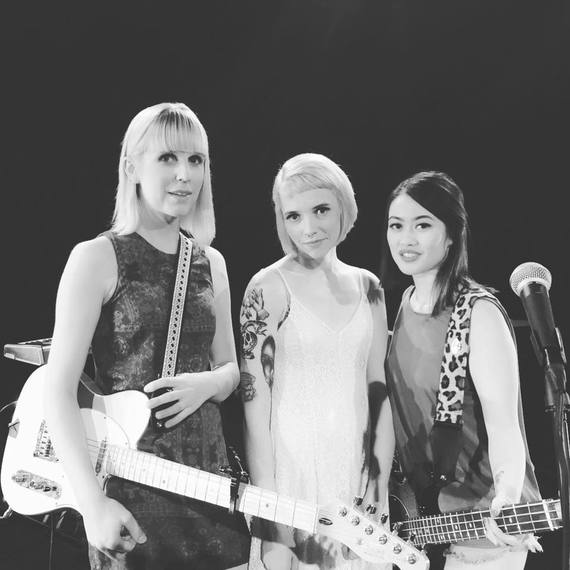 Spectacular Spectacular was created in 2011 when Reust moved back to San Francisco from L.A. to work on a project. They spent three years working on their first album and playing the occasional gig. Following the release of Blur they hit the road hard to tour through the U.S. and Canada. Along the way they lost a member, picked up a member and morphed from Indie Girl Group to a force to be reckoned with. They also added a few guys to the band to boot, but that didn't change the sound of the band, it only lent to it.
In a recent conversation, Isley told me of how the band became a part of Her Story. In her little voice she explained that Sydney Freeman, the director of the show, contacted her to write some music to be included in the score. "The show was so emotional," Reust said and she set out to write and the band were all on board. The song Her Story took the band only twenty hours to write; a huge accomplishment and testament to their talent. "...(it) just came out naturally. Nothing was forced," she said. The song was inspired by a scene where the lead character is put in a situation that causes deep vulnerability. "Throughout the show you have that feeling of everything being honest and heartfelt, but just that particular scene where she's divulging her entire self. It was so emotional."
Like most of
Spectacular Spectacular's
music
Her Story
, which played at the end of that episode, is haunting. The lyrics depict an abuse victim defending their abuser. "I say you're not so bad, let go of me. You say that I'm so bad, undeserving." The song is poignant and touching, and it taps into the domestic violence scenario in a real and emotional way. Reust said "What she's telling is the truth and most people don't understand what people like us have to go through." Although we discussed the subject of domestic abuse as a trans issue, purely due to the subject matter of the show and her personal journey, the song is much more universal.
The show itself is bringing to light many issues that we face as trans people, and it is doing so in an authentic way. It's finally tackling the difficulties most trans people face in dating and relationships, non-acceptance within the LGBT community and discrimination. "...I haven't dealt with discrimination per se (in the music industry) but I do feel that being a trans person...it's definitely harder to gain the respect of people." This tends to be par for the course when it comes to our stories. Although it's more difficult for those of us who are trans to gain legitimacy within our chosen fields, especially in the entertainment industry, Reust doesn't seem to be deterred in the least. In fact, it seems to fuel her fire to succeed.
Spectacular Sectacular's freshman album and the Her Story single are available on iTunes. You can also watch the full six episodes of Her Story on YouTube.