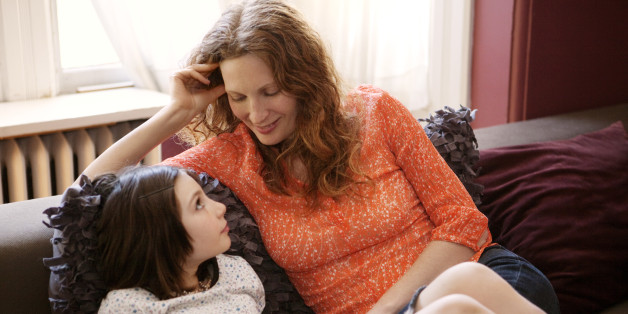 If you're a mom, Mother's Day is either your most favorite or despised Hallmark holiday. No doubt, each of us has been moved to tears by some amazing gesture of love featured prominently on Facebook, of course. We likely have been also disappointed when our kids outgrow the "macaroni necklace" or "popsicle stick picture frame" years, and perhaps forget to even get us a card. So you have a choice, you can either burden your husband with the responsibility of making your Mother's Day "special" by ensuring your kids tell you how great you are or you can make it into an opportunity to remind your kids of a few important things. I pick the latter.
1. My work makes me happy.
We may consciously or unconsciously convey work stresses to our kids. It could because of some latent guilt for not being a stay-at-home mom. It could be because we're operating in a world-wind of trying to get dinner ready after getting home late. Regardless, our kids need to know that there is a satisfaction that you get from your work. "Mommy is really good at what she does at work," "I did a great job job today," "I work with really great people that help me learn things every da.y" These kinds of messages can be very powerful. When your child can start thinking about you as a individual, outside your role as their mom, they will benefit from knowing that you value yourself in other domains of your life. This is a lesson in itself for them to pursue things that make them happy and be proud of themselves.
2. Mom and Dad time is important.
Most moms become completely in love with their babies from the minute they are placed in their arms. Perhaps, at the deepest cellular level, we are wired to nurture and protect our offspring, like most other mammals. What we don't do as well however, is to nurture and protect the relationship with their fathers. With only so much time, our husbands are too often short term the bottom of the priority totem pole. You expect them to understand because you're taking every spare minute to be a good mom, right? Wrong. The sooner you let your child know you and dad are a couple and need some time alone the better. "You'll be staying with Grandma and Grandpa, so Mommy and Daddy can spend some time together talking about things that are important to our family." Kids can garner a sense of security of knowing that their parents are trying to be a good a team in heading up their family.
3. I'm so lucky to have you in my life.
The reality is that becoming a mother changes you. It just does. You learn things about yourself that you may have never known. Sometimes good and sometimes bad, you become more of how you were meant to be. It's not because of the resilience you showed during the baby years when they were running fever all night or fortitude you demonstrated when they challenged you during the teenage years. It's because, they were gifted to you, so that you can help them discover their talents and find their own path in life. In doing so, you also get to know yourself -- often times the most vulnerable and authentic you. So if nothing else, tell your kids how fortunate you are to have them this Mother's Day. Maybe celebrating our children instead of ourselves should be what Mother's Day is all about.
Disclosure: I've shared a point of view that is limited to my experience as a working heterosexual married mom. I recognize that there are awesome stay-at-home and/or single moms, as well as other family make-ups but my hope is that you've read this from a place that doesn't exclude you but perhaps has elements that you might find common to all of us. That was my intent anyway.