Parents, Advocates and Electeds Lead March Highlighting Abysmal School Opportunities for South Bronx Children; Demand Action Plan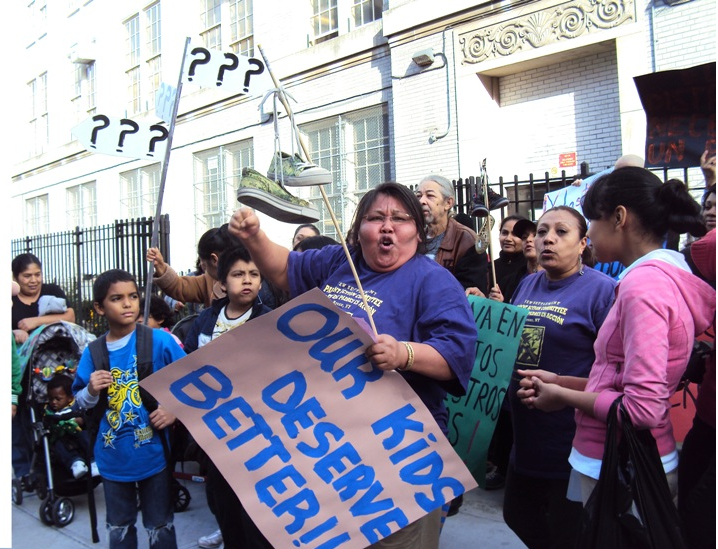 Bronx, N.Y. -- Frustrated by a decade of ineffectual reforms, while seeing almost half of their schools on state lists for poor performance, Bronx students, parents, community advocates and elected officials, including Senator Gustavo Rivera, led a "Walk in Our Children's Shoes" tour of District 9 schools last Wednesday.
Although already abysmal scores had nowhere to go but up when Mayor Bloomberg entered office, reading scores have barely budged -- putting almost half the schools in District 9 on state lists of failing schools, more than any other district in the city. Only 28 percent of District 9 students are reading at grade level, and the percentage of fourth graders passing the ELA exam has gone down since 2003.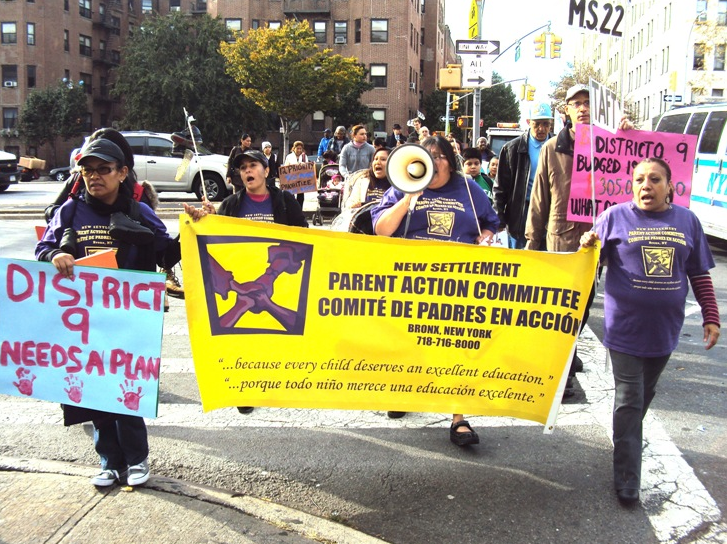 To their children's "path to nowhere," District 9 parents and leaders made stops at the zoned elementary, middle and high school options for a 1-year-old child named Angeles who lives in Mount Eden, all of which are on the "priority" list of the bottom 5 percent of schools in the state. Angeles' mother, Araceli Espejel, articulated her hopes and dreams for her daughters at the beginning of the march: "I am here, far from my parents, my family, and my roots, so that my girls can have a better future, a better education, so that they don't have to emigrate to another country like I did."
State Senator Gustavo Rivera (33rd SD) and a representative from Councilwoman Helen Foster's office also addressed the crowd of over fifty parents. "The reason I'm here today is very simple: The way we start to deal with the problems in our schools is to actually come to the schools, walk with the parents and listen to the issues that parents and students have." Parents and students speakers subsequently shared their concerns about community engagement in schools, the low numbers of students who are reading at grade level, and the lack of a college-ready curriculum for middle and high schoolers. Parent Juana Gonzalez worried that her 8th grade son, a student at another "priority" school in District 9, isn't being prepared for high school or college. "He isn't learning to write or build his vocabulary," she said. "He doesn't write compositions: he just does multiple choice questions- test prep!" Parents closed the march by inviting participants to a parent summit to continue work on a community-driven district improvement plan for District 9.
The march was organized by the New Settlement Apartments Parent Action Committee, a multicultural group of concerned parents, guardians, and community members dedicated to improving the quality of education for all children in New York City, with an emphasis on District 9 in the Bronx.
Photos taken by Emma Hulse. Used with permission.
Dinu Ahmed is an organizer with the New Settlement Apartments Parent Action Committee.