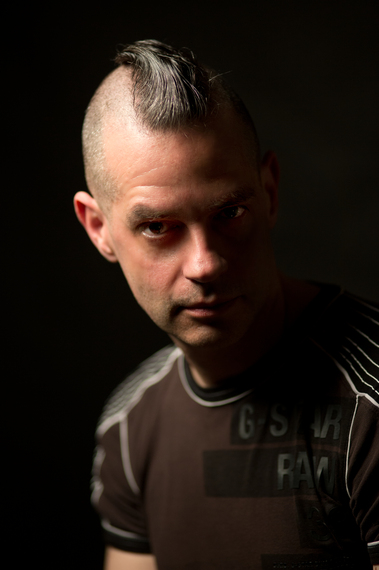 (John R. Gordon is photographed by Bahareh Hosseini)
Queer comics have always had a politically charged history, from the Dykes To Watch Out For strips of Alison Bechdel to Howard Cruse's Wendel and Stuck Rubber Baby to Julie Maroh of Blue is The Warmest Color fame to the more sexually explicit work of Dale Lazarov. The British novelist, playwright and publisher, John R. Gordon, creates a necessary addition to this cultural lineage with his first graphic novella, Yemi & Femi's Fun Night Out, which is sexy, hilarious and serious.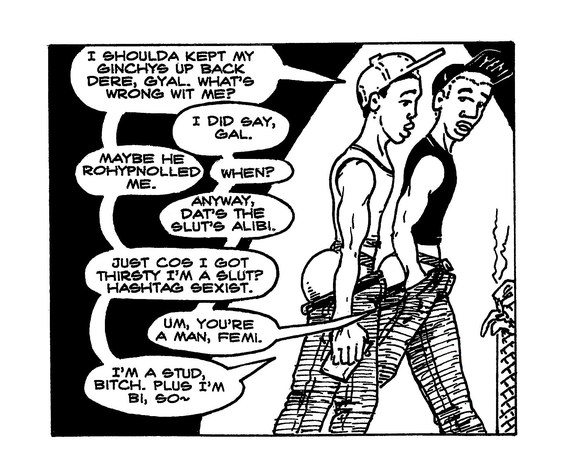 (A frame from John R. Gordon's "Yemi & Femi's Fun Night Out")
Yemi and Femi are two frisky young gay men of British-Nigerian descent who are out on the town. When one of them engages in risqué -- and risky -- sex in a club, they spend the rest of the night running around South London in pursuit of late night pharmacies that they hope will sell the post exposure prophylaxis (PEP) that, taken promptly, can stop HIV from taking hold. By opening up the graphic novella in this way, Gordon enlightens the reader on HIV prevention in a playful way that never takes on a didactic tone. It's a genuinely pleasurable book, illustrated with bold defined lines, and the expressive dialogue is peppered with slang and a sense of awareness about the issues at hand.
A recent study done by the British gay men's charity, GMFA, found that men who engaged in bareback sex felt that the sex was better and the sense of intimacy was amplified, which made them feel that the health risks were worth it. In Yemi & Femi's Fun Night Out, Femi says, 'I was gonna go raw with him like to show I'm sincere. Cos with rubbers it ain't sincere, is it?' In the age of apps like Grindr, Tindr and Growlr, many young men think this way, so this is a timely comic tale with teeth.
Created over a period of six months, Yemi & Femi's Fun Night Out is a brilliant showcase for John R. Gordon, a writer and artist who keeps upping the ante and improving his game with each new project. It's a sublime and necessary piece of storytelling.