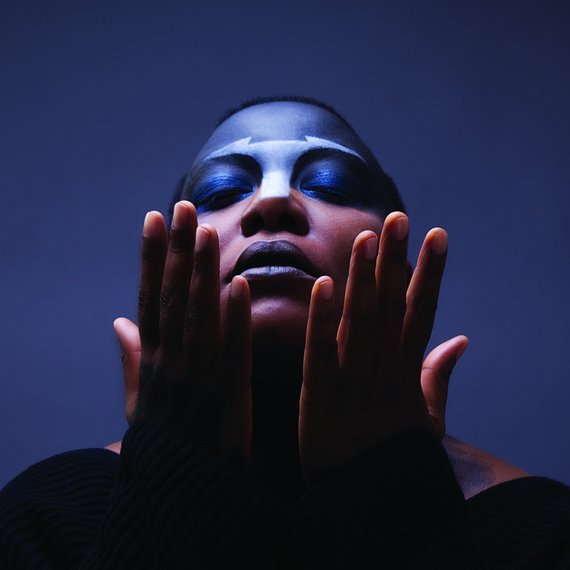 (Meshell Ndegeocello is photographed by Jason Rogers).
Whether it's publically acknowledged or not, Meshell Ndegeocello's sound is everywhere. You can hear it in the licks of Miguel, in the so-drunk-on-good-sex harmonies of Kelela, and even the witchy glitches of Flying Lotus. When I mention this to Ndegeocello, she laughs and says, "What makes you say that?" This response is symptomatic of the humble approach Ndegeocello has always taken with her music. She is a pioneer who wears the tag with a sense of looseness, lightness even.
In a career spanning more than twenty years, Ndegeocello has consistently toyed with the limits of genre with a style that has been a joy to witness. She is confident enough to take Nina Simone's catalogue and tease it out in a way that the high priestess of soul would surely have approved of. Ndegeocello's music is the most exquisite exemplar of what transformative art is all about: moving, vulnerable, sexy and visceral. You never know what you're going to get with each release, and this is part of her appeal, as well as the crux of her creative vision. Ambiguity, the silences, subtle nuances and generous slices of sonic layering have contributed to one of the most distinctive and risk-taking sounds committed to record. This sense of daring is melded with technical ambition but also informed by intuition.
"There's really no deep understanding to what I do," she says. "I sit around and I write songs. My partner and my child have just left and whenever I have time to myself I create. There is no grand theme. It always comes out of the necessity to express myself. For example, I knew Comfort Woman was going to be my last record with Maverick Records and I wanted to make something that I felt good about. I've always been into Bob Marley, Stevie Wonder and a lot of African rhythms. For me, I try to seek out those energies in my music."
Does she feel that the digital revolution has made the business of producing a record any easier?
"For some people," she says, "Some people can really find the sonic quality that they're looking for from being able to be self-contained within the digital realm. But I enjoy real studios so I look to the record company as the patron. The digital realm is helping people who are really self-contained and it also separates those who just want to be heard from those who want to be stars. It's all in the hands of the user."
Her most recent LP was the stunning Comet, Come to Me, a lush, gorgeously textured album that honed in on themes of loss, longing and pure, unfiltered love. Within that period she has also produced acclaimed jazz saxophonist Marcus Strickland's new album, as well as discs by British-Trinidadian poet, musician and lecturer Anthony Joseph and the ultra-cool composer and pianist Jason Moran.

"I don't want to have a sound," she says. "I just want to help the person bring their ideas into the world the way they hear it in their heads."
On the male-dominated world of music production, Ndegeocello says that it's a club that's been upheld by the music industry for a long time. "But I think it will change," she says. "That's where the digital media and the access to technology will change things because now you can just do it yourself."
It's very rare to come across an artist whose sense of goodwill is so palpable not just in her approach to her art but to life in general. With Ndegeocello, one gets the sense that the real thrill is in the detail, that the sadness and disappointments that often accompany a life truly lived are just as valid and necessary as the pursuit of pleasure. I've said this before in many different ways, but Meshell Ndegeocello is a genius. There's no two ways around that and there shouldn't be. What's exciting is the prospect of seeing what she does next, and thrilling to the fact that she will always be curious, constantly searching for new ways to transmit beauty within and beyond the Afrosphere.

Meshell Ndegeocello's Comet, Come to Me (Naïve Records) is out now. You can connect with her on Facebook, Twitter and Instagram. For updates on tour dates and merchandise, check out www.meshell.com