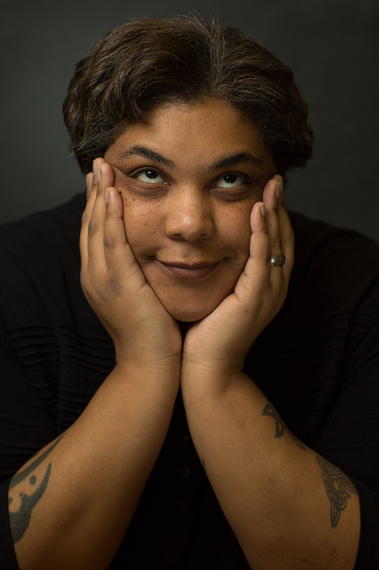 (Roxane Gay is photographed by Jay Grabiec).
America has a powerful lineage of public intellectuals who have constantly added something visceral and vital to the culture. One thinks immediately of James Baldwin, Susan Sontag and Joan Didion. Each of these writers possessed a drill-bit-sharp imagination and they staked out their own terrain with daring and curiosity. You can now add Roxane Gay to this list, but what differentiates her from all the aforementioned writers is her unrestrained joie de vivre, vulnerability, inclusivity and the kind of bullshit-o-meter that can suss out all manner of mess from Texas to Timbuktu.

This all makes her collection of essays, Bad Feminist, one of the liveliest, most joy-inducing books of the year. Whether she is breaking down everything that is wrong with Quentin Tarantino's slavery porn-fest/ spaghetti western, Django Unchained, or delighting in the thrills of Sweet Valley High (a series of novels that I enjoyed very much as a gay kid growing up in Kenya) or examining the pleasures and complexities of female friendship, Gay writes in a manner that's inviting and incredibly generous. There is no "bad feminism" at play here -- just plain ole badassery with lashings of common sense and humanity.
In the book, Gay addresses the exclusionary nature of capital-F Feminism and the ways that women of colour, queer women and transgender women have been often been overlooked and abandoned by the movement. She intertwines this argument with the nature of privilege (her own included) and how it works. She also demolishes the stereotypes of "magical negroes" that were perpetuated by the adaptation of Katherine Stockett's The Help. Although The Help and Django Unchained were directed by white filmmakers, 12 Years a Slave, which was helmed by a black auteur and was widely lauded by everyone from Oprah Winfrey to Spike Lee, is rightly criticised here for its fetishization of the "mortification of black flesh."
What's refreshing about Bad Feminist is that Gay is unafraid to expose her own shortcomings and also her deepest wounds. The best writers cut to the core and Roxane Gay is no different. Her prose has urgency to it, a kind of heightened assurance that can only come from hard-won experience and clarity of intent. She is a feminist who loves flexing to hardboiled hip-hop where misogyny is a frequent dish on the menu.
The point of the book is that as individuals the pursuit of our ideals, goals and dreams is not for an unattainable level of perfection but its polar opposite. Strive for excellence, Gay seems to be saying, but bear in mind that imperfection is ultimately what makes us human. In that sense, this book is not only a deeply impassioned and excellent argument for why feminism matters but also an intelligent and accurate exploration of humanism.
Bad Feminist is a tour de force and Roxane Gay is a writer of considerable power, intelligence and moral acuity.
Bad Feminist by Roxane Gay is published by Harper Perennial in the US and Constable & Robinson in the UK. You can connect with Roxane Gay on Twitter and Tumblr.