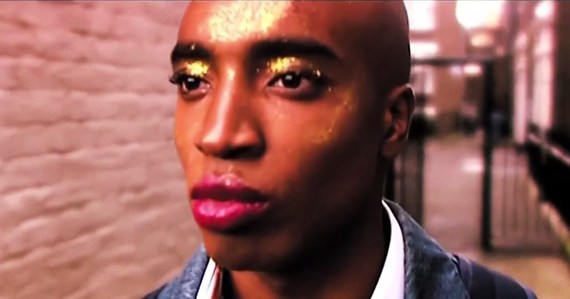 (A still from the film, Souljah).
During the mid-2000s, there was a trend of publishers aggressively marketing books about the lives of child soldiers in Africa. These tomes had the texture of misery memoirs and a lot of them were successful, making stars out of writers like Ishmael Beah and Emmanuel Jal. It's impossible to tell such narratives without unveiling horrific truths about the banality of evil and how it works within the context of children's lives.
John R. Gordon's Souljah takes every stereotype about child soldiers and knocks every single one of them on the head. Originally created as a brilliant, stand-alone short film, which you can watch below, Souljah tackles complex issues of race, sexual identity and history with laser-like perceptiveness and a vividity of tone and rhythm. In many respects, Gordon, who is an English writer and editor, takes his cues as much from American prose stylists like James Baldwin and William Faulkner as he does from the hardboiled crime narratives of Raymond Chandler and HBO's The Wire. Mix these elements up and set them in the streets of South London and West Africa and you get a novel that defies categorization. It's a mashup of the immigrant saga, a chilling gangster thriller, a state-of-the-nation novel, a coming-of-age story and an intimate family portrait with a harrowing war crime at its heart. The fact that Gordon never once drops the ball makes Souljah a sprawling, visually arresting masterpiece.

(The short film, Souljah, which is written by John R. Gordon and directed by Rikki Beadle-Blair)
Stanlake is a beautiful, androgynous teenager living on a dangerous and desolate council estate in South London with his mother, Poppy. They're both recently arrived immigrants in the UK. Stanlake is an exemplary student at school but there is a tension between him and his mother that's a direct result of the terrible crime he committed as a child soldier in their native country. As Stanlake and Poppy struggle with the challenges of life in a harsh, new environment, we are given insight into their individual histories and how they arrived at this point of disenfranchisement. For Stanlake, London is a jewel of a city that allows for opportunities to explore his identity as a young, gay man. For Poppy, London is nothing more than a frightening jungle filled with menial jobs, drug dealers at her doorstep and persistent anxiety about her family's future that's only mildly tempered by her Christian faith. Neither one of them sees themselves as a victim and this is important.
Enter Everill or "Evill" as he is often called. Initially, Evill and his cronies are petty but dangerous pushermen that create chaos around the local estate where Stanlake and his mother live. As the story builds up, however, Evill emerges as a deeply flawed but sympathetic counterpoint to Stanlake's character. Whilst Stanlake was born into relatively well-off circumstances, Evill was born into abject poverty and he had to raise himself as a result. Both of these men develop a passionate sense of kinship and romance until an insidious and disturbing character from Stanlake's past enters the frame, eager to destroy their lives.
Souljah is a taut, tensile stunner and John R. Gordon is a writer whose imaginative reach knows no boundaries.
Souljah (Team Angelica Press) is out now and available here. You can connect with John R. Gordon on Twitter.