Who am I? I'm a Montana rancher and Democrat who wants to be the next U.S. senator from Montana. I'm the dark horse running for the open seat to replace Max Baucus. Find out more about my campaign here at my website, if you're curious. Join our email list or follow on social media to hear more from me and the campaign.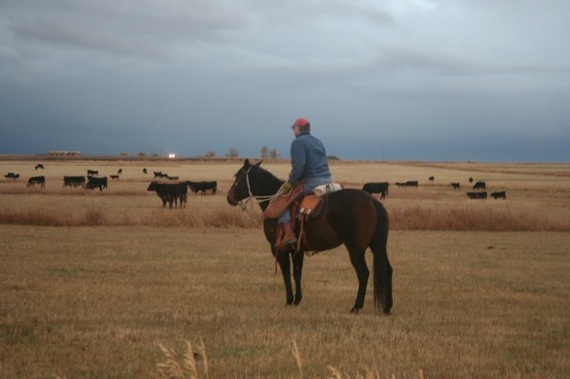 Last week I wrote about why I oppose the Keystone XL pipeline; today I'm writing about why I'm a Democrat.
I'm proud of being a Democrat. My grandparents lived in the Dust Bowl during the Great Depression; they were Democrats. My mother opened the first family planning clinic in East Texas; she was a Democrat. Lyndon Johnson passed the Voting Rights Act; he was a Democrat. I'm a Democrat because I believe there are some things that have to be done by the federal government, like taking care of the generations that took care of us. And because I believe that the government should stay out of our love lives, our doctor's offices and our gun cabinets.
I'm running for Senate because I think Montana needs someone who can get things done and is unafraid to stand strong when it comes to what's best for our state and our country.
Because of or despite this, the party insiders in Washington aren't interested in me. They won't return my calls, out of arrogance, rudeness, or both. They have the liberal organizations falling in line with endorsements for their chosen candidate. But their chosen candidate is nowhere to be found. You can't get in touch with him if you try. He hasn't staked out any positions on the issues. He won't respond to the press. Our one scheduled debate was cancelled because he wouldn't show up.
I'm happy to shout my positions from the tops of grain elevators and let the people decide whether they want to elect me. But the Democrats in power are acting like they're scared of letting Montana voters pick their own elected officials.
Whether this power play works or not, it hurts our party in the long term. It looks like we are afraid of letting voters decide. Like we don't have confidence in our candidates to tell the truth to voters. Like our candidates aren't smart enough to say what they think in a room full of people. In the long run, this strategy will ensure that voters lose confidence in Democrats, if they haven't already.
Personally, I think Montana voters are pretty smart. Montanans know cow patties when they see them. So they can tell the difference between real ideas and a pile of power-grabbing partisan nonsensical BS.
The Senate is a representative body. It belongs to the people, not the parties. The people of Montana and the people of every state deserve Senators who show up. Who listen. Who debate. Who explain.
I can promise you right now that I will never dodge a question. You will know where I stand on every issue. You will know who is working for me and who to get in touch with. I will never turn down an opportunity to hear your thoughts or explain my positions. I don't know if that's how political consultants would tell me to behave, but I don't give a fig for any other way of operating. And if every candidate would take the same tack, I don't know who would be elected, but I know that we as a party and a country would be better off.
My home number is 406-578-2330. My personal email address is DirkAdams@mac.com. They are both posted on the front page of my campaign website. I welcome your thoughts and questions and ideas and criticisms. And I look forward to hearing from you over the course of this campaign.
If you like what you hear so far, stop by my campaign website and sign up to hear more.