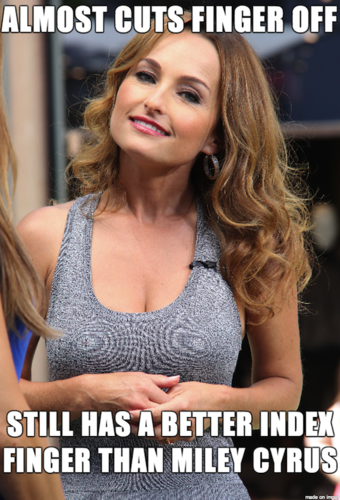 Last week while filming a live Thanksgiving special on the Food Network, Giada De Laurentiis experienced a slip of the knife, and sliced her finger on live television. After whispering to Ina Garten (the Barefoot Contessa herself!) that it was bad, Giada became a bit pale and the program cut to commercial.

Maybe "cut" is the wrong word at present moment. Sorry, Giada.

After receiving medical attention for her wounded digit, Giada came back to finish the show. But not before tweeting a photo of her finger that nearly caused us to blow chunks.

Here's hoping that Giada De Laurentiis is recovering quickly and using her pointer finger sans bandage soon! Sure, it's not a great fashion statement to wear a standard issue "finger cot" (also lovingly known in the food biz as a "finger condom") but it's really hard to say if it's less appealing to witness one of those gross accessories, or a plain-old bandage touching our food.

Well wishes aside, maybe it's just us but did anyone else think of the classic SNL skit with Dan Aykroyd as "The French Chef" a.k.a. Julia Child? It's so close to what happened to Giada that it's almost uncanny. You know, apart from Aykroyd's chicken mangling to De Laurentiis' turkey incision incident. Oh, and also there was a slight difference in blood loss, I guess. Thank goodness Giada didn't have to rely on a prop phone to get proper medical attention.


Maybe Giada is a huge Dan Aykroyd fan pulling an homage with her finger-otomy? Or more likely she was just having an off day. Seriously. Don't ask one of us to carve a turkey. That's Dad's job.

If you need a new pointer finger in the meantime, Giada, I'm sure Miley Cyrus would be glad to lend you her foam one. Seems like that is getting little use since the VMAs.
For more from Dish Nation, join them on their Facebook page or watch our nightly entertainment news show. Go here for local listings!