As Superstorm Sandy was bearing down on the East Coast in 2012, millions of people in harm's way took to their mobile devices to receive and share vital information. For the first time during a major, catastrophic disaster in the United States, people didn't need to rely solely on mass media to inform them about how to survive, stay safe or find services after the disaster.
Many New Jersey and New York residents were able to get out of harm's way thanks to warnings from their mobile apps. If they weathered the storm in place, they knew what to expect, what to have on hand and how to stay safe. Once the storm ended, they could share real-time information with friends, neighbors and loved ones even as they stood in the midst of devastation.
That dynamic has changed the way that emergency officials, and the public alike, prepare for and respond to disasters. Response organizations like the American Red Cross have an opportunity and a responsibility to provide the public with timely and relevant information, delivered where people want it: on their mobile devices.
For years the Red Cross relied on paper brochures to inform people about what to do before, during and after a disaster.
But in 2011, an earthquake rattled the East Coast, Our neighbors and coworkers, unaccustomed to natural disasters, turned to their mobile devices to debate how they should have responded. Get under a table? Run outside?
That's when we started asking ourselves: Wouldn't it be great to have the answer on our mobile devices at the exact time we need it; that is, when a disaster is happening? From there, the idea of developing a suite of Red Cross apps was born.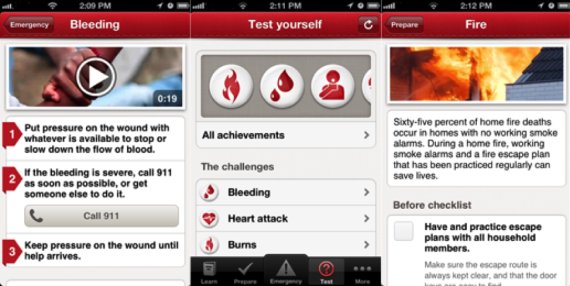 Photo caption: Screen shots from the American Red Cross First Aid App.
Since June 2012, the Red Cross has launched seven preparedness apps: first aid, hurricane, wildfire, tornado, earthquake, pet first aid and Team Red Cross (for volunteers). This year, the organization will add a swim app and a flood app to its suite; soon, users will be able to toggle between English and Spanish on all of these apps.
As smartphones become ubiquitous in society, so does their use in emergency situations. A 2013 report from the Center for Technology Innovation at the Brookings Institution found that mobile development has surged in reaction to the increasing demand for instant and accurate information. Mobile technology provides an early warning system, aids in emergency coordination and improves public communications.
Since 2012, use of Red Cross apps has skyrocketed. Red Cross apps have sent more than 78 million notices to nearly 4 million mobile phones, alerting users to earthquake, hurricane and tornado warnings. During disasters, users spend an average of 12 to 40 minutes with their Red Cross apps. (For other disaster apps, the average is more like 3 to 7 minutes.)

Apps in Action

Superstorm Sandy and the 2012 Oklahoma tornadoes demonstrate mobile's new role in safety. Immediately before, during and after Superstorm Sandy, people spent 42 minutes searching for hurricane preparedness information, 18 to 23 minutes searching for and reviewing shelters and 25 to 31 minutes managing alerts and tracking storms.
One user said: "We tried unsuccessfully to find flashlights and batteries at numerous stores. Not only does this app have a flashlight, it also has strobe lights and alarms. The information it provides is better than the news because it can be focused on your location specifically."
During the week of May 17, 2013, users received alerts that covered 340 separate tornado watch or warning events. On May 20, the most severe day of weather, 1.1 million alerts from the National Oceanic and Atmospheric Administration reached just over 160,000 tornado app users.
The Red Cross received hundreds of positive comments about the mobile app.
"I had enough time to gather everybody up and discuss our plan," said a user in Oklahoma who was alerted to an impending tornado thanks to the app. "We checked some info about where to go safely using the app and we found the best places. Thanks to this [app], me, my kids, my wife, my parents and their neighbors are all safe."

Apps Around the Globe

The Red Cross' Global Disaster Preparedness Center is also leading the effort to make mobile apps more accessible around the world. The Center is working to simplify the app development process, not only making apps accessible for all Red Cross and Red Crescent societies, but ensuring that these high-quality apps contain locally appropriate language and information for the participating countries.
Of the national societies that have released the apps to date, Mexico and China stand out for their remarkable adaptation and localization. In Iceland, the Red Cross app for first aid vaulted over all others to become the country's number one overall app. In Ireland, the app was cited as the best business-to-consumer app in 2013 at the Eircom Spider Awards.
The bottom line: technology won't prevent a disaster and it can't solve post-disaster challenges, but it certainly can help. Visit our mobile apps page to download the Red Cross apps.

Cisco partners with the American Red Cross to respond to disasters with employee giving campaigns and volunteers who provide food, water, shelter, and relief services to people affected by natural disasters. For more information about Cisco's Community Partners, visit http://csr.cisco.com/pages/community-partners