JUBA, South Sudan -- While preliminary peace talks between the South Sudan government and opposition forces are a welcome development, the reality is that fighting -- and suffering -- continues unabated in the world's newest country. A cease-fire must be the top humanitarian priority even as opponents gather at the negotiating table.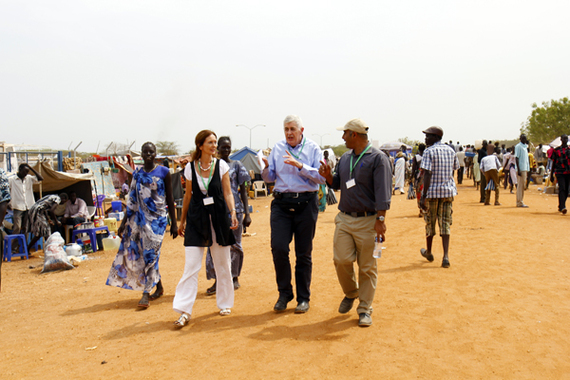 South Sudan is unravelling and at an alarming pace. The longer this conflict continues, the harder it will be to stitch South Sudan's communities back together into a unified nation. It is already reversing decades of peace-building efforts and economic development. With thousands of people fleeing across the border and a genuine risk of the conflict widening into neighboring countries, it threatens to further destabilize what is both a delicate and strategically important region.
The most immediate and unacceptable cost is the lives of thousands of South Sudanese.
Spend a couple of hours in any of these displacement camps and it brings home the complete senseless brutality and how in just three weeks, the future for many has been dramatically changed.
I met a young man, Simon, 22, in UN House, a displacement camp on the grounds of a UN base that is now home to some 14,000 people. Before the conflict, he was studying to be a teacher. He thanked me for coming to help and wished me a happy New Year. I wished him the same, and asked him how he felt about the year ahead. "Our New Year is damaged," he said. "Our hopes are broken."
An immediate ceasefire would allow humanitarian agencies to reach those most affected by the fighting, like Simon, and to protect the displaced and provide them with the basics for survival. It will ensure that African Union and IGAD-backed peace talks in Addis Ababa will not be conducted against a background of escalated violence and destruction, and decrease the very real risk that violence could spread beyond South Sudan's borders.
The longer it takes to reach a cease-fire, the more damage is being done to the lives of people already living day-to-day in this impoverished country.
Since fighting erupted in mid-December, violence has swept with alarming -- and, as many here have noted, surprising -- speed across at least seven of the ten states of South Sudan. I arrived in Juba on New Year's Day, by which time at least 180,000 people had fled their homes. As fighting continues, this figure is certainly underestimated as thousands more have fled into the bush and neighboring counties seeking refuge.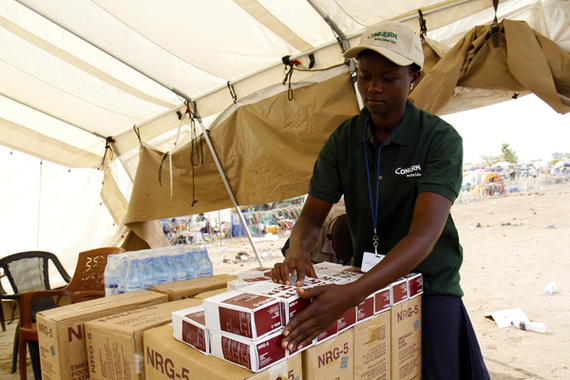 The conflict, much of it occurring near the regional oil reserves, has left at least 1,000 people dead. Oil workers were evacuated, and production is down. The economy is being hit hard as oil revenue accounts for nearly 99 percent of the government's budget.
But the greatest crisis is not the impact on the economy: it's the extreme violence targeted at communities, the looting and destruction of neighborhoods and homes. It's the atmosphere of intimidation and coercion. It's the devastating impact on mothers, fathers, and children who have been killed, beaten or raped.
Those who will be impacted most by the outbreak of fighting are the families whose lives have been ripped apart, who have packed whatever meager belongings they own, and have fled their homes seeking shelter and safety. Subsistence farmers and cattle herders have lost their livelihoods and means of support.
All of this takes place in a country still recovering from another prolonged war. It's only 30 months since South Sudan was formed in 2011, gaining independence from Sudan after decades of conflict. The Comprehensive Peace Agreement, and the voting for independence, promised southern Sudanese a reprieve from decades of fighting, which had led to South Sudan becoming one of the world's poorest countries. Even before the recent violence broke out, the country was challenged by trying to tackle extreme poverty and hunger and return displaced families to their homes after decades in refugee camps.
This week I visited Tomping, one of the UN compounds in Juba that is sheltering more than 16,000 people who fled their homes. The camp is already severely overcrowded, with new families reportedly arriving each day, fleeing the renewed clashes, particularly in Jonglei and Unity states. Despite these squalid conditions, they have shelter, food, water and protection, and so, tough as it may sound, these are the fortunate ones.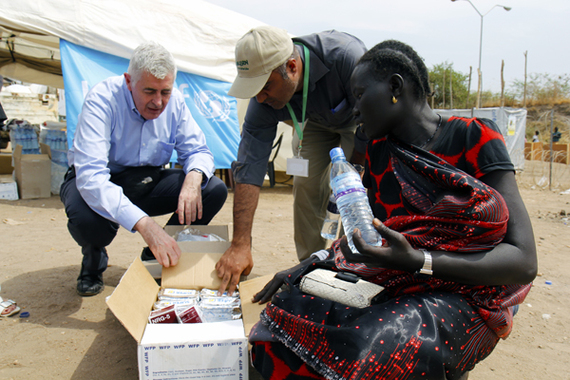 The uncertainty in Tomping is palpable. People are terrified to go back to their homes and communities and how they will get by. One woman, who is eight months pregnant, underlined that sense of insecurity. "I am due to give birth this month," she says. "I don't know where I am going to give birth. I don't know."
Aid agencies that had to evacuate when the violence broke out are returning and scaling up to respond to this massive crisis. Others, like Concern, which has been here since June 1999 and never left during this most recent outbreak of conflict, are already distributing food and emergency relief supplies in the UN camps, while we wait for the fighting to cease to return to areas where thousands more families are in urgent need of assistance.
Helping people while the conflict rages can be extremely dangerous for aid agency staff and poses huge problems in trying to deliver life-saving aid. In Unity State, one of the areas caught up in the struggle between government and opposition forces, Concern had recently established a food security and nutrition project helping mothers and children. We were forced to evacuate key staff to Juba when fighting broke out.
We are trying to get back to reach the communities that we work with, and provide emergency assistance to those displaced by the conflict in the town of Bentiu and other areas. So we wait, but not without extraordinary frustration and anxiety. We know that every day we are not there is another day that 8,000 people displaced in Bentiu town alone go without assistance.
It is time for South Sudan's political leaders to return to the spirit and promises of freedom, peace and prosperity made less than three years ago when the new nation was born. It is time for increased pressure on fighters to put down the guns, allow life-saving assistance to be delivered, and clear the way for families to return home and continue rebuilding their lives, and their country, once again.
More information about Concern Worldwide's emergency response to the crisis in South Sudan can be found at concernusa.org. To support Concern's relief efforts in South Sudan, please visit concernusa.org/southsudancrisis. Follow Concern Worldwide on Twitter at @concern or find us on Facebook.