Whether you're renovating or just doing a little redecorating, get inspired by these easy-to-pull off solutions.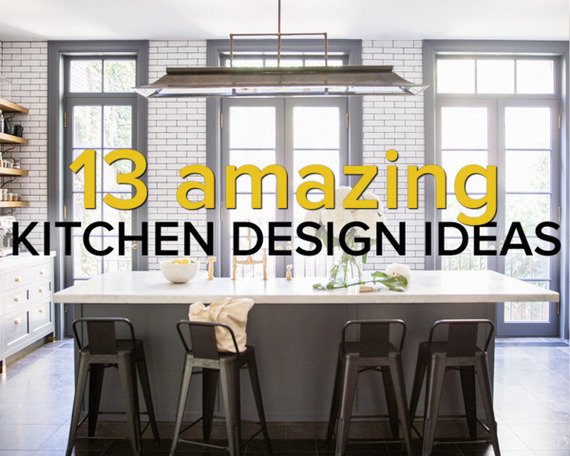 photography by ANNIE SCHLECHTER
The kitchen means many things to many different people: cooking zone, eating area, family gathering spot. Looking for ideas to make every inch count? These spaces will cater to many styles, sizes, and budgets.

photography by ANNIE SCHLECHTER
An all-white kitchen gets an instant upgrade with an intricate mosaic backsplash in a cool black and grey palette. Pendants complete this look. Shopping for kitchen lighting? Find some popular pendants.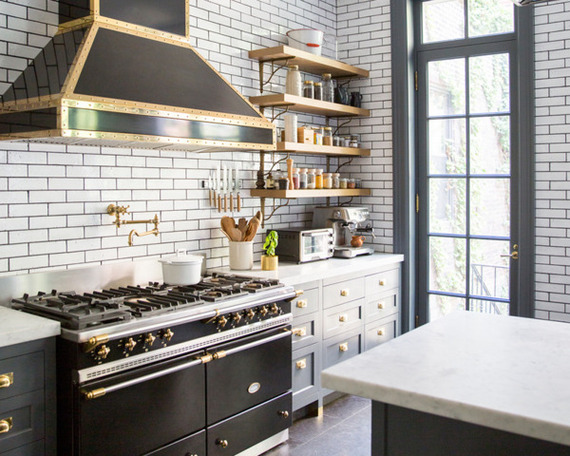 photography by BRITTANY AMBRIDGE
Ready for a kitchen makeover? Whether you're planning for a major-or minor-reno, rethink every inch (yep, even the kitchen sink) to make this space functional and fab.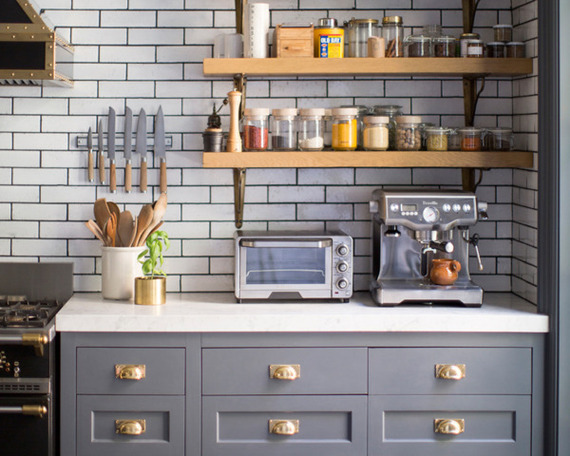 photography by BRITTANY AMBRIDGE
Desperate for more storage space? We're right there with you. If you've got bare walls, then work them. Install free-hanging shelves for holding frequently reached for items (spices, sugar, flour) and hang a magnetic knife rack, which will safely stow sharp kitchen tools.
Love this kitchen? Take a peek inside Ali Cayne's home.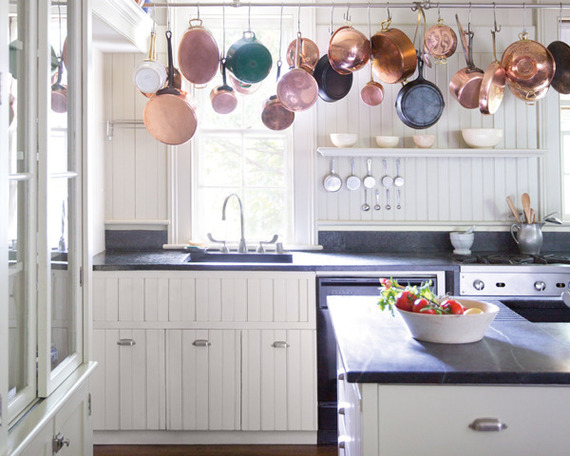 photography by BRITTANY AMBRIDGE
If you only steal one idea from this kitchen, make it the smart use of overhead space. Hang pots and pans within reach and out of the way.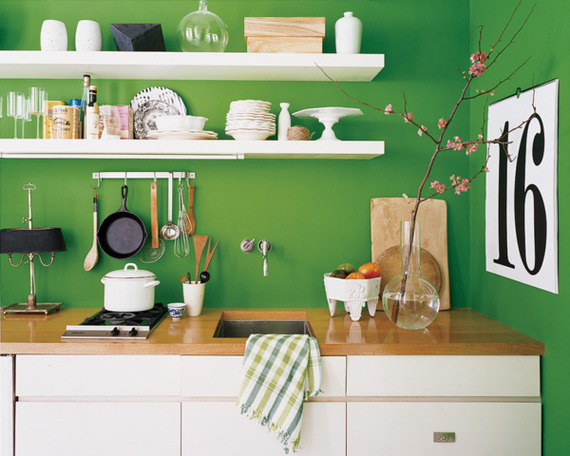 photography by ANNIE SCHLECHTER
Small space dwellers, rejoice. Want to know how to brighten up a cramped cooking area? Add color. This kitchen gets a wake-up call from the vibrant green walls that play nicely with the white cabinets and lacquer shelves.
Get more tips for decorating with color.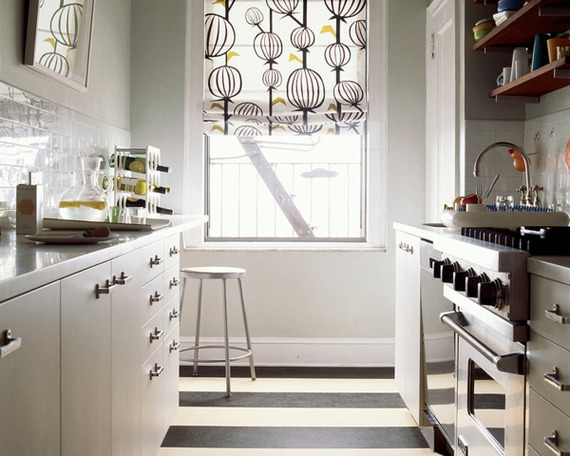 photography by JOSHUA W. MCHUGH
Bored of your ho-hum narrow kitchen? Take a drab space to new exciting heights with a few simple, decorative touches. Focus on where the light comes in (even if there's only one tiny window), and swap out blinds for a modern shade. And please don't neglect the floor. Broad horizontal stripes will make the space feel bigger. If you don't have the time (or the budget) to install new flooring, a runner can get the job done.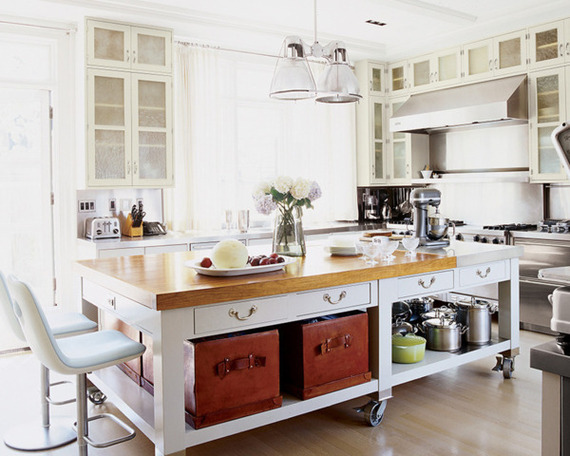 photography by LAURA RESEN
Center island screams dream kitchen, right? We couldn't agree more. Besides having plenty of drawers (perfect for storing kitchen gadgets and textiles), this piece has a spare bottom shelf for stashing pots, pans, and baskets.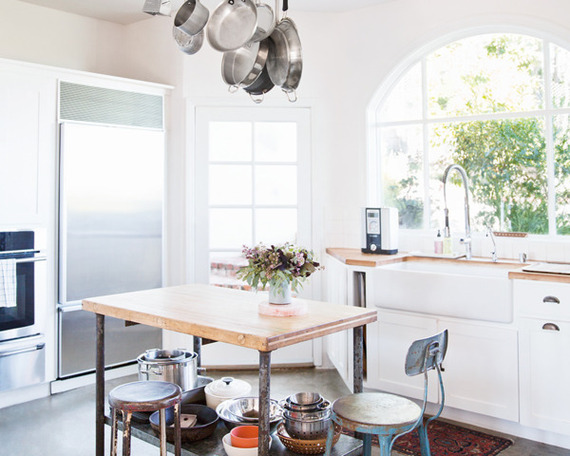 photography by BRITTANY AMBRIDGE
Why does it feel like there's never enough counter space? The good news is that you can buy an island (on wheels!) for rolling in when duty calls. Choose one with a bottom shelf (for extra storage) or surround with stools to create a casual dining spot.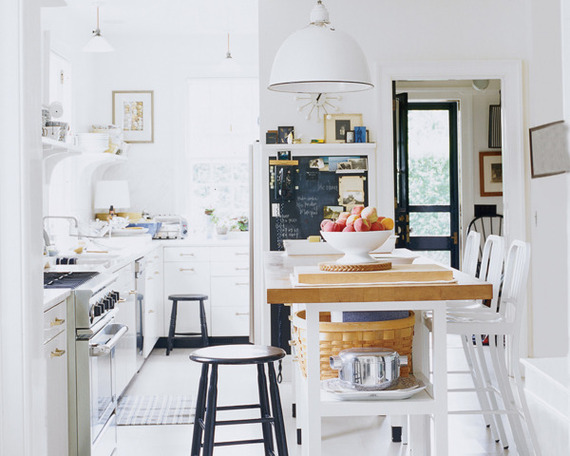 photography by LAURA RESEN
Is the all-white kitchen so you? Let a few sensible touches transform the room so it feels inviting. A few stools surrounding an island say "stay awhile" to friends just dropping by. Hanging a pendant sheds a bit of personality over the breakfast and late-night snacking spot.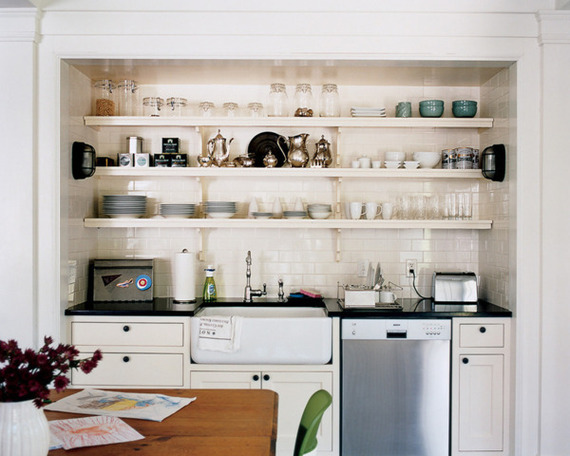 photography by JUSTIN BERNHAUT
Dilemma: Short on cabinet space. The solution involves being creative with the unused areas. Run shelving the length of a bare wall, which creates more spots for holding plates, storing canisters, and stacking glasses.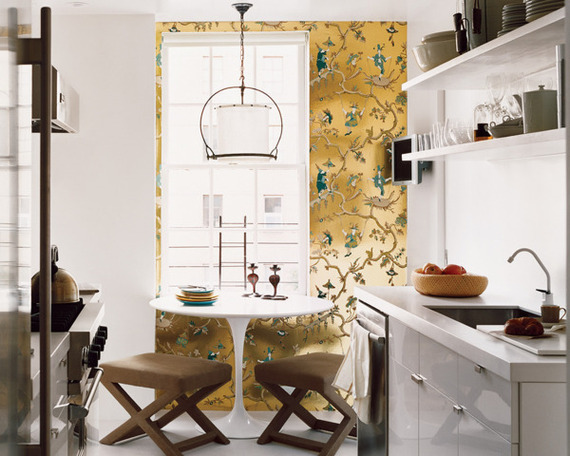 photography by ANNIE SCHLECHTER
So you have a small apartment...and a really small kitchen. Does that mean inviting a few friends over for dinner is out of the question? No way. Turn a corner into an eat-in-kitchen by setting up a pedestal table and comfy stools. Shopping for a dining table? Find some stylish inspiration.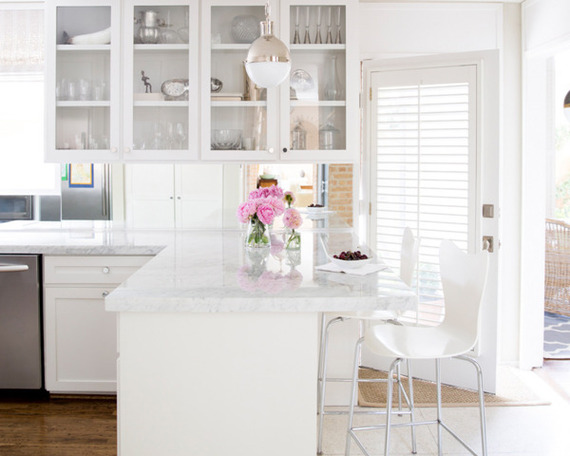 photography by BRITTANY AMBRIDGE
Classic meets cool with a few key items like scoop back bar stools surrounding the island and a pendant light hanging over the counter. Don't underestimate the power of fresh flowers for injecting life into the space.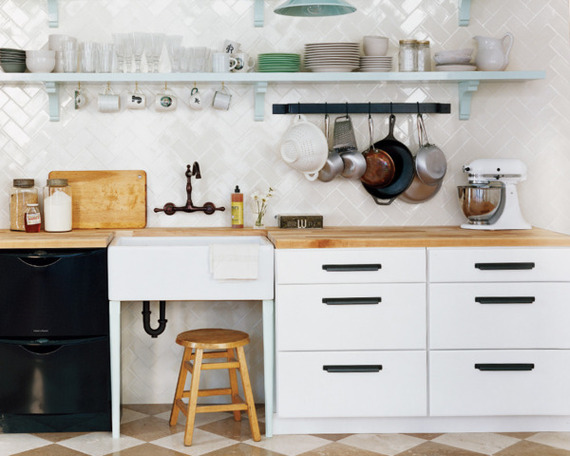 photography by ANNIE SCHLECHTER
Cabinets needn't be your only solution for kitchen storage. Open shelving gives the space an airy vibe. Our advice: Edit your collection and be thoughtful about the items you put on display (because they'll be out for all to see!).
MORE ON DOMINO.COM:
The Ultimate Kids' Room Makeover
Small Bedroom Decorating Ideas
A 6,00 Square Foot Dream Home Gets A Makeover
Decorating With Gray