The right shade can turn your workspace around.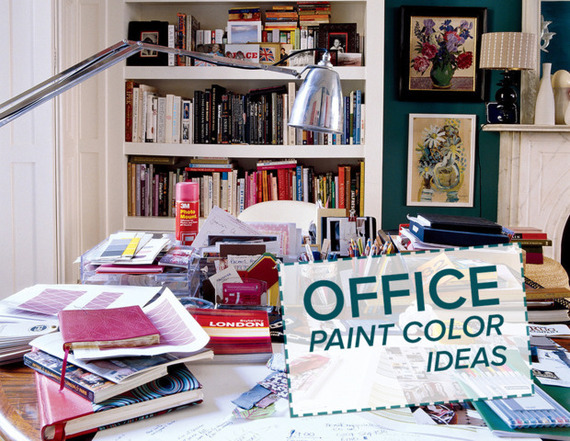 photography by SIMON UPTON
Before getting to work decorating the home office (the right desk, chair, lighting), start with a paint color that suits, inspires, and energizes you. Here are a few favorite hues.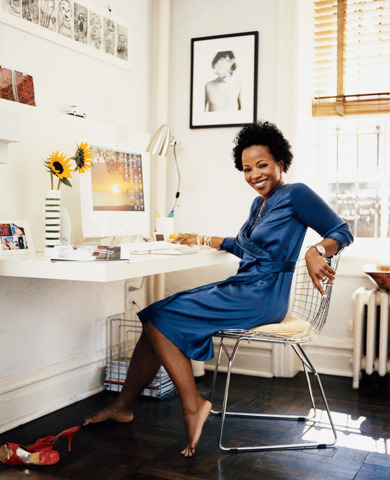 photography by MELANIE ACEVEDO
Create a modern office space by starting with a clean slate. Bring crisp white walls to life with inspiring photos and artwork that can be changed out as creativity evolves.

Paint color: "Pointing in eggshell" by Fallow & Ball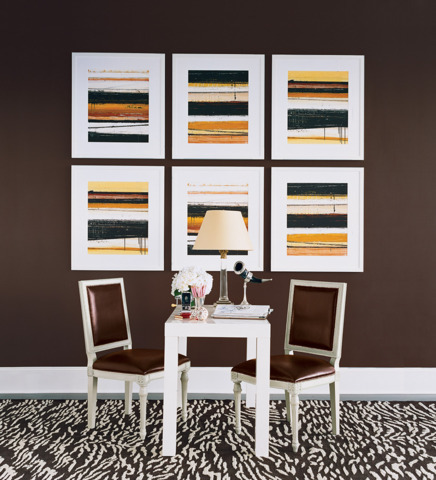 photography by ANNIE SCHLECHTER
Are you focused, straight forward, and like getting right to the point? A bold color like this dark chocolate wall might be just right for you to take care of business matters. Sophisticated, linear artwork can create the perfect focal point to lighten up the room paired with a pristine, sharp desk.

Paint color: "Tuder brown in eggshell" by Benjamin Moore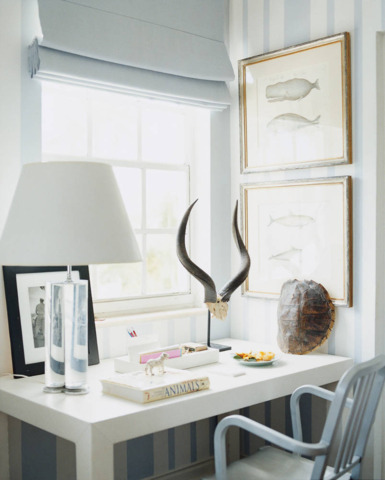 photography by PAUL COSTELLO
Juggling work and bringing the kids to their daily activities? Light colors set a soothing tone. Sky blue paint may be the ticket to taking the stress level down a bit. Just add a white stripe with natural decorations to take this space to the next level.

Paint color (walls): "Soft sky and white" by Benjamin Moore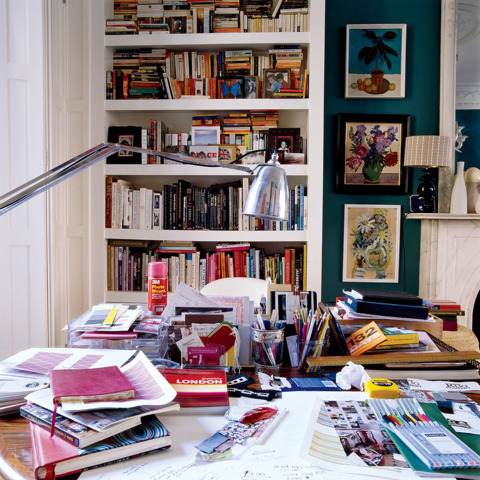 photography by SIMON UPTON
Some creative personalities need just the right amount of chaos in their surroundings to stay focused. To make this room perfect, add a foundation color that will pull all of that creative energy together.

Paint color: "Mere green" by Farrow & Ball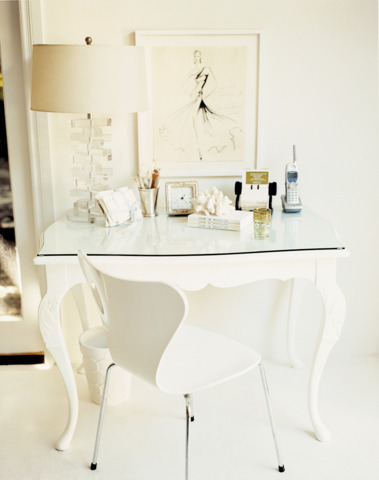 photography by MAX KIM-BEE
An all-white workspace leaves zero room for distractions. An interesting lamp and desk will break up the monotonous setup and add character to an otherwise plain space.

Paint color: "All-white in high gloss" by Farrow & Ball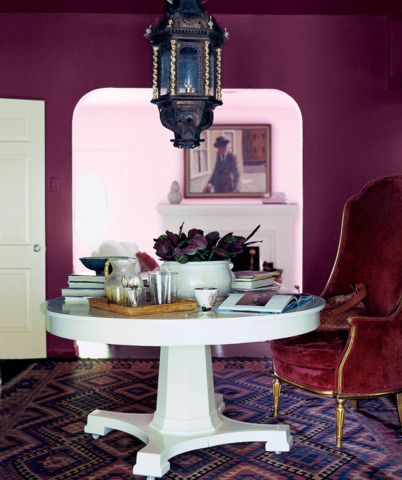 photography by PAUL COSTELLO
A Moroccan-style space takes glam to the next level with a deep shade of plum and a patterned rug. A glimpse of pink walls beyond the study makes the space feel inviting and spacious.
Paint color (living room): "Zephyr" by Behr
Paint color (study): "Delicious berry" by Behr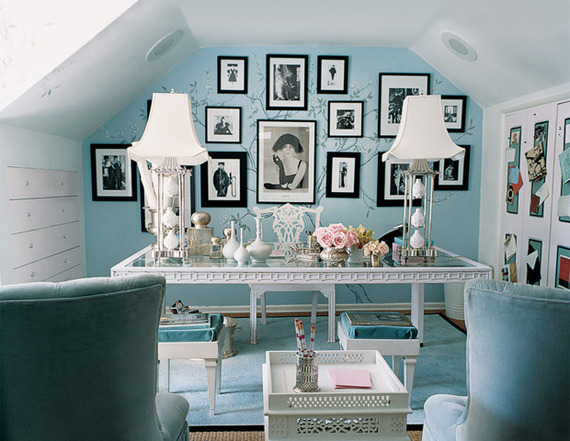 photography by MELANIE ACEVEDO
Branch out in this inspiring space. Adding a collection of iconic black and white photos in sharp black frames makes this office incredibly chic.

Paint color: "Salisbury point" by Ralph Lauren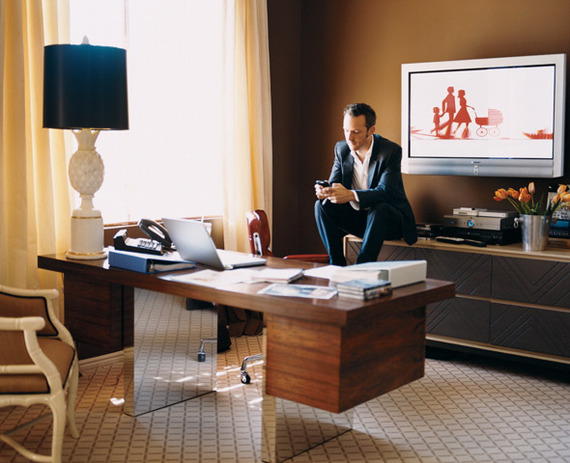 photography by STEWART SHINING
Neutral walls paired with wood furniture bring a feeling of strength and power to a room. Brighten it up with long, crème brûlée drapes that open up to a source of natural light.

Paint color: "Wainscot" by Farrow & Ball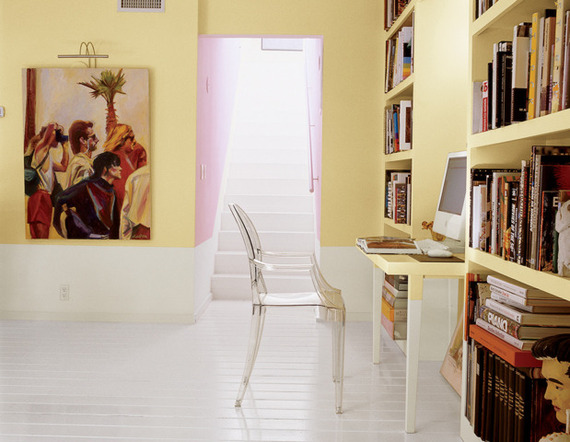 photography by SIMON UPTON
A pastel backdrop can be the perfect palette for artistic expression. We love how this buttery room opens up to light pink walls, which leads up to a clean white staircase. Remember to surround yourself with things you love. Your favorite books, statuettes, and art can be an inspiration in itself.

Paint color (wall): "Butter regal matte" by Benjamin Moore
Paint color (floor): "Safety white acrylic high-gloss enamel" by Benjamin Moore
MORE ON DOMINO.COM:
10 Uplifting Entryway Paint Color Ideas
Best Family Board Games
8 Amazing Winter Wedding Details
14 Smart Ways to Make the Most of a Small Space